The big movers in space are struggling to get new launch vehicles off the ground, delaying other orbital projects and boosting Elon Musk's SpaceX as the industry leader.
United Launch Alliance said its much-anticipated new Vulcan rocket needs more work after missing out on a hoped-for May debut. The problem is with propellant tanks in the vehicle's second stage, one of which exploded during a test in March. More reinforcement is required, which means a trip back to the factory for refitting, then more testing, and then back to the launch pad. ULA CEO Tory Bruno is still predicting the rocket will launch this year.
Why a tightening of credit conditions could lead to a weak economy
Then there's Europe's new competitor for SpaceX's Falcon 9, the Ariane 6 rocket. In May, its manufacturer, Arianespace all but admitted that the rocket won't fly until 2024; now executives say that it will be able to launch nine or ten of the rockets a year by 2025 or 2026. For some context, when Ariane 6 development began in earnest in 2016, SpaceX flew eight Falcon 9s; last year, it flew 60.
The Vulcan and Ariane 6, plus Blue Origin's New Glenn—which might fly in 2024, but who's to say, since Jeff Bezos' firm doesn't talk about it—represent the main potential competitors to SpaceX. And these aerospace giants might get lapped by Rocket Lab, which hopes to debut its medium-lift Neutron rocket in 2024.
Indeed, it's remotely possible that a Chinese firm will be the first aerospace company to launch a Falcon 9 competitor: Space Pioneer, which first reached orbit in April with a small liquid-fueled rocket, announced this week that it hopes to launch a larger vehicle in May 2024, with similar specs to the earliest version of the Falcon 9.
The lack of competition helps explain why SpaceX is offering to purchase stock from its employees stock at $80 a share, which would value the company at $150 billion. Financial analysts struggle to justify that number, which is about 13 times SpaceX's estimated revenue, compared to an average of 2.5 for publicly-traded aerospace firms. But Rainmaker Securities, a financial firm that specializes in secondary sales of private shares, tells Quartz it has recently brokered deals selling SpaceX securities at $76 a share.
SpaceX has had a much longer run than many anticipated as the operator of the only commercially viable launch vehicle in the western world. So what about Starship, the next-generation vehicle it will need to beat these new rockets and deliver on the promise of its Starlink communication satellites?
After its first attempt at an orbital test flight on April 20, SpaceX is still working through a Federal Aviation Administration mishap investigation. We can expect the regulators to be sticklers about the next launch license after the embarrassing destruction at Starship's launch pad during the launch. To that end, SpaceX is rushing to install the noise- and flame-dampening technology typically used during rocket launches, which will consist of 1,000 cubic meters of steel-reinforced concrete, topped with two water-cooled steel plates.
SpaceX is also making more than 1,000 changes to the rocket, Musk told listeners to a Twitter Space hosted by Bloomberg's Ashlee Vance. That's a lot of modifications to implement in a short time. Most notable is a new procedure for separating Starship's enormous booster from the vehicle itself. The new method involves starting Starship's engines while it is still connected to the booster, which in turn will require adding more shielding to the booster.
Immediately after that April test flight, Musk said Starship would fly again in two months. In early June, he said six to eight weeks, and last week Musk's countdown was at six weeks, though he predicts only a 60% chance that the rocket will reach orbit.
The clock is ticking.
---
About last week...
Last week, I wrote about what might happen if a crewed spacecraft became disabled in orbit and required a rescue. Currently, NASA, Axiom Space and SpaceX—the three US organizations flying astronauts—don't have plans for such a rescue. While Axiom Space and SpaceX didn't respond to our questions, NASA shared a statement that I've excerpted here:
In the event a crewed spacecraft became disabled, NASA would use every available tool at its disposal to return the crew safely to Earth. Given the complexity of spaceflight, the agency would need to assess any situation depending on the specific nature of the technical issues, which could vary significantly....NASA and its commercial partners, Boeing and SpaceX, have developed systems that prioritize crew safety and survival, including launch pad emergency escape and egress systems. ...[and] in-orbit inspection to mitigate micrometeoroid and orbital debris risk while in orbit. ... In addition, the space station is a safe haven capable of sustaining crew for months in space with several different crew and cargo spacecraft providing supplies for the microgravity laboratory.
🌕🌖🌗
IMAGERY INTERLUDE
Astronauts on the International Space Station installed two new sets of roll-out solar arrays this month, which will allow the habitat to generate more electricity. (Enjoy the video). The roll-out arrays, which are lighter, more compact, and easier to install that traditional solar panels, are a commercial space story: They were developed thanks to NASA grants to Deployable Space Systems, a company later acquired by Redwire Space (NYSE:RDW).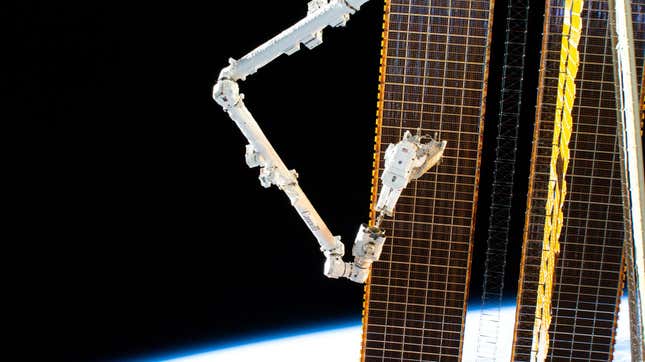 NASA expects this technology will come in handy not just at the ISS but also in future missions to deep space. Redwire, which has sold six of the arrays to NASA through Boeing, announced yesterday that it will build out two more roll-out solar arrays for the ISS.

📡 📡 📡
SPACE DEBRIS
Virgin Galactic gears up for first flight. A three-person crew of Italian Air Force personnel is expected to fly to the edge of space on the VSS Unity today. It will be the first revenue-generating flight for the company, news that led to a bump in the company's stock price (NYSE:SPCE), which management immediately used to raise $300 million—though it wants to raise another $400 million soon.
AST SpaceMobile is facing questions about its cash flow. The company trying to link mobile phones to satellites saw its stock (NASDAQ:ASTS) plunge after trying its own secondary stock offering and disclosing that, while it has 12 months of cash on hand, its capital needs could jeopardize its business.
Ramon.Space raises $26 million. The start-up, which builds computer infrastructure suited to the space environment, attracted backing from Taiwan's Foxconn and UAE's sovereign wealth fund.
Mars Sample Return is in trouble. NASA's plan to bring samples of Martian soil back to Earth for further study is facing significant cost overruns and uncertainty.
The space economy keeps growing. New measurements of the US space economy from the Bureau of Economic Analysis showed it contributed $212 billion in output in 2021, a 17% increase since 2012. These numbers are the gold standard for understanding the size of the space economy (many private estimates have significant uncertainty and double-counting). Notably, manufacturing overtook information services as the largest subset of US space activity.
In Memoriam: Firouz Naderi. The Iranian-American scientist, who led five autonomous missions to Mars for NASA before retiring in 2016, passed away earlier this month.

Last week: What happens if tourists need to be rescued in space?

Last year: The rocket industry has a climate problem.
This was issue 186 of our newsletter. Hope your week is out of this world! Please send your bet on the next new rocket to reach orbit, tips, and informed opinions to tim@qz.com.