Is the hot new potentially superconducting material out of South Korea actually a hot new superconducting material?
We'll know in a week, according to Michael Norman, a physicist and distinguished fellow at the Argonne National Laboratory. That's roughly how long it will take researchers around the world to replicate the material, dubbed LK-99 by the team of scientists who created it, and assess whether it is actually a superconductor or simply has unusual magnetic capabilities; his own lab is working on it as we speak.
Should you keep investing in Big Tech?
What makes this particularly scientific race more exciting than most is that LK-99 relies on relatively cheap and easy to access precursor materials, and it can by synthesized with techniques that are accessible to many laboratories and companies. One of the first US organizations to create LK-99 is likely to be Varda Space Industries, a startup building spacecraft that will autonomously manufacture pharmaceuticals in orbit.
Andrew McCalip, Varda's head of research, is an engineer with a long interest in material science. When he read the papers that lit up the physics world, he realized that most of the equipment needed to make LK-99 was already in his lab, since Varda has been exploring how to synthesize exotic materials in orbit.
"The obligatory PSA: I'm an engineer, not a material scientist, certainly not a physicist," McCalip says. "My background is making stuff, firmly in the realm of manufacturing, and taking a novel concept and making it economically viable."
He got to work on the after-hours project, and shared his efforts on Twitter under the banner "Meissner effect or bust."

A pause for science: The Meissner effect is one of the unique features of a superconducting material—it expels magnetic fields. Those videos purporting to show tiny chips of LK-99 being repelled by both poles of a magnet are a crude way to show it is potentially superconductive. When a material is superconductive, electrons flow through it with almost no energy loss, as opposed to conductive materials, like copper wire, that lose energy due to resistance. Superconductivity only occurs under specific conditions, and to date, at very low temperatures. We use superconductors to do some cool things, like peer inside humans with MRIs and operate maglev trains, but their expense and sensitivity limit widespread application. The internet hype train is full steam ahead, because if cheap superconductors can work at ambient temperatures, all kinds of cool developments are possible, from quantum computing to ultra-efficient batteries.
Back to the lab: McCalip has been hard at work synthesizing the material for several days. Today, he's expecting delivery of a batch of copper phosphide sourced in Poland that will allow him to complete the final reaction. Tonight, he hopes to pull a sample of the material from his furnace and test its magnetism on a livestream. He also plans to share samples of the material with researchers at the University of Southern California and other institutions that can precisely assess its properties.
In a world of social media hype and a scientific community that has been burned by fraud before, McCalip is striking a wise balance: He is excited about the potential of this material, while recognizing that the odds of success are low. Theoretical assessments of the material vary—one analysis by Lawrence Berkeley National Laboratory scientist Sinéad Griffin suggests the material does have interesting and perhaps superconducting properties; Norman says the theory behind the material doesn't seem that convincing to him. The instructions for synthesizing LK-99 are incomplete and differ between papers and a patent on the material. And there's the always the possibility of some error in the original research or while making the sample.
"If it turns out to be successful, obviously the odds are low, the properties will not be great in the beginning, all the improvements will be made in the processing," McCalip says. It may difficult to shape the material into wires or other useful configurations, for example, but that's the kind of scientific mystery turned engineering challenge McCalip lives for.
"If the physics are real, it's the world of the experimentalist for the next couple months," he says.
🌕🌖🌗
IMAGERY INTERLUDE
It's always worth remembering that there's more to space than spacecraft—in this case, when astronauts are coming back from lunar orbit, they'll need a crew of sailors, pilots, and divers to help pull them out of the water. This shot is from an Artemis II recovery test last week off the coast of San Diego, California.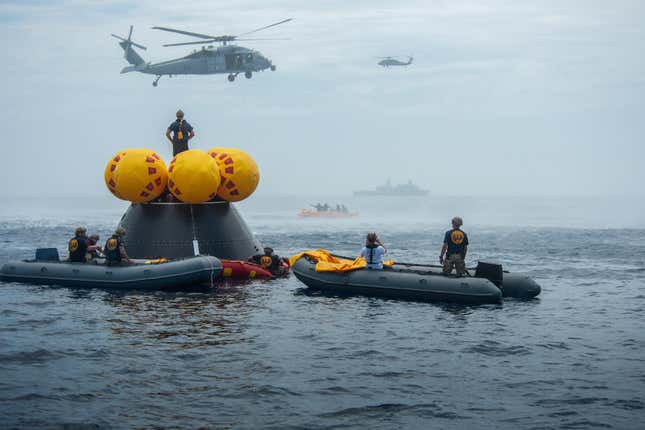 📡 📡 📡
SPACE DEBRIS
Planet lays off 10% of its workforce. The space data firm let go of 117 employees as it moves to shore up its balance sheet, which CEO Will Marshall characterized as necessary to compete with economic headwinds. After going public in 2021 through a SPAC deal, Planet has seen slower-than-anticipated revenue growth in 2023; analysts expect the move to improve the company's margins.
Virgin Galactic won't earn much from upcoming flights. In an earnings report this week, the space tourism company forecast $2 million in revenue if it flies once a month for half a year. That underscores how big of a bet the company has made on a fleet of vehicles that aren't expected to fly until 2026.
Voyager and Airbus ink commercial space station deal. The European aerospace giant will be the key partner in constructing a new orbital habitat, replacing Lockheed Martin. Voyager won a $160 million contract from NASA to begin work on the station in 2021, alongside rivals Axiom Space and Blue Origin.

Starlink looms large. A New York Times feature on SpaceX's satellite internet network garnered a lot of attention this week, mainly to underscore how much demand there is for an alternative satellite internet system. The most interesting detail in the report is that the Pentagon's June 2023 contract to use Starlink in Ukraine gives it control over the signal, which might help insulate SpaceX from concerns about Elon Musk's flirtation with Vladimir Putin.
Starship is ready to get wet. SpaceX has been testing the deluge system it will use during future Starship launches to prevent the massive rocket from tearing apart its launch pad. One question worth considering: SpaceX said in an environmental review that if it operated such a deluge system, it would likely need to build retaining ponds for the water, which in turn might require permits to dig in the wetlands. Thus far, SpaceX hasn't begun that process, and it's not clear if regulators will require it—but that's the same ambiguous approach that has the the company's launch license still under FAA review more than three months after the last attempt.
Last week: Could private companies save Mars Sample Return?

Last year: Inside the first private mission to Mars.
This was issue 190 of our newsletter. Hope your week is out of this world! Please send superconductive material samples, tips, and informed opinions to tim@qz.com.