Dear readers,
Welcome to Quartz's newsletter on the economic possibilities of the extraterrestrial sphere. Please forward widely, and let me know what you think. This week: National Anxiety and Separation Administration, remembering STS-1, and Virgin Orbit lights that candle.
🚀🚀🚀
NASA is days away from launching its first astronauts from the US since 2011, on its first new crewed spacecraft since 1981. As if that wasn't giving everyone enough anxiety, the top official in charge of human spaceflight mysteriously resigned on Monday.
Doug Loverro, a former Air Force officer and long time Defense official with a focus on space, came into the job just six months ago, replacing a predecessor who had been fired for failing to speed up NASA's return to the moon. Loverro appeared to be settling into the job in recent weeks, and his decision to step down will damage morale at the space agency.
What went wrong? The worst-case scenario would be some kind of problem with the upcoming crewed flight of SpaceX's Dragon capsule, but it appears that no new issues arose on that front. Instead, the controversy is focused on how Loverro attempted to push forward the Artemis program's planned lunar landing in 2024.
In a letter to agency employees, Loverro spoke vaguely about taking a risk to achieve a mission, writing "now it is clear that I made a mistake in that choice for which I alone must bear the consequences."
Eric Berger reports that said mistake involved a violation of government procurement rules. That could be straight-up corruption, like receiving a job or compensation from a favored contractor, but the likelier violation involves sharing information about competing bids.
The moon race has many complications; one key question is how to get people on the lunar surface once they arrive in orbit at the moon. Loverro has supported a strategy that would use a lander to arrive in one piece to save time, but most of the companies offering designs required multiple rocket launches before assembling their large vehicles in space.
The theory, then, is that Loverro might have crossed a line in urging one or more competitors to adopt his preferred strategy, sharing confidential information about other bidders in the process. Boeing's proposal is the only one known to use a single-launch strategy, but it did not make the final round of NASA's selection process. An audit by the NASA inspector general, announced in March, should shed some light on the circumstances of Loverro's ouster.
Much of the fracas around the departure has focused on rumors of Boeing's suspected role. The aerospace giant is NASA's largest contractor; its political power can lead lawmakers to make its preferences policy over those of the space agency; and it is facing hard questions about the capabilities of its engineers after problems arose with its new astronaut-carrying spacecraft.
If Loverro was attempting to aid Boeing, his efforts were for naught. NASA funded three teams to continue development ahead of a final selection—a consortium led by Jeff Bezos' Blue Origin and including Northrop Grumman and Lockheed Martin; another team led by the Alabama-based space contractor Dynetics; and Elon Musk's SpaceX. Loverro's acting replacement, former astronaut and long-time NASA exec Ken Bowersox, rejected Boeing's bid on contracts to fly supply missions to the moon.
The chaos stemming from Loverro's departure is unfortunate for many reasons, but perhaps most of all that it came in service of a goal—returning to the moon in 2024 instead of 2028—that few outside NASA believe is feasible or even necessary.
🌘 🌘 🌘
Imagery Interlude
The last first time that the US flew astronauts was in 1981, when the Space Shuttle debuted. Two astronauts, John Young and Robert Crippen, took off from Cape Canaveral 20 years to the day after Yuri Gagarin and the USSR ushered in the era of human spaceflight.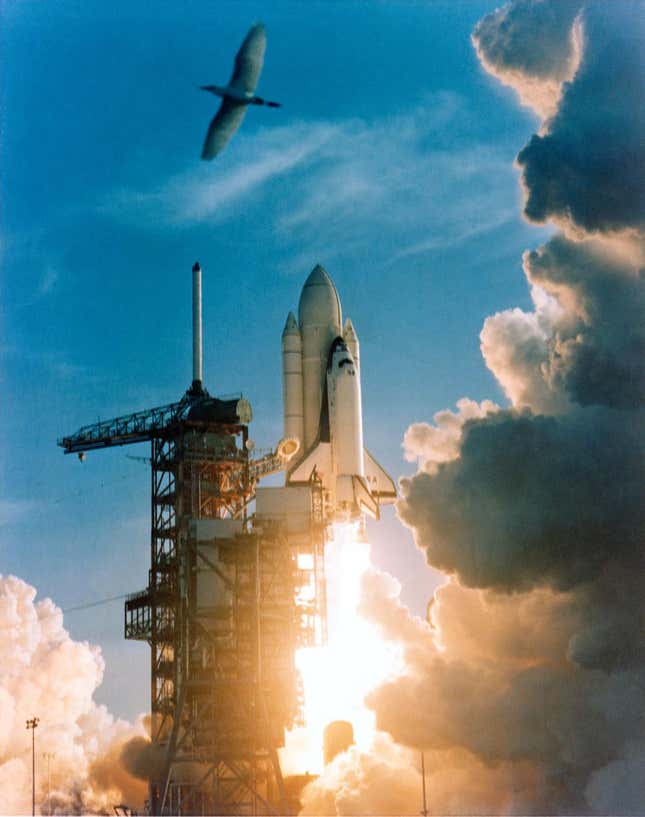 During the course of STS-1, they spent two days in space running tests before returning to land at California's Edwards Airbase. Then they had to ship the vehicle back to Florida on top of a modified 747.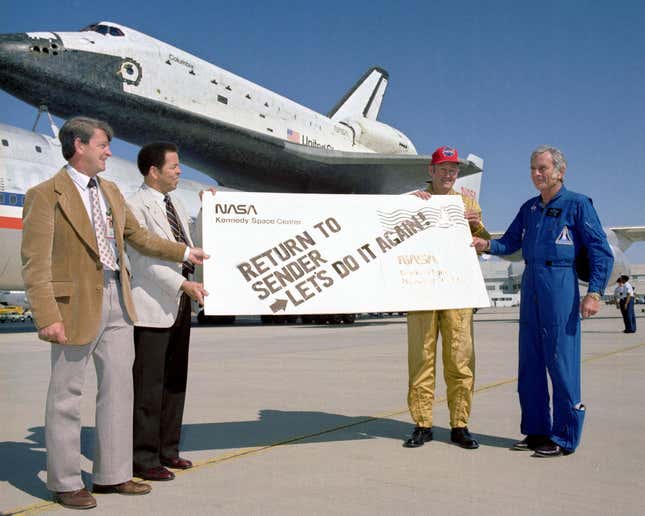 🛸 🛸 🛸
 📬 Receive this 📬
If you like getting this newsletter, you'll enjoy the Quartz Daily Brief. My colleagues across the globe and I work literally around the clock to make sure it's the all-killer, no-filler way to start your day informed, but not overwhelmed.
🛰🛰🛰
SPACE DEBRIS
Losing their Virginity. Richard Branson's satellite launching firm, Virgin Orbit, plans to perform its first test launch this Sunday, May 24. Spun out from Virgin Galactic in 2017, the company will put small satellites in orbit using a rocket launched from a modified jetliner. Executives expect the vehicle to take off from Mojave Air and Space Port before attempting the launch off the California coast. If the company succeeds in reaching orbit, it will become just the third US startup—after Rocket Lab in 2017 and SpaceX in 2006—to develop a small launch vehicle in the 21st century.
You can call me Nancy. The ambitious NASA space telescope that aims to pick up where Hubble left off is now named for the "mother of Hubble," the late Dr. Nancy Grace Roman. Roman is recognized as a pioneer—as a female employee in the early days of NASA, and in the science of space-based astronomy. For the spacecraft, it's much a better name than WFIRST—which stands for Wide Field Infrared Survey Telescope—and the attachment to Roman may also make the complex project more likely to survive the Trump administration's frequent efforts to cancel it.
A mysterious energy. The US Air Force launched its autonomous X-37B spacecraft for the sixth time on May 17. Effectively a miniaturized Space Shuttle, the vehicle carries out top-secret research for the US military by testing space components for long periods of time, apparently launches satellites in contravention of UN rules, and may even perform some straight-up espionage. Who's to say? The USAF did mention that this time around, the X-37B will be testing a device that collects solar energy in space and beams it back to earth. Long a technology dreamed about by Jeff Bezos and other science fiction-influenced entrepreneurs who want to provide cheap electricity from space, the energy beams also have less utopian applications.
Saturday's alright for first flighting. I know the last thing anyone wants is another damn Zoom call, but on Saturday at 1pm ET I'll be watching this panel discussion of space historians talking about the debut flights of some of the most notable spacecraft in US history. The hosts have assembled a great collection of experts to put the scheduled May 27 flight of SpaceX's Dragon in context.
Your pal,
Tim
This was issue 49 of our newsletter. Hope your week is out of this world! Please send your theories about Doug Loverro's departure from NASA, memories of the early Space Shuttle days, tips, and informed opinions to tim@qz.com.
Correction: This newsletter initially misreported the number of Shuttle landings at Edwards Air Force Base, which saw the return of numerous shuttle missions.