Happy Saturday, South by Southwesterners!
The interactive and film portions of the festival are well underway, as evidenced by the plethora of bars, restaurants, and other venues that have been transformed into hubs for media companies like HBO and NBCUniversal; tech companies including Bumble, Dell, LinkedIn, and Twitter; pure-play tech firms like SAP; and even retailers like Lululemon.
Today kicks off two days of talks with US political leaders, including some 2020 presidential hopefuls (more on that below), hosted in collaboration with the Texas Tribune.
After a cloudy start to the festival, the sun finally broke through on Friday. Expect more of the same today. Clouds are likely to give way to sun, with a chance of rain in the evening—this is Austin, after all.
What to watch for today
2020 US presidential hopefuls. With the 2020 race already in full swing, a number of politicians are using SXSW as a campaign stop. Democratic candidates Elizabeth Warren, Amy Klobuchar, and Pete Buttigieg will be speaking about America's future on Saturday. Warren, who declared war on tech conglomerates like Amazon and Google yesterday, is the biggest name of the bunch, so be sure to arrive early to that one; there's likely to be a line.
Also speaking today are Starbucks billionaire Howard Schultz and former Ohio governor John Kasich. Kasich is rumored to be considering a Republican primary challenge to president Donald Trump.

AOC talks big tech. Speaking of politicians… the Democratic party's fastest rising star, New York congresswoman Alexandria Ocasio-Cortez, will make an appearance at SXSW today. She's speaking on two panels: First, on privacy, mass surveillance, and social media propaganda with the folks at Yahoo News' Skullduggery podcast. Later today she'll speak at a featured session about her growing influence in the Democratic party and its recent embrace of Democratic socialism.
Also be on the lookout for Knock Down the House, the documentary about AOC's congressional campaign that set a sales record at Sundance in January and will screen at SXSW on Sunday. Running with Beto, a documentary about—you guessed it!—Beto O'Rourke's 2018 US senate campaign, debuts at the festival as well. 
Foursquare and creepy tech. People have become increasingly uncomfortable with tech companies using their personal data since the 2009 SXSW launch of Foursquare, an app that provides recommendations based on users' locations. Founder Dennis Crowley returns to the conference this morning to talk about privacy, tech ethics, and what's next for the platform.
A panel for "Us." After last night's big premiere, the cast of Us, alongside director Jordan Peele, will discuss the film at an RSVP-only panel at the Comcast NBCUniversal house (Container Bar on Rainey St.), hosted by Buzzfeed. Having been in attendance for the premiere, we can assure you this will be the first of many times Peele and the cast discuss what looks like a bona fide hit.
A chat with Malcolm Gladwell. The bestselling author will join a conversation on the societal implications of self-driving cars this morning, ahead of his upcoming documentary Autonomy, which makes its world premiere at the festival.
Film talks and keynotes. A handful of high-profile filmmakers, producers, and creators will appear during the film tract today. TV producer Marti Noxon, who recently signed a big Netflix deal and is best known for series like Sharp Objects and Buffy the Vampire Slayer, will give a keynote address. Author Neil Gaiman—showrunner of Amazon's Good Omens series—also takes the stage, and will reappear later with the cast of the upcoming series, which is screening at the festival. Acclaimed horror producer Jason Blum will also unpack his model for high-profile micro-budget horror films like Get Out and Happy Death Day.
Party planner: Tonight is the festival's biggest night of partying, so plan for a disco nap this afternoon. Some of the shindigs we're watching: Amazon Prime Video and Entertainment Weekly's soiree for Good Omens at the Garden of Earthly Delights pop-up (9:30pm); the American Civil Liberties Union celebration concert for its 100th anniversary, featuring Tom Morello and Questlove (8pm); Rotten Tomatoes' film industry happy hour at Stephen F's Bar (5pm); Foursquare's 10th anniversary party at Weather Up (6pm); and Nerdist's bash for the film Captive State at the Main (8pm).
Screening of the day
Bummin' it. Harmony Korine's Beach Bum debuts tonight at the Paramount Theatre, and we'll be in attendance. Matthew McConaughey stars as the titular beach bum, a "rebellious rogue" named Moondog. It's Korine's first feature film in five years—his last, Spring Breakers, made its US premiere here in Austin in 2013. Korine is a SXSW stalwart, and Beach Bum sounds like a perfect film to chill out to after a long day of panels and activations.
Also premiering tonight at the Paramount tonight is Long Shot, a comedy directed by 50/50 filmmaker Jonathan Levine. It stars Seth Rogen as a journalist who reconnects with his childhood babysitter, who is now running for president. Oh, and she's Charlize Theron. Color us intrigued.
What everyone is talking about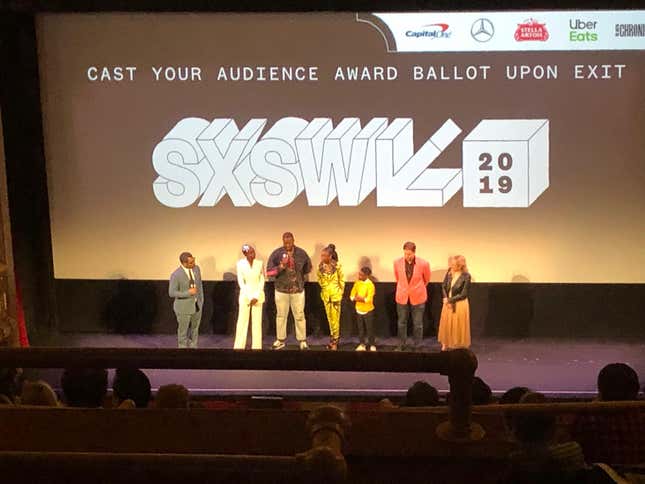 All about "Us." Peele's horror film was the talk of Austin yesterday as thousands of SXSW attendees scheduled their entire day around getting into the premiere. The line formed about four hours before the screening and snaked around the block and back. Reactions to Us were unanimously glowing, praising Peele's direction and the performance of Lupita Nyong'o in particular. Be sure to experience this one in a theater.
Yesterday's highlight reel
Frat Boy Genius. Quibi, the streaming-video-for-smartphones service founded by Jeffrey Katzenberg and helmed by Meg Whitman, is giving Snapchat founder Evan Spiegel The Social Network treatment with a series of less-than-10-minute videos dubbed Frat Boy Genius. The platform launches in April 2020. Whitman also revealed that Quibi will allow viewers to switch seamlessly between fullscreen horizontal and vertical video formats on their phones.
International Women's Day. March 8 was International Women's Day. The festival celebrated with sessions on the topics of women in tech, health, and art, as well as conversations on gender and race.
Quartz Eats
Adam enjoyed a "Burning Mac" sandwich at the Burro Cheese Kitchen food truck on Rainey St. It's exactly what it sounds like—a spicy mac-and-cheese grilled-cheese sandwich. (They call it "artisan," but a grilled cheese is a grilled cheese.) The Burning Mac is a superb vegetarian option for those who don't eat, or are simply tired of, barbecue or tacos.
Pro tip: Ashley is stocking up on breakfast tacos in the morning and squirreling them away in her backpack for a midday snack. Like leftover pizza, breakfast tacos are delicious at room temperature, and a backpack stash will save you from the long lines and outrageous food prices at the convention center.
Let's get activated
The apocalypse stops for no weather. Amazon Prime Video is hellbent on topping HBO's activation at SXSW this year (see the sass) with a pop-up for its upcoming miniseries Good Omens, which premieres May 31. It built a garden of "earthly delights" in an outdoor lot at the top of Rainey Street that's full of Instagrammable and Snappable moments, including an elixir-serving tree of knowledge of good and evil, manicures and hand massages, adorable "hellhounds," a three-piece orchestra rocking contemporary tracks (Adam loved their rendition of Dave Matthews Band's "Ants Marching," but he might have been the only one), a recreation of angel Aziraphale's bookshop from the show, and demon Crowley's beloved Bentley. Even dreary weather didn't get in the way, as Amazon passed out branded umbrellas.
While it lacks the role-playing in HBO's Game of Thrones activation, there is a lovely green space that makes for a solid hang-out zone when combined with the massages and heavenly soundtrack. The experience is open to the public from March 9-11 and a brigade of bikers and other characters from the show are appearing around town to promote it.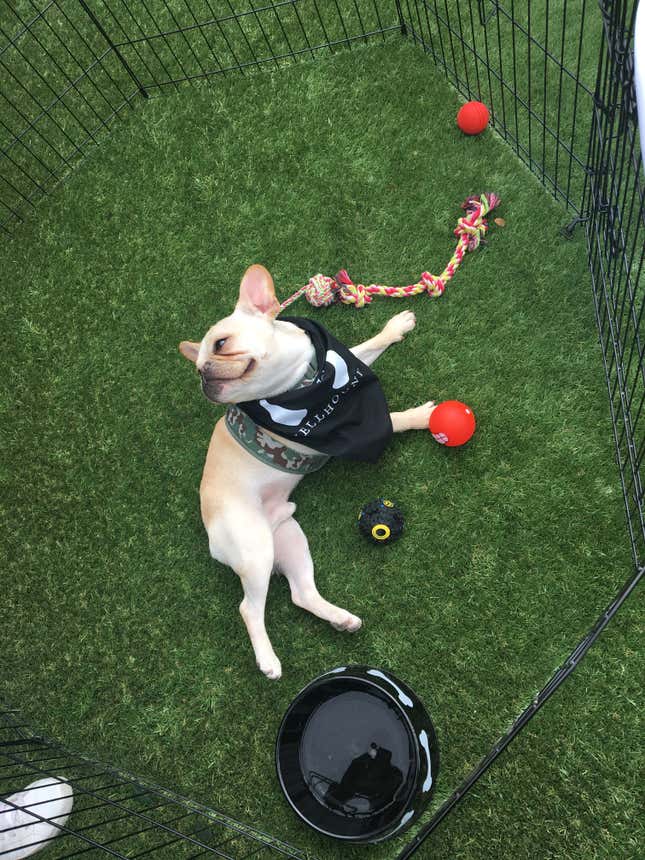 Highway to Netflix. Netflix turned the basement of Banger's bar on Rainey St. into a 1930s-style speakeasy, complete with old-fashioned cocktails, a poker table, and burlesque dancers. Attendees could trade in their gambling "winnings" for prizes like leather-bound flasks and cowboy hats. We left right as the modern punk rock band took the stage—but who cares about historical accuracy anyway, right? The activation will be running again today, skipping Sunday, and then back Monday and Tuesday.
Disconnect with Lululemon. While many of the activations at SXSW are designed to be shareable on social media (and thus FOMO-inducing), Lululemon went for a different vibe with its "frequency" experience. You must silence your cell phone upon entering a darkened dome, which forces you to look inward and have honest conversations with total strangers. It's meant to inspire creativity, and proves a nice reprieve from all the craziness happening elsewhere.
Seen and heard
Out of character. "If you need to use the bathroom, this is your last chance," one of the organizers of Amazon's Good Omens activation was overheard telling a group of bikers preparing to hit the streets of Austin to promote the upcoming miniseries.
"I can't put my helmet on; my wig's too big," said one of the aforementioned bikers. 
High times. "Get high while you're on the line," said a woman passing out pot brownies and rice-crispy treats on the line for the premiere of Us, thereby offering the worst advice before watching a horror movie.
"I had better seats at Hamilton," complained a man on his way to the nosebleeds section of the premier for Us. (To be fair, the Paramount is a very big theater.)
Our best wishes for an inspiring day in Austin. Please send any news, tips, and defenses against murderous doppelgängers to us, Adam, and Ashley. The best way to keep up with news while you're on the go this week is the Quartz app for iPhone and Android.