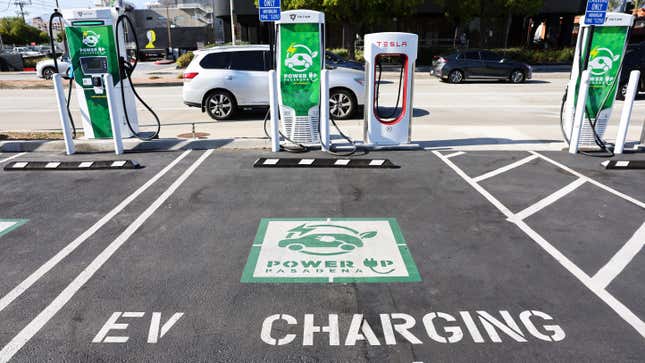 To make electric vehicles (EVs) more attractive and accessible, seven major global automakers—BMW, General Motors (GM), Honda, Hyundai, Kia, Mercedes-Benz, Stellantis—are working together to grow the high-powered charging network in North America.
What inspired Elon Musk's design for Tesla's Cybertruck?
They're aiming to install at least 30,000 high-powered charge points "in urban and highway locations to ensure customers can charge whenever and wherever they need," they said in a joint press release yesterday (July 26). Both combined Charging System (CCS) and Tesla's North American Charging Standard (NACS) connectors will be available.
"Range anxiety," which is the fear of not being able to find chargers on long journeys—especially fast chargers that can replenish a drained battery in around 30 to 45 minutes—is a major impediment to EV adoption. By improving accessibility and convenience, the automakers are hoping to accelerate the switch to zero-emission vehicles. "The better experience people have, the faster EV adoption will grow," GM CEO Mary Barra said in a statement.
The first stations are scheduled to open in the US in the summer of 2024, and in Canada at a later stage.
Quotable: Zero-emission mobility for all
"We believe that a charging network at scale is vital to protecting freedom of mobility for all, especially as we work to achieve our ambitious carbon neutrality plan. A strong charging network should be available for all—under the same conditions—and be built together with a win-win spirit."—Stellantis CEO Carlos Tavares
A non-exhaustive list of what EV owners can expect at the charging stations
🔌 Multiple high-powered DC chargers
🛡️ Plug & Charge technology, which allows for automated communication and billing processes between the EV and the charging station without any external identification and high security
📱 Seamless integration with participating automakers' in-vehicle and in-app experiences, including reservations, intelligent route planning and navigation, payment applications, transparent energy management and more
🏫 Convenient locations offering canopies wherever possible and amenities such as restrooms, food service and retail operations either nearby or within the same complex
EV charging in the US, by the digits
72 vehicles per charger: The ratio of publicly available DC fast chargers—32,000—to EVs—2.3 million—in the US as of July 2023
182,000: How many fast chargers will be needed to support 30-42 million plug-in vehicles expected on the road by 2030, according to the National Renewable Energy Laboratory (NREL)
50%: Share of vehicles sold in the US that'll likely be EVs by 2030
At least $1 billion: How much the participants will initially pump into the new joint venture, as per the New York Times
$7.5 billion: Federal funding for EV chargers set aside in the Bipartisan Infrastructure Law, which will cover up to 80% of the cost of charger installations
12,000: How many fast-chargers Tesla owns across the US. Elon Musk's company has said it will open its networks to other car brands and a bunch—Ford, GM, Mercedes-Benz, Volvo, and more—have jumped at the opportunity
Fewer than 100: How many ports Tesla has made available to other brands so far. The automakers' joint venture will allow them to reduce dependency on Tesla-controlled stations
Company of interest: Ford
Already in the last few months, the industry was banding together in adopting Tesla's NACS. Ford, which was the first legacy carmaker to adopt Tesla's NCAS, was missing from the announcement. In a separate statement, the 120-year-old Dearborn, Michigan, company said it would continue to invest in its own network, the New York Times reported.
Other behemoths like Volkswagen—a major stakeholder in Electrify America, the second-largest existing charging network after Tesla—and Toyota are also absent from the joint venture for now.
Related stories
⚡ Nearly half of US car buyers are thinking of purchasing an EV in the next two years
🔌 The EU mandated USB-C ports for devices. Electric car chargers should be next