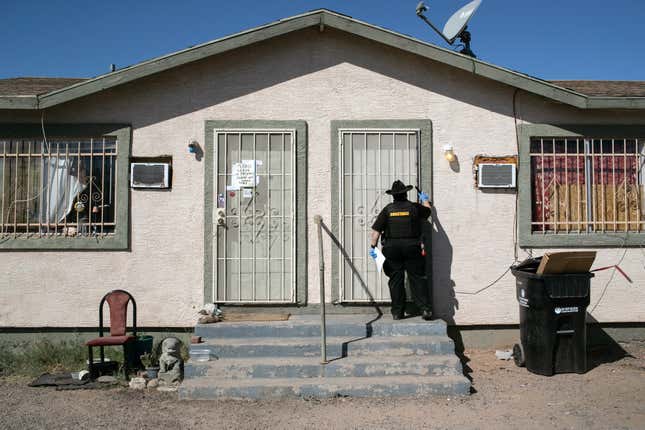 Eviction filings are on the rise in some US cities, according to data collected by the Eviction Lab at Princeton University. The lab published the first dataset on eviction filings in the US going back to 2000, which is based on (pdf) tens of millions of public state and county records. Rising costs of living are affecting Americans across the US, while stock of affordable real estate remains low.
Why a tightening of credit conditions could lead to a weak economy
Cities with the most eviction filings since March 2020 include New York City, which tops the list at 254,828 eviction filings, according to the data. The large number is also because the population of NYC is greater than other cities. There are 2,177,959 renter households in NYC, paying a typical rent of $1,640 per month. A state-wide moratorium prevented landlords from filing eviction cases during the covid pandemic but expired in January 2022.
Houston is the city with the second most eviction filings at 174,355 since 2020, followed by Phoenix with 172,699. Eviction protections in Texas began to expire in May 2020, at the height of the pandemic. Legally, landlords in Houston only need to provide three days' notice before evicting a tenant. Arizona also lifted eviction protections in October 2020, and the state never stopped accepting eviction filings.





Where eviction filings are on the rise
Landlords in many US cities have completed at least half of their eviction filings since 2020 in the past year.
Minneapolis-Saint Paul, Minn., tops the list, where 63.6% of eviction filings since 2020 happened in the past year. Evictions are happening more frequently in Minnesota than they were before the pandemic, with one in 30 renter households facing eviction, according to the Minnesota House of Representatives. There are 274,851 renter households in Minneapolis-Saint Paul, paying a typical rent of $1,265 per month.
Richmond, Va., and Austin, Texas, are cities with over 55% of their eviction filings since 2020 happening in the past year. In Richmond's case, eviction filings were low before and during the pandemic, but have increased since eviction protections were lifted in June 2022. The number of filings in Richmond over the past year is 84% higher than an average year before the pandemic (2016-2019) .
Austin's Travis County had local protections in place through March 2022, longer than the state of Texas. Austin also saw a boom in rentals, with about 28,000 new rental units built in the last two years, according to the Austin Apartment Association. The number of eviction filings in Austin during the past year is 99% higher than an average year there pre-pandemic.
Cities in Connecticut, including Hartford and Bridgeport, saw 52.5% and 51.7% of their eviction filings since 2020 in the past year, respectively. Eviction moratoriums ended in the state in August 2021. Eviction filings in the state have now reached their highest monthly totals since March 2020.

What's not in the data: Informal evictions

Informal evictions, which can include lockouts, extreme rent increases, or terminating a lease without reason, could be as common as formal evictions, according to Eviction Lab. But because informal evictions are not reported in a standardized way, there is no real way to track them.