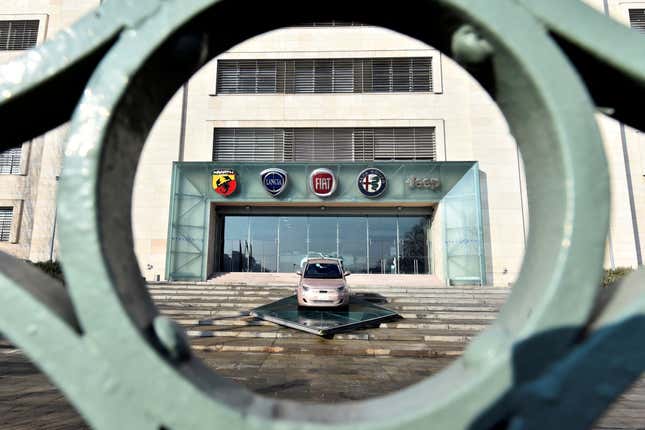 Fiat is releasing an all-new Topolino—a small electric vehicle (EV)—marketed as an alternative to a scooters for Gen Z consumers, or anyone who prefers driving on four wheels instead of two.
Why a tightening of credit conditions could lead to a weak economy
The car is only 8.3 feet (2.53 meters) long and is considered a quadricycle, similar to the Ami model by the French manufacturer Citroën, with a top speed of 28 mph (45km/h). This classification means, per Italian law, licensed drivers as young as 14 are allowed to drive it.
Because the car is built to be as small as possible, the battery is 5.4 kWh and can be fully charged in four hours. With only 47 miles of range, the car is meant for running errands or driving short distances, not cross-country road trips.

The name Topolino originates from a nickname for Fiat's flagship model, the Fiat 500. It is also how Italians refer to Disney's Mickey Mouse.

The Topolino is currently available for pre-order at a starting price of €9,890 ($10,780), with first deliveries expected in Italy later this year.
EV usage in Europe, by the digits

12.1%: Market share for EVs sold in Europe last year. Over half (53.1%) of new cars sold were powered by an alternative to fossil fuels.
€5,000 ($5,445): Amount the French government will subsidize the purchase of a new EV. Governments around Europe have pledged to make EVs cheaper for consumers.
2035: Deadline for all new cars sold in the European Union (EU) to be zero-emission vehicles. The law makes a controversial exception for cars powered by e-fuels.
Small cars are hard to find in the US
The Topolino will fit well in an interesting market trend: cars in Europe (and the rest of the world) tend to be a lot smaller than in the US.
This is less a reflection on the size of vehicles in Europe—although European cities tend to be more dense with narrower streets—and more indicative of the reality that Americans love big cars.
Large vehicles, like SUVs and pickup trucks, dominate American roads. The average length of a US car is 14.7 feet, with the supersized 2023 Ford Super Duty pickup truck measuring in at 22.2 feet. Even American EVs are bigger. The Tesla Model X measures six and a half feet from side mirror to side mirror, making it almost as wide as the Topolino is long.
Some politicians are trying to change that trend. Two New York state lawmakers recently proposed legislation that would increase registration costs for larger cars, proposing that larger cars are more dangerous and break down roads at a faster rate.
The bill cites research conducted by Transportation Alternatives, which found that for every 1,000-pound increase in vehicle weight, there is a 46% increase in motorist fatalities. It also found that a pedestrian is 41% more likely to die when struck by an SUV or pickup truck than a normal-sized car.

The research also concluded that large cars do more damage to infrastructure, with a GMC Hummer EV (9,063 pounds) causing 116 times as much damage as a Honda Civic (2,762 pounds).
Related stories:
🚗 Stellantis posted a record year driven by a 41% rise in electric vehicles sales
😶‍🌫️ The US has accused Fiat Chrysler of the same emissions cheating that cost Volkswagen billions
🚘 Fiat's new turbo-powered Alfa Romeo 4C sports car is leaving Chevy and Porsche an opening