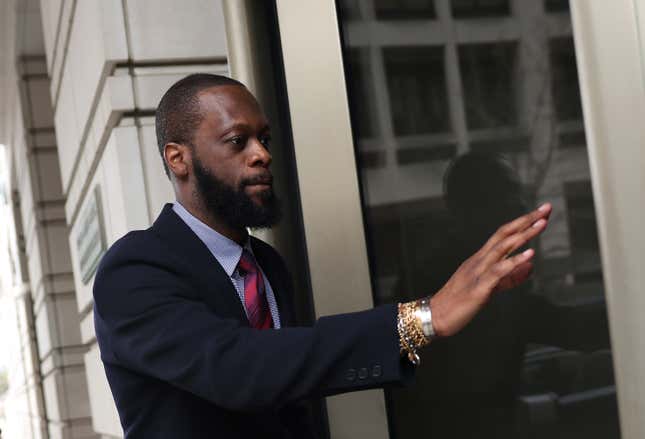 A '90s hip hop artist, a Malaysian businessman, and Leonardo DiCaprio were entangled in a weekslong criminal trial that concluded yesterday (April 26) in a Washington DC federal court.

Paulina Porizkova on being an Estee Lauder model
Prakazrel Samuel Michel (a.k.a. "Pras Michél"), a rapper from the musical group the Fugees, was convicted by a jury on 10 criminal counts, including conspiracy, witness tampering, breaching campaign finance laws, and lobbying as an unregistered foreign agent of China. He could face a 20-year prison term.
Prosecutors accused Michél of working with Low Taek Jho (a.k.a. "Jho Low"), a Malaysian financier and fugitive, to influence the US government during both Barack Obama and Donald Trump's presidencies. Michél's defense argued that a mixture of poor legal guidance and desire to make money landed him in a bad situation.
"We are extremely disappointed in that result but are very, very confident in the ultimate outcome of this case," said his attorney David Kenner outside the courthouse, as quoted by CNN. He added: "This is not over."
Jho Low appears at the center of the multimillion-dollar conspiracies
Michél testified that, in 2012, Low paid him $20 million in order to secure a photograph with Obama, who at the time was embarking on his reelection campaign.
Michél used some of that money to get his friends into campaign fundraising events, but said he was not aware that was illegal. Prosecutors also accused him of using straw donors to channel $800,000 of Low's money into Obama's 2012 reelection campaign.
Low himself already faced criminal and civil charges in the US related to one of the world's biggest corruption schemes, the so-called "1MDB" scandal. The businessman has been identified as the "mastermind" behind the embezzlement of billions of dollars from a Malaysian sovereign wealth fund, although he's claimed innocence. In Kuwait, in absentia, Low was sentenced to 10 years in prison.

Prosecutors said that, in a separate scheme, Michél took $100 million from Low and lobbied the Trump administration to halt its investigations into his involvement with 1MDB. In addition, Michél was accused of advocating to extradite the exiled Chinese billionaire Guo Wengui, on behalf of the Chinese government, without registering as a foreign lobbyist. In his defense, Michél has blamed his attorney George Higgenbotham for never informing him that his activities required disclosure.
The Fugees rapper's trial featured cameos by Leonardo DiCaprio and Jeff Sessions

Two big names took to the witness stand in Michél's trial. Leonardo DiCaprio spoke about his relationship with Low, who helped finance Martin Scorsese's The Wolf of Wall Street. The actor said he perceived him as a competent businessman, and recalled Low mentioning a desire to donate to Obama's campaign.

The former attorney general Jeff Sessions testified in relation to Guo's potential deportation. Sessions said he did not recall meeting Michél, and was already aware that Beijing was seeking extradition. He never moved to deport Guo during his time at the Trump administration. Guo has since been indicted in an unrelated $1 billion fraud case.
Related stories
⏳ Elizabeth Holmes made an eleventh hour attempt to delay her prison sentence

🩺 A once high-flying health-tech startup's co-founders were convicted of fraud of more than $1 billion

🚭 Two British tobacco companies were accused of funding North Korea's nuclear program

Correction: This article previously said Michél was pushing to halt Guo's extradition. But prosecutors accused him of the opposite: advocating for Guo's extradition.