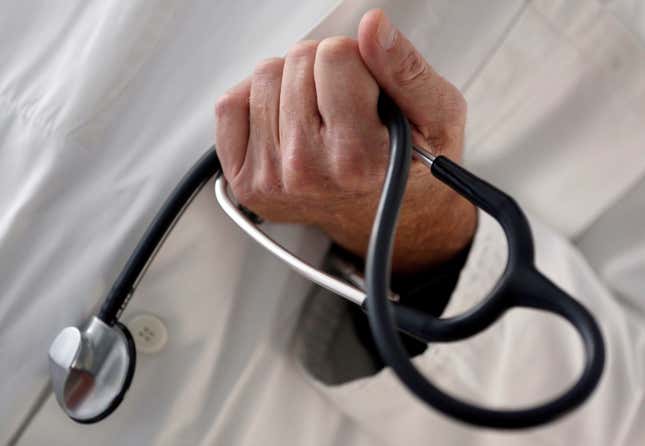 Three former Outcome Health executives have been found guilty of running a billion-dollar scam.

A federal jury yesterday (Apr. 11) convicted Outcome Health's two co-founders—former CEO Rishi Shah, former president Shradha Agarwal—and former chief operating officer and chief financial officer Brad Purdy, "for their roles in a fraud scheme that targeted the company's clients, lenders, and investors and involved approximately $1 billion in fraudulently obtained funds."
The once-high-flying health-tech firm's business mandate was simple: It billed pharmaceutical companies like (and including) Novo Nordisk to run their advertising on video screens in doctors' offices and waiting rooms. But things got complicated because Outcome began fudging the numbers.
The company sold advertising inventory the company did not have to Outcome's clients, under-delivered on its advertising campaigns, and then billed the clients as if the job was done in full, according to the justice department. Over several years, between 2011 and 2017, the executives and employees concealed the under-deliveries through a series of deceptions, including inflated engagement metrics and manipulated third-party reports, to keep up the pretense. The company's executives lied to not just customers, but also to auditors and investors.
A sentencing hearing is yet to be scheduled.
Table: Outcome health ex-execs' convictions at a glance
The Outcome Health fraud and penalties, by the digits
$45 million: Overbilled advertising services between 2011 and 2017
$110 million: Debt financing raised in April 2016 using inflated revenue figures. It resulted in a $30.2 million dividend to Shah, and a $7.5 million dividend to Agarwal
$375 million: Debt financing raised in December 2016
At least 23%: How much the financial statements Outcome provided to investors overstated its revenue in 2015 and 2016
12: Almost half of the 28 return-on-investment studies had been manipulated to provide the illusion that the ad campaign had met performance guarantee thresholds
$487.5 million: Equity financing raised in early 2017—$100 million from a Goldman Sachs-managed fund and $50 million each from the venture capital fund of now Illinois governor J. B. Pritzker, a fund tied to Google parent Alphabet, and one affiliated with Laurene Powell Jobs' Emerson Collective. It valued the company at $5.5 billion. A $225 million dividend is earmarked for Shah and Agarwal
30 years: Maximum prison sentence all three defendants face for each count of bank fraud
20 years: Maximum prison sentence the trio faces for each count of wire fraud and mail fraud
30 years: Maximum penalty Purdy faces for the count of false statements to a financial institution
10 years: Maximum penalty Shah faces for each count of money laundering
Who are the Outcome Health executives behind the scam?
The jury has convicted the company's three head honchos:
👨🏾 Rishi Shah, 37, the co-founder and former CEO of Outcome.
👩🏾 Shradha Agarwal, also 37, was the co-founder and former president of Outcome.
👨🏼 Brad Purdy, 33, served as both the the former chief operating officer and chief financial officer.
But they're not the only ones under the legal spotlight. A handful of former Outcome staffers already pleaded guilty to their participation in the fraud:
👨🏾 Ashik Desai, Outcome's former chief growth officer, pleaded guilty to one count of wire fraud. He struck a deal with the government for a reduced sentence in exchange for testifying against his former bosses. He was a star witness who testified in February.
👩🏻 Kathryn Choi, a former senior analyst, pleaded guilty to conspiracy to commit wire fraud.
👨🏻 Oliver Han, a former analyst, also pleaded guilty to conspiracy to commit wire fraud.
A brief timeline of Outcome Health's unraveling
2006: Shah and Agarwal, students at Northwestern University, found Outcome Health.
2012 to second half of 2013: Shah and Agarwal are directly involved in providing fake list match results to clients, including offices and devices in the list match that were not in Outcome's network.
Second half 2013 to 2017: Shah and Purdy trained Desai to perform the list matches, after which he supervised the list match process for years.
October 2017: A Wall Street Journal report reveals that some Outcome employees have misled customers by charging them for ad placements on more video screens than the startup had installed, and presenting falsified, inflated figures about the business.
November 2017: Outcome investors, including Goldman Sachs Group, Chicago-based Pritzker Group Venture Capital, Google's parent Alphabet and others, sue the company, alleging they had been defrauded during the equity funding round earlier that year. Shah and Agarwal initially denied wrongdoing, but three months later, they resigned and settled, agreeing to give back $159 million from the dividends they earned from the nearly $500 million equity round. At least one big-name pharma advertiser, Bristol-Myers Squibb, did not renew its advertising contract with Outcome for 2018.
October 2019: Outcome admits former execs and employees defrauded clients and agrees to pay $70 million as part of a 2019 deal to resolve the federal fraud charges.
November 2019: The justice department charges the trio of executives, and the Securities and Exchanges Commission sues them. All three deny the charges at the time. The SEC decision is still pending as of April 2023.
December 2019: Choi and Han plead not guilty to the charges against them.
January 2020: Choi and Han change plea to guilty and cooperate with investigators.
March 2021: Outcome merges with rival PatientPoint.
Quotable: Outcome's fake-it-till-you-make-it attitude
"It was a company built on a lie." —Prosecutor William Johnston during the government's closing arguments, quoted in the Wall Street Journal.
Related stories
💭 How Safeway and Walgreens fell for the Theranos pipe dream
💰 A tech founder who didn't pay employees for months but bought a $16 million private jet has been arrested
👮‍♀️ Ozy Media founder Carlos Watson was arrested after two former executives admitted to fraud