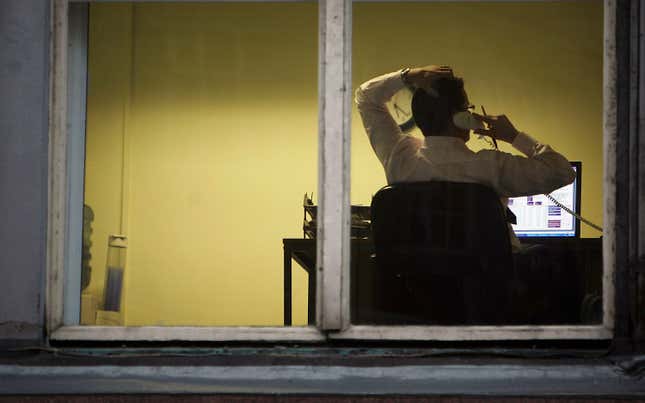 Glassdoor, a site where employees can anonymously review their employers, rated Meta the best place to work in the US in 2018. Last year, Meta fell all the way to the No. 47 spot. This year? It isn't even on the list.
After a bad year for tech companies, complete with mass layoffs and plummeting stock prices, major employers like Meta, Apple, Zillow, and Zoom disappeared entirely from Glassdoor's list of best places to work. It seems as though the free food, luxury transportation, and remote work opportunities couldn't compete with the sector's instability. 
In fact, only two members of the so-called "Big Five" tech companies made the list, with Google coming in at No. 8 and Microsoft close behind at No. 13. Still, the plurality of the list was made up of tech companies, with 41 making the cut. Finance and consulting companies were tied for the second most popular sector with seven companies each.
The No. 1 place to work this year was a software development firm called Gainsight, which aggregates consumer data. It was the first year that the San Francisco-based company, which was founded in 2009, made the list.

"The past year brought extreme highs and lows for job seekers and employees," Glassdoor CEO Christian Sutherland-Wong said in a press release. "It's encouraging to see companies doubling down on employee mental health and wellbeing, diversity and inclusion, competitive benefits and flexible work environments."
Glassdoor's rating system is based on voluntary and anonymous employee surveys. When employees submit reviews, they are asked to share the pros and cons about the company they work for, using a ranking system that takes into account career opportunities, compensation, culture and values, diversity and inclusion, senior management, and work-life balance.
The top 10 companies on Glassdoor's ranking for 2023 are listed below. You can view the full list of 100 employers here.

Related stories:
🧑‍💼 How a CEO embraced coaching and brought it to his employees
💰How to negotiate higher pay using new salary transparency laws
✏️ How a strong mission statement can improve employee performance