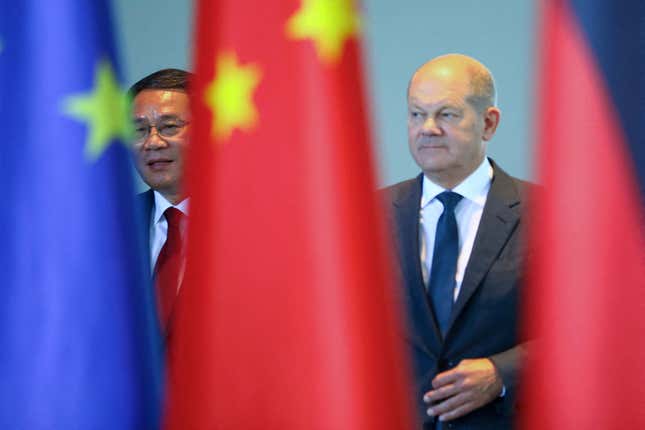 The German government has published its first ever strategy on China. The document, which was adopted by the German cabinet on Thursday, outlines a playbook for reducing dependence on Beijing in "critical sectors," at the same time as it tries to strike a balance between dealing with a China that is at once a "partner, competitor and systemic rival" of Berlin.
Why a tightening of credit conditions could lead to a weak economy
"China has changed," the document states (pdf). "As a result of this and China's political decisions, we need to change our approach to China."
What exactly that change entails and what consequences it will have is hard to say. But on one point Germany is explicitly clear: "de-risking is urgently needed."
Less clear is what de-risking means, even as more governments adopt the term in the push to be less reliant on China in supply chains, particularly in high-tech and strategic sectors like critical minerals, chips, and electric vehicles.
The strategy document identifies several areas where Chinese actions are heightening risks to Germany's "security, sovereignty and prosperity," including, it said, China's increasingly assertive attempts to reshape the existing rules-based, liberal democratic international order.
Germany Inc. and China Inc.'s deep and tangled ties
Another risk factor for Germany and Europe is China's competitive strategy of shoring up its own economic self-reliance while simultaneously working to embed itself more deeply into global supply chains, the document noted.
"China's economic strategy aims to make it less dependent on other countries, while making international production chains more dependent on China," it said.
In particular, China's approach to industrial policy "sets out objectives that are leading to greater economic independence for China while at the same time increasing asymmetrical dependencies abroad."
That's especially apparent when looking at German industrial giants' dependence on the vast Chinese market. China was Germany's most important trading partner for the last seven years.
And Germany Inc. doesn't think it can afford to cut ties with China Inc. In May, the CEO of German automaker Mercedes-Benz said that cutting ties with China would be "unthinkable for almost all of German industry." Meanwhile, Volkswagen and BMW are continuing to ramp up investments in China, and chemicals giant BASF is forging ahead with a $10 billion investment in southern China.
Germany warns on China's strategy of asymmetry
Against this backdrop, Berlin is prudent to highlight the risk of "asymmetric dependencies" on China. After all, it is crucial to Beijing's game plan for becoming the global technological competition.

"We should adopt an 'asymmetric' strategy of catching up" with the science and technology levels of developed countries, Chinese leader Xi Jinping said in 2016 (link in Chinese).
Rather than just copying its more advanced competitors, China should seek out what Xi calls "asymmetric shashoujian"—often translated as "assassin's mace," a reference to technologies that allow an underdog upstart to effectively compete against more established opponents.
Lithium-ion batteries are one example of this strategy of asymmetry: Chinese companies seized on the cheaper technology, built up massive capacity, and now control vast shares of the global market for lithium processing and lithium battery production. Now Western automakers, which had previously bet heavily on the more expensive nickel-based battery chemistries, have embraced lithium cells—and in doing so, found themselves heavily reliant on China.
The German government has now explicitly come to terms with this asymmetric conundrum. The more difficult and critical step is figuring out what to do about it.