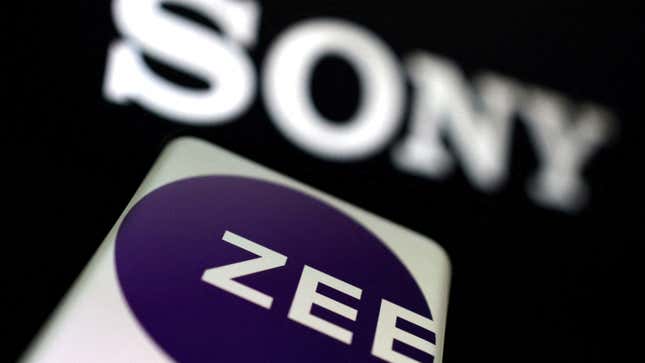 A $10 billion media and entertainment behemoth is one step closer to see the light in India. The country's National Company Law Tribunal (NCLT) today (Aug. 10) approved the mega-merger between Sony Group's south Asian unit and Zee Entertainment.
Should you keep investing in Big Tech?
Sony, which already has a wide range of sports and movie channels and English-language content, has been aggressively pursuing Zee for its robust slate of regional Indian language content that dates back to the 1990s. In the over-the-top market, SonyLiv is a weaker product that could do with a boost from Zee5 customers.
The monumental deal, first announced in 2021, has made it past several hiccups, including regulatory approvals from the country's stock exchanges and antitrust regulator. But it still has a few more hoops to jump through. Objecting creditors can still appeal the decision at a higher court, and the merger still needs to be sign off from India's Ministry of Information and Broadcasting, Janak Dwarkadas, Zee's lawyer, told Bloomberg News at the hearing in Mumbai.
After the merger, Sony Pictures Network India (now called Culver Max Entertainment) and Zee would become the second-biggest media and entertainment company in the country. Disney's Star—which beat Sony to the TV rights for the popular cricket tournament Indian Premier League—is the current market leader to contend with.
A brief timeline of the Sony-Zee merger-to-be
September 2021: Institutional investor Invesco—the largest shareholder in Zee with a 18% stake—calls for the rejigging of the board, including the removal of Punit Goenka from the post of managing director and CEO. In the midst of the corporate governance chaos, the Zee board approves a merger with Sony Pictures Network India.

March 2022: Invesco drops the plan for the Zee shakeup as it decides to back the Zee-Sony deal as is.
October 2022: Competition Commission of India (CCI) gives approval to merge Zee and Sony's India arm. "The merged company will create extraordinary value for Indian consumers and eventually lead the consumer transition from traditional pay TV into the digital future," Sony told Quartz in a statement at the time.
January 2023: Zee5 exits Bangladesh on account of inconvenient payment gateway systems, content piracy, and potentially demanding OTT policy with strict rules around obscenity, defamation, and hurting religious sentiments.
February 2023: An Indian tribunal puts on hold insolvency proceedings initiated by lender IndusInd against Zee.
June 2023: Markets regulator Securities and Exchanges Bureau of India (SEBI) accuses Zee's founder Subhash Chandra and his son Punit Goenka of siphoning funds. One of the requirements of the deal was that Goenka remain managing director and chief of the merged entity, but SEBI's decision bars Goenka and Chandra from holding directorial, key managerial positions. Chandra wants to maintain a hold on the media firm he founded in 1992, although Goenka seems more flexible about letting go.
July 2023: An insolvency case against Zee is discarded with Zee and IndusInd Bank announcing settlement of all dues
Quotable: Zee-Sony merger will happen with or without Goenka
"I'll follow the law of the land. But having said that, the merger is of utmost importance to me. And I am completely focused on that. The merger should go through irrespective of whether I'm the CEO or not."
The Zee-Sony merger, by the digits
20%: How much shares of Zee shares jumped after the court's decision, closing at their highest level since April 2022
85: Sony Pictures Network India shares shareholders will get for every 100 Zee shares they own
30: Original series in the languages that ZEE5 commissions in— Hindi, Tamil, Telugu and Bangla—in the 111-strong slate for 2023
$1.57 billion: Cash Sony plans to infuse into the combined entity
25%: The combined entity's potential market share across Indian TV with 75 channels spanning general entertainment, sports, movies, regional, kids, infotainment and niche genres
App of interest: JioCinema
If Netflix and Amazon Prime weren't competition enough for Zee, another deep-pocketed rival has amped up its play. JioCinema, launched by India's richest man Mukesh Ambani, offers a year's worth of free content streaming—while its rivals charge at least $3 per month—while boasting a growing slate of new movies and shows across various local languages. In April, came JioCinema's biggest trump card yet: it licenced all Warner Bros. content, including coveted HBO titles, that appeared on Disney+ Hotstar until March 2023.
Related stories
🤝 Sony's takeover of Zee Entertainment will create India's biggest broadcaster
📮 Indian media companies are feeling the global decline in ad revenues
🏏 Viacom 18 has won women's IPL media rights for $117 million