Planning to visit IKEA's first store in India?
Well, make sure to put on your most comfortable footwear and keep at least half-a-day at hand for shopping. (And if you're visiting anytime soon, keep the other half free to negotiate the traffic jam in the vicinity caused by thousands of shoppers.)
On Aug. 09, when it first opened up for customers, around 40,000 shoppers turned up at the giant Hyderabad store that had been under construction for over two years. In the first 30 minutes itself, some 1,300 people walked in and by early evening there was a serpentine queue of those awaiting a glimpse of what the world's largest furniture maker offered.
The crowd ranged from families with kids to groups of men who had taken the day off just for this. While most of the shoppers were from Hyderabad, some had traveled hundreds of kilometres.
For instance, Prerna Gupta has shopped at several IKEA stores around the world. When she heard of the Hyderabad opening, she travelled north over 600 km from Chennai to pick up furniture for her daughter's room.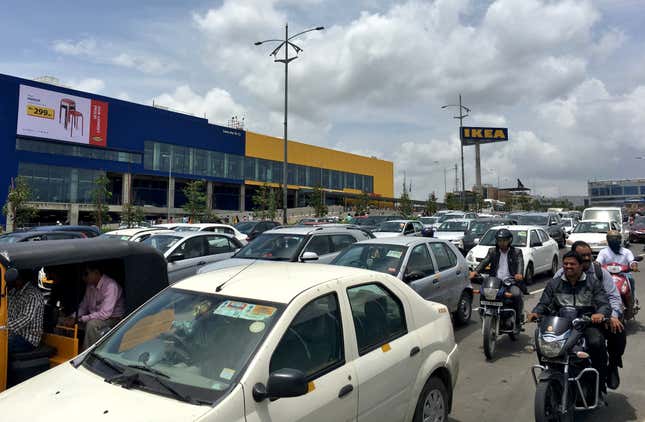 If navigating through that rush was exhausting, it's wasn't any different inside either.
The three-storeyed 400,000 square feet (including parking) Hyderabad store is a maze, to say the least. In IKEA's signature style, the outlet is divided into two parts: a market hall on the ground floor and a display showroom on the first floor. Then there's also a 1,000-seater restaurant selling Hyderabad's famed biryani, Swedish meatballs, and coffee, among other things.
The entrance is designed such that shoppers are first guided up to the showroom via an escalator before they head down to the ground floor.
A splash of colour and design
The showroom basically helps shoppers see how large furniture items—some sold in IKEA's famous ready-to-assemble boxes—look when assembled. These include sofa sets, tables, drawers, beds, etc. Customers can buy some small items like plastic cutlery, kids' toys, and potted plants from this space, but the market hall is where most of IKEA's more than 7,500 products are.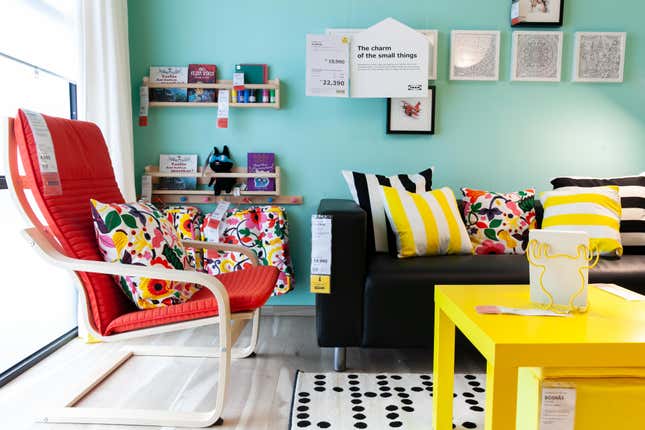 The one thing that sets it apart from the 400 other IKEA outlets worldwide are the colours. "Indians love their colours, so we decided to display more of it," said Mia Lundstrom, creative director (Life at Home), IKEA India. "This is definitely among the most coloured stores we have anywhere."
Bright colours run both through the selection of products sold at the outlet and the way these items are displayed. For instance, in the textiles section, bright shades of orange and blue are displayed upfront while the browns and greys are at the back. Indian design aesthetics differ hugely from European tastes, where customers veer towards more monochrome tones. Which is why going forward IKEA will focus on adding more prints and colours here.
Another unique feature is the display homes where the concepts for several rooms in a house are laid out: dining, study, bedroom, kitchen, bathroom, and living rooms, among others. A model bedroom set up, for instance, comprises a cot, a dressing table, and a wardrobe. These room sets are small (like most crammed Indian houses) and fit in everything much like how families in Hyderabad live.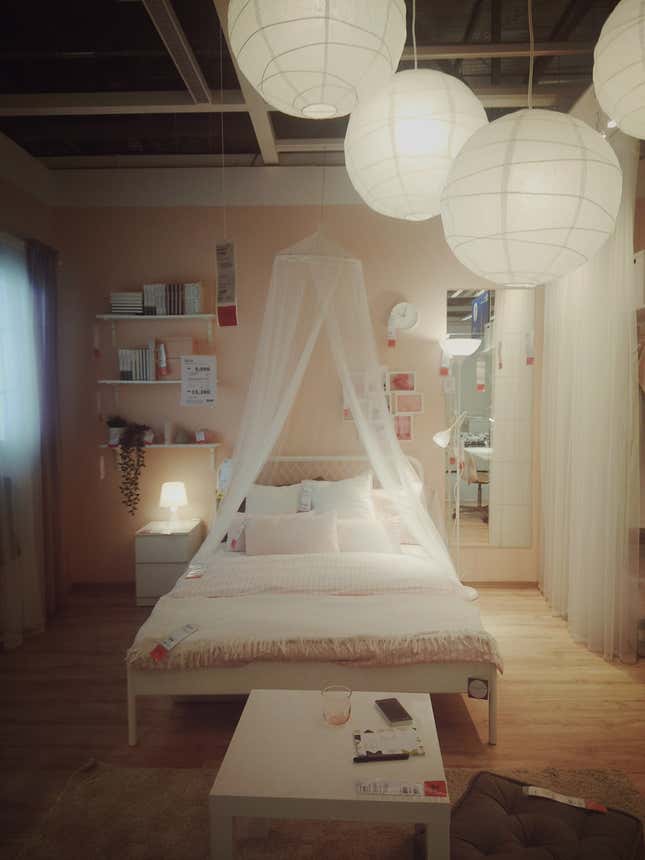 The idea is to familiarise first-timers with IKEA's products and help them visualise their homes stuffed with IKEA furniture.
These display homes have been designed based on research after visiting close to 300 homes in Hyderabad. "We don't do such home (layouts) anywhere else in the world but India," said Lundstrom. As one moves down the area, there are more concept rooms.
Most items on display carry price tags so that consumers can decide on purchases right away. There are small items such as side tables (Rs599) and wooden chests (Rs3,500), while wardrobes are available at Rs14,990 and go upwards of Rs70,000. The displays include couches (the grey Ektorp priced at Rs23,990), desks (Rs11,900), bed frames (Rs17,990), armchairs (Rs4,950) and storage boxes, some priced at Rs249.
A long row of stairs from this section lands at the market hall on the ground floor.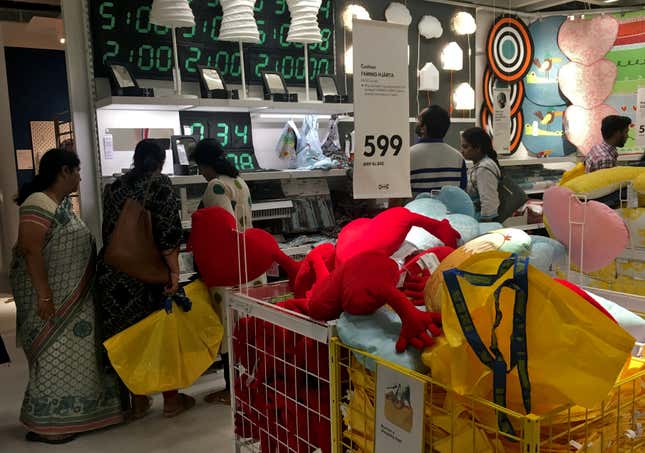 The first section here is dedicated to kitchenware, a category IKEA is pushing the most in India. Items here are priced extremely low: a tawa (pan) costs just Rs149, while it comes at Rs300 on e-commerce portals.
Most items in this section are also easily available in local markets, but IKEA feels the demand for low-priced products is likely to drive business.
So far, it looks like IKEA has gone all out to woo consumers in its 50th market, where most shoppers remain unfamiliar with its do-it-yourself concept.
However, a few hours into the opening day, one wonders if the preparation was enough.
Curious shoppers
By 4pm on day one (Aug. 09) the store was already packed. Outside, there was a winding queue of shoppers who may have to wait for over an hour or more.
Those who did make it inside didn't appear in a mood to leave any time soon.
Most potential shoppers are just exploring: running their hands on the sofa sets, knocking on wooden tables, sinking themselves into mattresses, and tugging at price tags.
The army of over 900 in-store staffers, of course, is on its toes. "This (concept) is all new to the people," said Lundstrom. "Some [people] are familiar with the idea of IKEA, having lived abroad, while others are not."
At one of the many help desks, Max Monauier is swamped with queries. "People just want to know how to buy stuff, what the shopping procedure is, what the assembling process is," the executive said. The most frequently asked questions are all about the way to the next section, prices, and delivery options.
And this help is much needed.
Bharat Ravula, a 40-year-old data analyst, had been at the store for over three hours looking for furniture for his new house. He had heard of IKEA from his friends but knew little of the Swedish firm's products. Having spent all this time at the store, he said, "Now I know how to read and understand all information on the labels."
Ravula's confusion stems from the labels with Swedish names and English translations. These names are picked by an internal team after thorough research. For instance, a pack of colourful plastic plates and spoons is called Kalas, which translates to party in Swedish. Its outdoor furniture is named after Scandinavian islands (like Äpplarö and Västerön), and rugs are named after cities and towns in Denmark or Sweden (like Ådum, Stockholm, Silkeborg).
This is the format IKEA pretty much follows worldwide. But being a market dominated by regional languages, Indians may struggle. However, the retailer doesn't plan to change this format. "If we would start monitoring, it will be logistically impossible…that means we will have to change it across markets," Lundstrom added. IKEA, however, could try using local languages to help with store directions.
Meanwhile, there's no stopping the shoppers.
Price points
IKEA's range in India spans from plastic spoons worth Rs15 to navy-blue suede couches costing over Rs1 lakh. The first-day customers seem largely comfortable with the price points.
"This will give competition to the Hometowns and Home Centres of the world," Mona Gupta, a shopper said. She bought a set of wine glasses that cost slightly over Rs400. "It's the same price at which I can buy them elsewhere, in some cases even cheaper," she said.
With its focus on accessibility, IKEA has gone all out to sell at least 1,000 products at Rs200, but this also means the retailer will be absorbing high duties on some of its imported products. This means going forward IKEA will have to increase local sourcing to reduce costs. While IKEA has plans to make its products even more accessible going further, the retailer has not shared any plans on how it will break even in a market where it is set to open 25 stores by 2025.