A little over a year after Snapchat reportedly didn't want to "expand into poor countries like India," the photo-based instant-messaging app is pulling out all the stops for its Indian users.
Yesterday (Nov. 28), the California-based company announced the India launch of a localised version of Discover, a feature that curates vertical-format video stories from publishers and creators. The company has partnered with over a dozen digital-media brands, including Brut, HuffPost India, The Logical Indian, The Quint, VICE India, Pocket Aces, The Viral Fever (TVF), QYOU, Saavn, and MissMalini for content.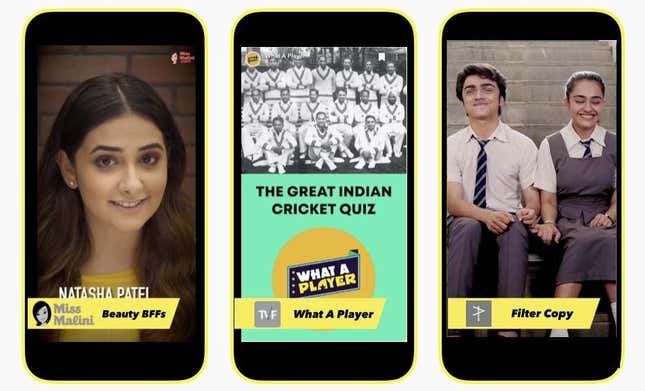 "This is a typical ecosystem-play where most of these apps want to behave like a platform. They want to make their offering the bedrock of whatever the customer needs or does online," said Yugal Joshi, vice-president at Texas-based consulting firm Everest Group. "Snap has the money and investor pressure to grow and do new stuff."
The pressure to grow in new markets like India perhaps stems from Snapchat's losing battle against Instagram. In August 2016, the Facebook-owned photo-sharing platform launched "Stories," a Snapchat-like feature that allows users to upload photos and videos that stay online only for up to 24 hours. This has crippled Snapchat's growth. Instagram now boasts of 400 million daily users versus Snapchat's 191 million.
Where's the audience?
In the US, Snapchat has been trying to make mobile TV happen for a couple of years now, roping in creators to provide fresh content daily to give Snapchatters a reason to return to the app every day.
Quartz's Ashley Rodriguez explains how it works:
Unlike regular TV, Snapchat originals are all shown vertically, the way people normally hold their phones. Each season is about 4-12 episodes long, with episodes dropping daily—in an attempt to keep Snapchat users returning to the app each day. They use quick cuts, split screens, and motion graphics to tell the story, and (hopefully) hook viewers, in five minutes. Similar to traditional TV, the shows include commercial breaks you can't skip, which are each about six seconds long.
Snapchat says the feature is a hit. "The time spent watching shows on Snapchat globally has more than tripled since the beginning of the year and in Q3 of this year 21 unique Shows in Discover reached a monthly active audience of over 10 million viewers," it said in the Nov. 28 press release.
Now, the company hopes to replicate that for India.
"With the majority of Snapchatters in India in the 18-24 year demographic, we have a unique and traditionally hard-to-reach audience that isn't always available on other platforms," Rami Saad, head of international content partnerships at Snap, told Quartz.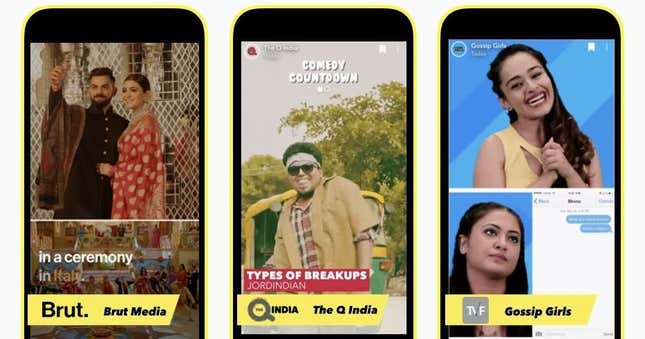 The India story
In India, a nation where nearly nine in 10 devices operate on Android, and iOS penetration is a minuscule 2%, Snapchat's growth story had earlier been running up against a wall because the app-makers would not put money behind the Android experience. But they did foresee its downside: "If we are unable to improve operability of our products on smartphones with Android operating systems, and those smartphones become more popular and fewer people use smartphones with iOS operating systems, our business could be seriously harmed," Snapchat said in its February 2017 IPO filing.
So, India began to get more attention. In October, Snapchat hired Twitter's former head of news, politics, and government Raheel Khursheed to lead India operations. The country also got a redesigned Android app recently, which will help maximise the user experience, thereby upping engagement, Saad hopes.