Delhi's air pollution hit new highs last winter, giving the city, at least briefly, the worst air quality readings of any place on earth.
Unlike in years past, though, the warmer weather hasn't brought that much relief.
Delhi's air pollution has been worse than Beijing's again this week. The count of the most insidious particles, the tiny PM 2.5  that enter your blood stream from your lungs and cause cancer, has fluctuated between 61 and 166 in Beijing during that time. In Delhi, they've bounced between 96 and 153.
In Beijing, filthy air has spawned public protests, plans to build air domes, widespread donning of face masks and a government declaration of "war" on the polluter culprits. But in Delhi the reaction has been much more muted, even though the air is often worse. There's no discernible government push to fight the rise in diesel generators, brick kilns, and traffic jams that cause the problem—minus a recent political letter-writing campaign.
Delhi residents are, let's face it, pretty much stuck trying to deal with the problem themselves.
Here are some common coping strategies. But a caveat up front: They are not all available to everyone. Protecting yourself, and your kids, from Delhi's air pollution takes one thing—money.
Avoid auto rickshaws
Researchers with Delhi's Indian Institute of Technology and University of California, Berkeley took more than 80 trips through Delhi during rush hour in an auto rickshaw from February to May (pdf, pg. 12), measuring particulate matter and black carbon, and compared those levels to a fixed air monitor in central Delhi. It probably isn't surprising that the figures on the road are higher than those off the road, but the difference between the two is stark: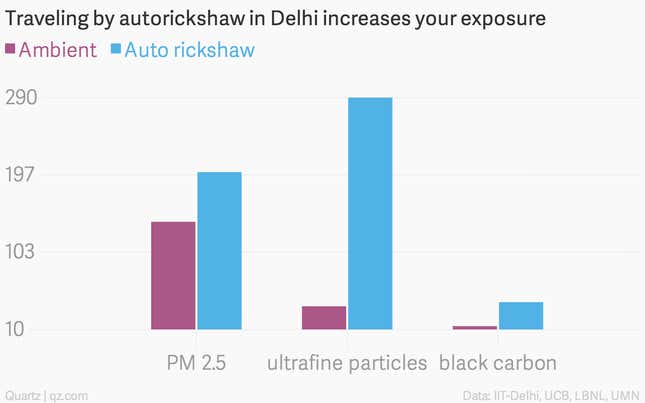 The alternative here is to travel in a car instead, with the windows rolled up, and your air circulation system set to "recirculate," rather than pulling in air from outside.
This only works, though, if you have a car.
Buy air purifiers by the cartload
Delhiites who can afford them are snapping up air purifiers that can cost Rs30,000 ($484) or more for every room of their house. Some residents have spent several lakh outfitting their entire home.
Sales of air purifiers have been growing as much as 50% a year in India, and new entrants to the business expect that figure will only increase—especially if they can convince schools to sign up.
Already some high-end private schools have installed central air purifiers, but most of Delhi's schools have not. If you can afford about $24,000 a year for tuition, you're in luck.
Keep the kids, and yourself, home from school and work

Last year, the national pollution control authority asked India's Supreme Court to suspend school on heavy pollution days.
"Closure of kindergartens, primary and middle schools is one of the steps taken in China on days when pollution levels are high. Such a measure is essential in Delhi," the environment board wrote in a report submitted to the Supreme Court last year. But the ministries of environment, road transport and petroleum quickly shrugged the recommendation off.
That doesn't mean you can't still keep your kids home, or stay home yourself. But this only works if you have an understanding boss and teachers, and can possibly afford to lose your job.
Don't go outdoors at night

Delhi's pollution varies depending on the neighbourhood and traffic patterns, but in general the coldest temperatures (i.e. in the middle of the night) create the highest levels pollution because of inversion, which traps pollutants from cars and factories under a blanket of warm air.
Here's how concentrations of PM2.5 fluctuated in R.K. Puram varied over a 24-hour period, between Dec. 2 and Dec. 3, 2014: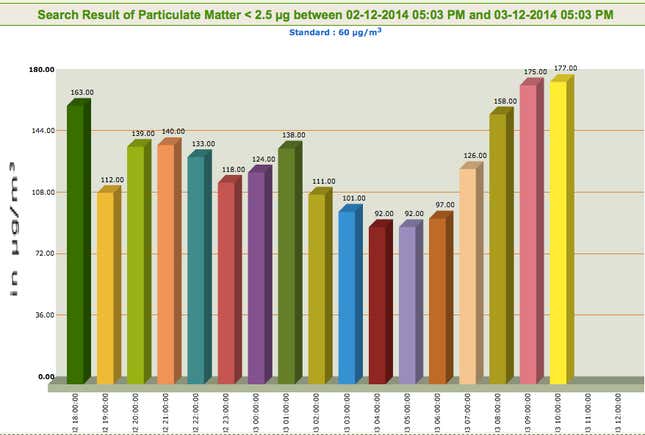 The best time to go out during the winter is 1 pm—but even then the concentrations of PM 2.5 are more than five times higher than the EPA's recommendation.
As the weather has gotten warmer, those fluctuations are still very pronounced. Here's the PM 2.5 levels in R.K. Puram during the past week: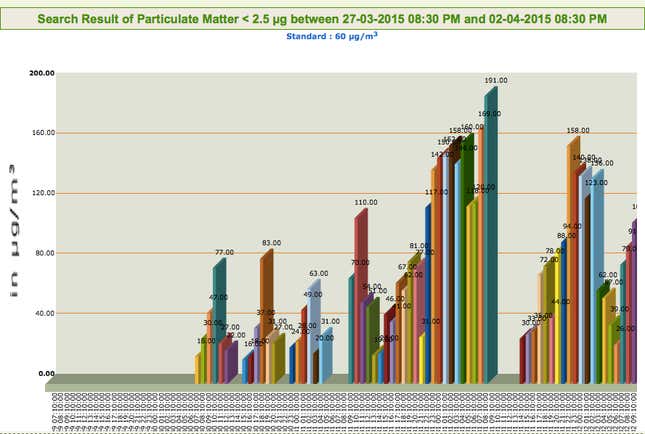 So—just don't outdoors at night. (This is not convenient for everyone.)
Take a pollu-cation
Travel just a few hours out of Delhi, and the air clears considerably. The hills are lovely this time of year. Mussoorie's Claridges Nabha residence is running a Rs11,000 per night promotion. You don't need to spend that much money, of course: Hotels in Kasauli start at Rs500 a night.
Hire clean air consultants
Yes, they exist. BreatheEasy123 will come to your home, test your pollution levels and suggest filters and fixes.
Increase the greenery
Does adding more houseplants to your home actually make indoor air cleaner? New Delhi-based architect Kamal Meattle popularised the idea with a TED Talk that's been viewed by over 2 million people. Many air pollution specialists say there's no scientific evidence to support this, but, hey, it can't hurt. Outdoor trees can help when their leaves catch big particulate matter.
Supplements, cleansing tonics, and treatments
There's everything from "bio-tulsi" tablets, made from dried basil "to counteract the effects of environmental pollution," to ginger tea, which is believed to stave of colds and sniffles. Again, not entirely supported by science.
Move out
Well before an AIIMS doctor told the Indian Express newspaper that leaving Delhi was the best way to be healthy, some residents have been fleeing. Since 2007, Sarath Guttikunda, the founder of Urban Emissions, has been measuring Delhi's air and trying to raise awareness about air pollution. Last year, he moved his family to Goa.
"I have two small kids and you can't really take them to the park for long" during the Delhi winter, he told Quartz. "We were trying to keep them in their room all the time and in the house all the time." In Goa, Guttikunda said, "they can go out whenever they want, and we don't have to worry they'll be sneezing tomorrow."
We welcome your comments at ideas.india@qz.com.