Indian prime minister Narendra Modi has joined China's largest microblog (registration required), Weibo, in the latest friendly gesture between the two Asian giants as they juggle an on-and-off again rivalry.
So far, it isn't going that well. As of Monday afternoon in China, Modi had about 13,000 fans on Weibo—a tiny following compared to Chinese actress Yao Chen who has 77 million followers on the social network. (British prime minister David Cameron, who joined in 2013, has over 800,000 fans on Weibo.) And responses to his greeting range from lukewarm to critical.
你好中国!期待通过微博与中国朋友们互动. Hello China! Looking forward to interacting with Chinese friends through Weibo. pic.twitter.com/yQcKn9bqTE

— Narendra Modi (@narendramodi) May 4, 2015
One of the top comments (link in Chinese) under Modi's greeting was "Hello Indian brother! Tibet belongs to China." The two countries remain at loggerheads over the Sino-Indian border in a region in the northeastern state of Arunachal Pradesh that China refers to as "South Tibet." A brief border war was fought in 1962 and incursions and skirmishes still occur today. Another blogger wrote "Tibet belongs to China," and added  阿三, or A-san, a slangy Chinese term for Indians that dates back to British colonialism.
Wary allies, Beijing and Delhi compete over everything from partnerships in the region to how water in the Himalayas should be used. Modi's Weibo profile photo may be aimed at projecting an image of strength. In it, he walks, unsmiling, flanked by his security detail.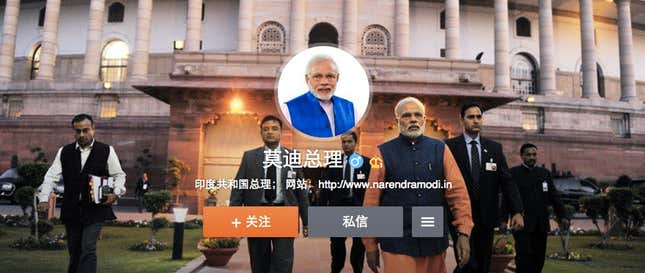 Another blogger wrote, "Do not bully Pakistan. That is our little brother. Hitting Pakistan is like hitting us." While several bypassed politics entirely, to ask the more friendly "Are you okay?" a meme based on the awkward English Xiaomi founder Lei Jun used at a recent event in New Delhi.
Modi is only the latest foreign politician to open a Weibo account to interact directly with the Chinese public. Venezuelan president Nicolás Maduro, former Australian prime minister Kevin Rudd as well as athletes like basketball players Metta World Peace and Kobe Bryant have all opened accounts over the past few years.
China's own leaders have been reluctant to open themselves up to a public forum, even in China, and that appears to have made international leaders even more welcome, no matter what the politics. As one Chinese commentator wrote to Modi, "Hello PM! Hope you can quickly get used to the bloodbath that is Weibo! Looking forward to interacting with you."
Chinese leaders would likely get an even harsher skewering than Modi, if they were to join Weibo themselves. One blogger wrote on Modi's page, "A foreign prime minister's Chinese microblog. Where is the Chinese microblog of China's premier?"