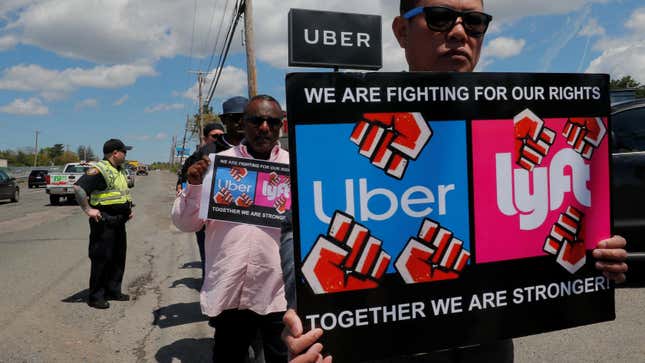 Ridehailing giants Uber and Lyft said they'd leave Minneapolis if a bill with a minimum wage provision for drivers passed. Earlier this week, both companies sent blast messages to customers, asking them to lobby the mayor and council members to oppose the policy.

The city council yesterday (Aug. 17) voted 7-5 to pass the ordinance that the two staunchly oppose. If the proposal becomes law come January, both the companies said they'd be compelled to drastically cut back operations or exit the city altogether.
A key part of the bill is guaranteeing the city's $15 per hour minimum wage for any driver with ride originating in Minneapolis. It'll also hold the behemoth firms accountable, asking them to provide longer timelines and more explanations when drivers are deactivated or fired. Plus, it intends to eliminate of the use of gift cards not issued by the rideshare companies, to provide a way to trace riders.
The city-level push comes just months after Minnesota governor Tim Walz in May vetoed a similar bill that passed both houses of the state legislature, after Uber and Lyft threatened to pull out. Instead, Waltz signed an executive order setting up a recommendations committee, which is due to share its findings in January.
The proposal now sits on the mayor's table to be signed into law. Minneapolis's democratic mayor, Jacob Frey, who had asked the council to delay the vote to buy more time to review the ordinance, has the right to veto the bill. It's not yet clear where he stands.
Quotable: City vs Lyft debates for and against the Minneapolis bill
The ordinance's authors in an Aug. 14 op-ed in the Star Tribune:
"Right now, thousands of Minneapolis workers are unable to pay rent and support their families because of the race to the bottom by massive corporate rideshare companies Uber and Lyft. These workers organized and brought their proposal to City Hall: Pass an ordinance that guarantees minimum wage equivalents and basic workers' rights for rideshare drivers."
Lyft's chief policy officer Jeremy Bird's Aug. 15 letter (pdf) to the Minneapolis City Council:
"[T]his particular proposal, which reflects a lack of consideration of data or earnest engagement with industry participants, is not a workable solution. It would make rider fares too high, significantly under cut driver earnings by reducing ride volume, and ultimately create too great a safety risk for riders for Lyft to operate in Minneapolis."
Minnesota's ridesharing bill, by the digits
$1.40 a mile and 51 cents a minute: How much ridesharing drivers would be paid under the bill. Or $5, whichever is greater.
80%: Share of the fees the driver would be entitled when a ride is cancelled, as per the bill. Also the share of a surcharge the driver would get
700: Emails Uber said drivers sent yesterday (Aug. 17), a couple days after Uber urged them to contact the mayor and city council to ask them to oppose the move. The company did not disclose the content of the emails
9: The majority the bill needs to pass with to override the mayor's veto
Place of interest: California
Back in 2020, Uber CEO Dara Khosrawshahi warned the company would temporarily shut down in California after failing to appeal a ruling requiring immediate reclassification of its drivers as full-time employees.
It didn't have to make good on its threat, though. The company's lobbying efforts to pass Prop 22—a ballot proposition allowing the companies to classify drivers as independent contractors rather than employee—came to fruition and it has since been upheld up as law.
Related stories
💸 Lyft's end to surge pricing means drivers will earn less—and Lyft doesn't mind
🤑 Uber's cost cuts and layoffs have yielded its first operating profit ever
⚖️ Biden's new labor rule tests the gig economy as we know it