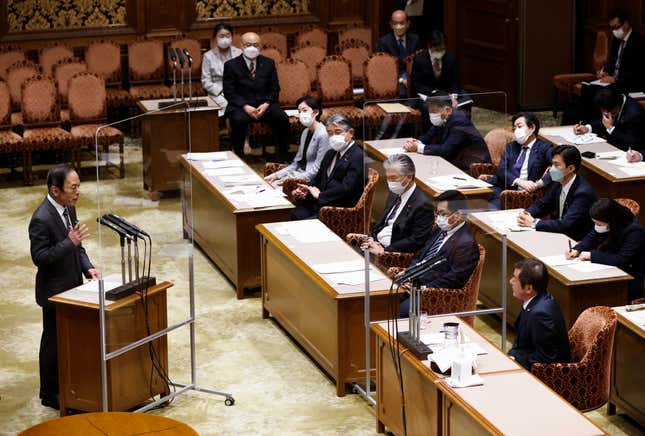 Japanese workers are awaiting the outcome of the annual "shunto" wage negotiations between the government, top businesses and union leaders on Wednesday (March 15), with economists predicting one of the most significant wage hikes in decades.
Quartz Smart Investing with Meera Pandit, Part 1
A survey by the Japan Economic Research Center (JERC) found that domestic firms will raise salaries by an average of 2.85% in the fiscal year beginning in April, marking the largest wage increase in 25 years. Even then, it would be below what workers were hoping for. Japan's trade union confederation, Rengo, sought a 5% increase, inclusive of a 3% base pay raise. The JERC's figure sets a 1.08% increase in base pay, but the remaining comes from seniority-based extras, according to Reuters.
If that's the case, the raise would not be enough to meet the Bank of Japan (BOJ)'s goals for the country's economy. The central bank has signaled that it must see wage rises at pace with the consumer price index in order to keep low interest rates and ensure the continuation of its $200 billion stimulus program meant to ease the effects of high prices. The inflation rate in Japan in January was 4.2%.
The government's involvement in the "shunto" negotiations is part of Prime Minister Fumio Kishida's "new capitalism" policy, a new initiative encouraging firms to hike pay stemming from campaign promises to ensure a more equal distribution of wealth in the country.

Last month, Japan's largest automakers announced broad raises for workers. Honda said it would raise employee wages by 5%, while union representatives for Toyota confirmed the company had agreed to its largest wage hike in two decades.
The Japanese tradition of "shunto" negotiations
Loosely translated as "spring offensive," shunto refers to annual wage negotiations between enterprise unions and employers in Japan. Occurring ahead of the start of the new financial year in April, negotiations typically begin in February or March with thousands of unions across the country starting the bargaining process with employers.

The practice was invented in 1954 as part of a strategy by the General Council of Trade Unions of Japan to strengthen negotiating power by unifying the process across disparate industries. In Japan, unlike most other countries, unions are organized by enterprise as opposed to industry, meaning there are individual unions for each company.

This lack of cohesion made union members reluctant to strike, as it made it likely that other companies in the same industry would simply make up the lost market share. Thus, shunto set a specific deadline for companies to negotiate a new contract, or else all workers, across industries, would automatically strike.

However, union membership in Japan has fallen precipitously in recent years, leading many critics to consider the Shunto practice nothing more than a hollow tradition.

Person of interest: Kazuo Ueda
The Japanese government has remained committed to a policy of ultra-low interest rates as a way to counter the highest inflation rate the country has experienced in 41 years, with current BOJ governor Haruhiko Kuroda keeping the status quo at a central bank meeting last Friday (March 10).

With the BOJ leadership set to change in April, this strategy might not last much longer. Kishida has nominated Kazuo Ueda as the next governor of Japan's central bank, a hawkish economist and academic who is expected to raise interest rates and move the country away from its current ultra-easy monetary policy.

Ueda, a former member of the BOJ board of governors, isn't expected to radically overhaul Kuroda's other policies, but he has historically been against the central bank's current policy of strongly regulating bond yields.

Specifically, at the BOJ's 2016 policy board reception Ueda argued that the central bank imposing strict limits on bond yields could lead to hyperinflation. Most analysts expect Ueda to eliminate the current 0.5% ceiling on the 10-year government bond yield, a cornerstone of Kuroda's fiscal strategy.

Last week, Japan's lower house of parliament officially confirmed Ueda's nomination as governor. He is expected to chair his first BOJ policy meeting on April 27.

Related stories:
🇯🇵 Even Japan is fighting inflation now

🚗 Toyota and Honda announce broad raises for Japanese workers
🏦 This is what it's costing Japan to deal with the Fed's rate hikes