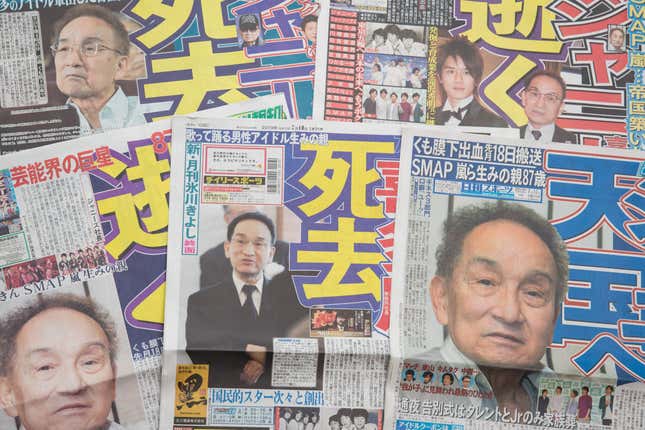 Japanese talent agency Johnny & Associates, a giant in the J-pop industry, issued an apology to those who have accused its late founder Johnny Kitagawa of sexual abuse.

President Julie Keiko Fujishima, who is also Kitagawa's niece, released a statement (link in Japanese) and a video on Sunday (May 14) that acknowledged the sexual assault claims, and apologized to those who have stepped forward. She did not confirm or reject the veracity of their stories.
Kitagawa, a towering figure in the world of J-pop, died at age 87 in 2019 from a stroke. But stories of alleged sexual assault have continued to emerge long after his passing.
In April, 26-year-old Japanese-Brazilian singer Kauan Okamoto came forward alleging that Kitagawa assaulted him "between 15 and 20 times" from 2012 to 2016. Okamoto also claimed that he knew of more than 100 boys who could have also been victims of Kitagawa's abuse.
The former idol's allegations followed the release of a BBC documentary in March that details Kitagawa's history of alleged predatory behavior.
"I believe we are still a great distance from any semblance of justice for the boys who were exploited by Johnny Kitagawa whilst he was heading Johnny & Associates," said Mobeen Azhar, the reporter behind the BBC documentary, to The Japan Times.
Kitagawa has evaded sexual abuse allegations for decades
Kitagawa founded Johnny & Associates, an all-boys talent agency, in 1962. It would go on to become an incubator for the most famous acts in J-pop, including SMAP and Arashi. Kitagawa himself kept a low profile, with few photos ever taken of him, though he gained a reputation as the most prominent talent manager in Japan and a pioneer of the country's music industry.
In 1999, Japanese magazine Shukan Bunshun published a series of bombshell reports on Kitagawa. It interviewed boys who claimed the music mogul had abused them, and published the allegations. Kitagawa sued the publisher for libel, but in 2004 the Tokyo High Court ruled that some of its claims were true.
Still, Kitagawa was never charged, likely due to his level of influence. Even former prime minister Shinzo Abe issued personal condolences when Kitagawa died.
"Johnny & Associates as a company essentially holds a monopoly so if you report something and say something bad about any of their acts…it can have repercussions," Azhar said in a recent interview with BBC News.
J-pop fans are demanding action from Johnny & Associates
J-pop fans have been calling for the agency to conduct a deeper investigation into the claims brought against Kitagawa. After Okamoto's story came to light in April, they created a group called Penlight to pressure the agency to take further action.
"Although Mr. Kitagawa has passed away, we believe that the [sic] Johnny's office is responsible because they continued to tolerate sexual assaults and failed to take measures to prevent its recurrence," the group said in a description on an active Change.org petition.
The group said it submitted a petition on May 11 for an investigation after gathering 16,000 signatures. The petition now has over 19,000 signatures at the time of writing, with a goal of 25,000.
Fujishima's statement addressed the call for a third-party investigation and claimed doing so would require the participation of people who may not wish to be associated with the case or discuss their experiences, adding to their stress. Fujishima also said the company had already taken measures such implementing "management reforms" and appointing external directors to increase scrutiny of the company's policies.
Related stories
💴 Japanese workers are set to get their largest pay raise in decades
✈️ Japan's prime minister is visiting Africa in an attempt to counter China's influence
🌕 Watch Japan's iSpace try to make the first private Moon landing