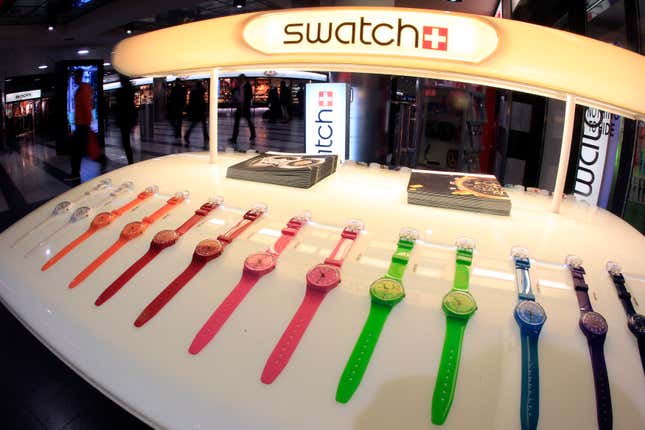 Malaysian authorities raided 11 Swatch stores on May 13 and 14, seizing rainbow watches from the company's Pride collection amid the country's growing crackdown on LGBTQ expression, according to a local media report.

3 considerations before your company takes a stance
Swatch confirmed on Tuesday (May 23) that officials had seized 164 watches, AP reported, because they "bore LGBT connotations." The raid was led by Malaysia's Ministry of Home Affairs. It is unclear what the ministry plans to do with the watches; Quartz contacted the agency for comment, but it did not immediately respond.
The Swiss watchmaker plans to replace and continue to display the watches, according to a Guardian report.
"We strongly contest that our collection of watches using rainbow colors and having a message of peace and love could be harmful for whomever," said Nick Hayek, the Swatch Group CEO, in a statement emailed to Quartz. He added: "This has nothing political."
Coldplay also sparked an LGBTQ controversy in Malaysia
The Swatch raids occurred just days after Nasrudin Hassan, the head of the conservative Malaysian Islamic Party (PAS), called on the government to cancel Coldplay's November concert in Kuala Lumpur. Chris Martin, Coldplay's lead vocalist, is a staunch supporter of LGBTQ rights.
"Does the government want to nurture a culture of hedonism and perversion in this country?" Hassan wrote in a social media post, according to a Pink News report. The call to ban Coldplay stood in contrast to a welcome message from Anwar Ibrahim, the Malaysian prime minister.
In March, Malaysian authorities questioned more than a dozen attendees at the annual Women's March because they were holding rainbow flags.

Same-sex sexual activity is criminalized in Malaysia
Section 337 of Malaysia's Penal Code criminalizes LGBT people, transgender expression, and sexual activity between women and between men. The law was laid down in 1936 under British colonial rule, when English criminal law was imposed on Malaysia. The punishment for violations of Section 337 includes up to 20 years in prison and whipping.
Historically, Malaysia has not enforced the law strictly, but the growing power of the country's religious right has increased anti-LGBTQ sentiment. PAS, which secured the most seats in parliament following a November election, has been at the forefront of targeting LGBTQ rights.
Related stories
😒 The Modi government is telling India's Supreme Court to reject the "urban elitist idea" of same-sex marriage
😨Uganda will jail LGBTQ people for 10 years
😓 Elon Musk made Twitter a more hostile place for trans people