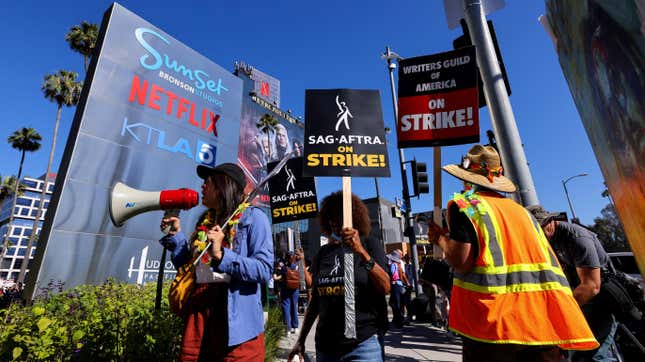 When Netflix reports earnings tomorrow (July 19), analysts expect subscriptions' growth to distract from the strikes in Hollywood. The platform is poised to report an uptick in subscriptions as a result from the crackdown on password-sharing and cheaper ad-tier rollout.
The streaming business is a major sticking point in negotiations between unions representing US actors and writers and TV and movie studios. More than 11,500 writers have now been on strike for two months, and 160,000 actors joined them on the picket last week, joining forces for the first time in six decades. Despite these being tumultuous times in Hollywood, Netflix, arguably streaming's poster child, is shielded from the worst of the disruptions.
The Los Gatos, California-based company is protected from the strike's immediate impact because of its massive global footprint, analysts told Reuters. For one, it has a robust pipeline of upcoming releases and a deep library of existing shows and movies in the US and abroad. Secondly, while some shoots will no doubt be stalled—Stranger Things season 5 and Cobra Kai season 6 are among the shows on pause—its international production crew will keep things moving in other locations. In the short run, Netflix may even benefit from the strikes as viewers flock to its international titles in its catalogue—the likes of Lupin (France), Squid Games (South Korea), and Money Heist (Spain) found success with a worldwide audience—while rivals struggle to keep apace.
Quotable: It won't be business as usual at Netflix forever
"As this situation continues to go on, it becomes more challenging, right. Because you start to get through all your shows, and now you've got to start new shows, especially Netflix, who's extremely reliant on programs that go on for a very long period of time through these series. And that's how they hook people, opposed to a movie that could always be delayed."—Synovus Trust senior portfolio manager Daniel Morgan to Yahoo! News on July 17 
Netflix's streaming revolution and talent compensation devolution
In spearheading the streaming revolution, Netflix had a large impact in rewriting the rules of remuneration. "Netflix in a lot of ways has upended the business model, and broken it in fundamental ways," Jaclyn Moore, an executive producer and writer for Netflix's Dear White People told the LA Times.
In a March report, the Writers Guild of America (WGA) explained "companies have leveraged the streaming transition to underpay writers, creating more precarious, lower-paid models for writers' work." Netflix led the way in changing the cable TV model by releasing seasons with fewer episodes, assembling mini writers rooms for shorter times, and effectively ending the staggered "backend," which would be lucrative for creators when a show played in syndication or when a movie hit cable TV.
The actors' union wants more transparency and higher pay for the streaming equivalent of TV residuals, which are payments linked to the revenue the show earns over time. Supporting cast on Orange Is The New Black have lashed out at Netflix for not fairly compensating them for the hit show, with some even saying they had to retain day jobs while on the show.
Netflix and other streamers' reluctance to publish data about their shows' success is also frustrating creators, as they can't gauge how well a show or movie is doing to negotiate better compensation. Suggestions to make residuals payments based on viewership have been turned down by the Alliance of Motion Picture and Television Producers (AMPTP), the umbrella organization for streaming sites and legacy studios both.
Striking over streaming, by the digits
20-24 weeks: The new "typical" employment for lower- and midlevel writers on a streaming series, or just 14 weeks if the room is convened without a series order. Beforehand, writers could be employed for nearly 10 months a year while working in the traditional 22-episode broadcast series format
$20: How much Orange Is The New Black actor Emma Myles, who appeared in six seasons of the show in the role of inmate Leanne Taylor, received in residuals this year, versus $600 for a few episodes of NBC show Law and Order episodes
50+%: Increase in Netflix share price since the start of the year, which is nonetheless down a third from its pandemic peak in 2021.
1.7 million: How many subscribers Netflix is estimated to have added in the quarter ending June 30, according to consensus. TD Cohen's analysts are far more optimistic, predicting an additional 2.37 million paying users
Related stories
✊ Hollywood actors are now on strike
⚡ Netflix's password-sharing crackdowns prompts an increase in subscriptions
💡 Netflix invented a new green screen method that uses magenta and AI