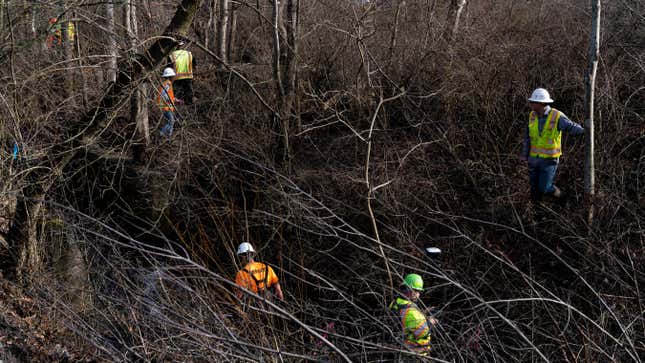 Keeping a watch on Norfolk Southern cleaning up the toxic chemical spill from its train derailment in East Palestine, Ohio, was only the start. The government is now looking at ways to prevent an incident like that altogether.

Transport secretary Pete Buttigieg proposed that railway companies join the Federal Railroad Administration's Confidential Close Call Reporting System (C3), which was first piloted in 2007. The common-sense program, where rank-and-file workers can anonymously file reports of minor incidents and close calls, has been vastly underutilized, with less than two dozen railroads out of more than 600 participating in the voluntary program at the start of this week.
A handful of major North American players have finally started to pay heed after the Norfolk incident. Yesterday (Mar. 2), seven of the so-called Class 1 railroads—Union Pacific, Norfolk Southern, BNSF Railway, CSX, Canadian Pacific Railway, Canadian National Railway, and Kansas City Southern—agreed to join the voluntary employee safety reporting program.
"The industry absolutely shares your commitment to establishing effective mechanisms to help prevent future accidents like the derailment in East Palestine," Ian Jefferies, president of the Association of American Railroads, said in a letter to US transportation secretary Pete Buttigieg.
Quotable: Major rail companies join an up-and-running reporting system
"This program allows railroads and their employees to report unsafe events and conditions without fear of negative consequences from the FRA (Federal Railroad Administration) or reprisal from their employers. To date Amtrak, many commuter rail and short line companies are part of this program, but not a single Class I railroad participates. This must change immediately." —Transport secretary Pete Buttigieg in a statement issued Feb. 21
The Norfolk train derailment in Ohio, by the digits
38: Rail cars derailed in the Norfolk incident on Feb. 3, sparking a fire that damaged an additional 12 cars
11: Number of derailed cars were carrying toxic chemicals
4,761: East Palestine residents, almost half of whom were asked to evacuate. Last night (Mar. 2), a public confrontation broke out between the residents and the operator of the freight train that derailed nearly a month ago in an emotional town hall
$25,000: The "initial" donation made by Norfolk to the town, to help those asked to evacuate
$6.5 million: How much Norfolk is paying derailment victims
3,500: Fish that died in 75 miles of stream, according to the Ohio Department of Natural Resources
2.1 million: Gallons of wastewater hauled away from the site of the derailment, according to Ohio governor Mike DeWine's office
1,400 tons: Solid waste have been moved from the site
57: Samples, out of 151 private well systems tested, that have been verified and do not show worrisome contaminant levels, matching similar results from the municipal water systems
One not-so-big number: Fine for rail companies violating safety regulations
The maximum amount the US Department of Transportation (DOT) can fine rail companies for violating safety regulations—even in massive cases involving hazardous materials that result in fatalities—is just $225,455.
"This is a rounding error for a company that reported an astonishing record annual operating income in 2022 of $4.8 billion, and has posted operating margins approaching 40%," Buttigieg said, taking a dig at Norfolk's financial report card. For the rail company, the cost of damage control in Ohio is pocket change.
A bill to watch out for: Railway Safety Act of 2023
This week, a bipartisan group of senators has introduced a bill to increase safety requirements on trains called the Railway Safety Act of 2023. Among other things, the bill calls rail carrier operators to:
ℹ️ Notify authorities when transporting hazardous materials.
📝 Develop a plan in the event that a dangerous gas is discharged.
🛤️ Fulfill requirements pertaining to train length and weight, route selection, speed restrictions, track standards, maintenance, issue detection and more.
💸 Faces higher maximum fines when they violate rules and regulations.
President Joe Biden has said he'll back this legislation.
Related stories
🚂 Norfolk Southern is giving $25,000 to an Ohio town where it caused a life-or-death evacuation
🗑️ Virgin plastic pellets are the biggest pollution disaster you've never heard of
🧹 The EPA has ordered Norfolk Southern to pay for all clean up costs at the Ohio derailment site