Calvin Klein and the Andy Warhol Foundation for Visual Arts have teamed up for a big multi-year partnership that will license a wide swathe of the pop artist's work for use across Calvin Klein's various fashion lines.
As the announcement explains, Calvin Klein is making a financial commitment to support the foundation's endowment, which provides cash grants to art organizations around the US. In exchange, it "will be granted unprecedented access to the late artist's works, including many that have not yet been published."
The details of how Calvin Klein will put that access to use are scarce at this point, but Calvin Klein's creative head, Raf Simons, has already used Warhol prints on the brand's runway clothes and in its ad campaigns. Simons, who often looks to art for his inspiration, has never had any qualms about splashing it across his clothes. He did it with the paintings of artist Sterling Ruby while he was at Dior, for instance, and last year decorated an entire collection for his eponymous line with prints by photographer Robert Mapplethorpe.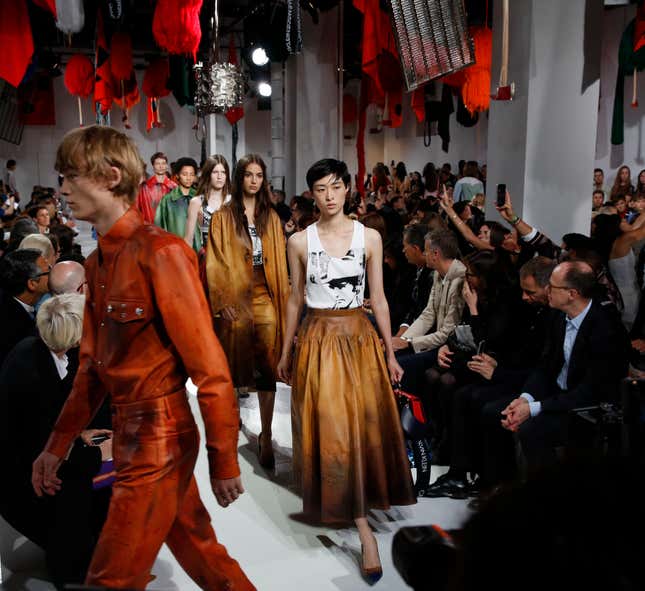 It isn't just the runway clothes that could incorporate Warhol's works. Simons is the first person since Klein himself to have complete creative control of all aspects of the brand. It's largely up to him where Warhol's published and unpublished works appear throughout the Calvin Klein universe, which gets most of its sales not from the expensive runway or made-to-measure lines, but from the more accessible collections, such as Calvin Klein Jeans—and who could forget—Calvin Klein Underwear. We've reached out to Calvin Klein for comment and will update this post with any reply.
Simons, a Belgian native who has eagerly been exploring American themes and pop culture since taking over at Calvin Klein, offered some insight into why Calvin Klein wanted access to Warhol's art. "I've come to realize that Warhol's genius goes much deeper than cheerful Campbell's Soup paintings," he said in the press release. "He captured all sides of the American experience, including sometimes its darker sides. Warhol's art tells more truths about this country than you can find almost anywhere else."
Much of that art, of course, slyly captured the way America commoditizes everything from soup to celebrity—perhaps especially celebrity. The art critic Robert Hughes, in a 1982 piece for the New York Review of Books, wrote that Warhol's "ruling passion," the thing he fixated on more than any other, was "the state of being well known for well-knownness." *Meanwhile, Calvin Klein has always straightforwardly trucked in celebrity to sell its wares, from the scantily clad Brooke Shields and Mark Wahlberg to, more recently, reality queen Kendall Jenner.*
Simons has cleverly alluded to Warhol's obsession with celebrity and publicity. He used a Calvin Klein ad featuring Warhol's "Elvis 11 Times" in the background of his recent Calvin Klein campaign—essentially, an ad within an ad, containing an iconic Warhol image that plays with the idea of celebrity.
What's next? A Calvin Klein ad featuring Kendall Jenner in underwear printed with a Warhol? Andy himself probably would have loved it.