LVMH, the world's largest luxury conglomerate, has unveiled a startup incubator, like the ones that have nurtured countless young companies in Silicon Valley—only this one is based in Paris, and its focus is specifically on technology for the luxury world.
The program will support 50 international companies each year, LVMH said in its official announcement, and will host them at Station F, the enormous Paris facility supported by French president Emmanuel Macron and billed as the world's largest startup campus. The startups will get to familiarize themselves with challenges facing the luxury industry through a series of workshops, and will do regular pitch sessions on their solutions to representatives of LVMH's various brands.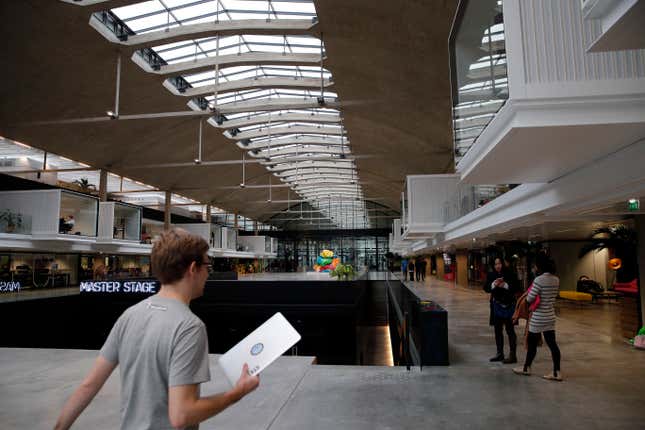 The companies' ideas are in a variety of areas, including artificial intelligence, blockchain and anti-counterfeiting technology, augmented reality, personalization, internet of things, e-commerce, and sustainability. LVMH published a document (pdf) with brief profiles of the innovators it selected for its inaugural program.
One company, Heuritech, has visual-recognition technology that can analyze millions of social media images every day to anticipate trends.
Orbis specializes in "hologram communication solutions to energise events and retail networks."
VisioPM says it creates and broadcasts 3D animations on screens that are visible without 3D glasses and that viewers can manipulate with hand movements.
Aryballe Technologies creates portable odor sensors, devices "billed as the Shazam of odors," according to WWD, which toured the accelerator (paywall).
LVMH—whose brands run the gamut from Dior and Louis Vuitton in its fashion division, to Acqua di Parma and Fenty Beauty by Rihanna in its perfumes and cosmetics group—looks to be positioning itself for an increasingly techy future in fashion.
The luxury landscape is changing shape as shopping moves online, technology changes how physical stores look, and science opens up new avenues for materials. Millennials and younger generations, who care little for a brand's heritage (pdf), make up a growing share of luxury buyers, and LVMH can no longer rely on its famous names to keep their attention.
Ian Rogers, who LVMH poached from Apple in 2015 to lead its digital operations, told Reuters that "the idea is to animate and activate those conversations around the things that might affect the luxury industry."
The incubator program actually launched in November, and nearly all of the startups are already working with at least one of LVMH's labels.