Nobody knows what the future holds, but that has never stopped anyone trying to predict it. It's a game countless US retailers are engaged in right now, while their industry shudders under the pressures of e-commerce, an overabundance of brick-and-mortar stores, and changing consumer spending habits. The ongoing "retail apocalypse" is forcing them to question the value of their physical stores.
There's no denying that e-commerce is taking a growing slice of the sales of products such as clothes and footwear, as a recent presentation from research firm Euromonitor made plain. (Check out the green wedge on the chart below.) And companies are realizing that, with more transactions happening digitally, their real-life spaces should do more than just house products and cash registers.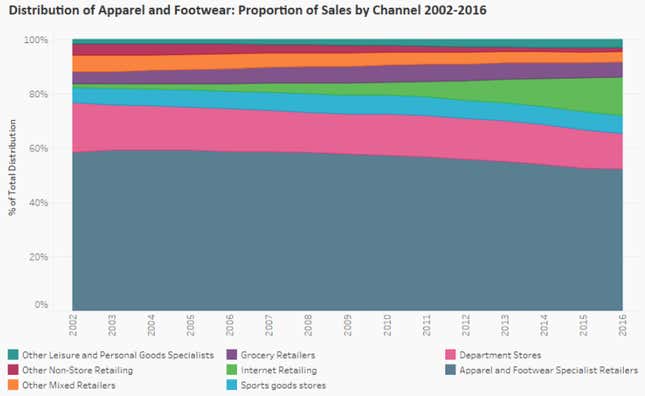 Still, old-fashioned shops are where most sales happen, and that isn't changing anytime soon. They serve other purposes, too. A column in Forbes recently argued that Wall Street's focus on store productivity misses the fact that stores remain an important channel for acquiring new customers: "Stores serve as showrooms that drive customers online," wrote Steven Dennis. "Stores serve as fulfillment points for e-commerce operations. Stores are billboards for a retail brand."
Exactly what stores should look like and what they should offer customers, though, is still an open question. The race is on to design the store of the future, with brands investing in innovation labs and putting forth bold and fantastical retail experiments as they search for identity in the age of e-commerce. It remains to be seen which—if any—of these concepts will catch on and endure, but the futures they imagine offer some insight into the direction the industry is headed as it works out how to attract customers and make physical spaces worth their considerable costs.
The big question is, what will tomorrow's customers want when they go shopping? Here are some of the answers that forward-looking brands have offered.
A super-fun, fantasy hangout spot
As retailers look ahead, one conclusion they've drawn is that if stores are going to be about more than just transactions, they need to offer something you can't get online: and an obvious answer is in-real-life experience.
By creating a sort of fantasy hangout-space, the store itself becomes an effective "billboard" for the brand's image. At the popular sneaker shop Kith, for instance, adults can indulge in the sugary pleasures of a cereal-centric ice-cream bar—and promote the brand via their Instagram accounts.
Some of those leading the way in experience-focused retail include the big players in sneakers and sportswear, such as Nike and Adidas. Late last year Nike opened a giant new store in New York that features a mini in-door basketball court, a treadmill set in front of monitors that simulate runs in different locations, and a small soccer enclosure. It contains a lot of Nike products too, of course, but it's as much a place to wander around and try things out as it is a place to shop.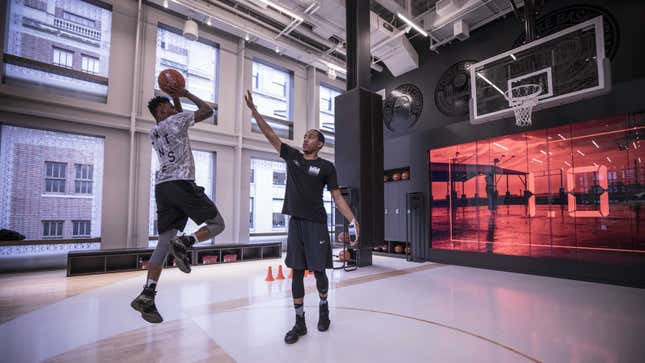 Shortly after, Adidas opened its own mega-store in Manhattan. Its sports-themed layout includes locker rooms that serve as dressing rooms, and a patch of turf for customers to test shoes and other products. Meanwhile, Under Armour is planning a massive, shiny new flagship in the former home of the iconic New York toy store FAO Schwarz (the original experience-focused retail concept) that will undoubtedly incorporate space for customers to play.
These experiential stores take advantage of their physical spaces and the real-life interactions customers have there. "We built this store with the idea of serving consumers one-to-one in ways that we haven't," Heidi O'Neill, president of Nike's direct-to-consumer business, said in an interview just before the Nike store opened.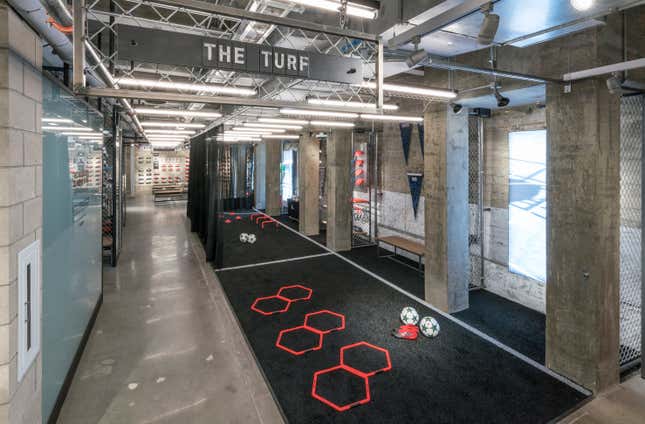 They also reflect the growing importance of the direct-to-consumer channel. As malls and department stores continue to struggle, brands are finding it in the interest of their margins and brand image to control more of their own sales. E-commerce makes it easy to sell straight to shoppers, of course, while the stores effectively communicate what the brand is about, as well as peddling products.
Personalized products, made while you wait
It's evident that shoppers today want more personalized, bespoke products, and technology makes it easier than ever for brands to oblige. In-store customization both provides customers what they want, and gives them a reason to visit a store in the first place.
Adidas, for example, is testing a pop-up that uses a body scanner and 3D-knitting machine to make custom sweaters in a matter of hours. (It also hopes to one day 3D-print customized sneaker midsoles on the spot.) Boston's Ministry of Supply, meanwhile has gone a step further, permanently installing one of the pricey and prodigious 3D-knitters in its Boston flagship.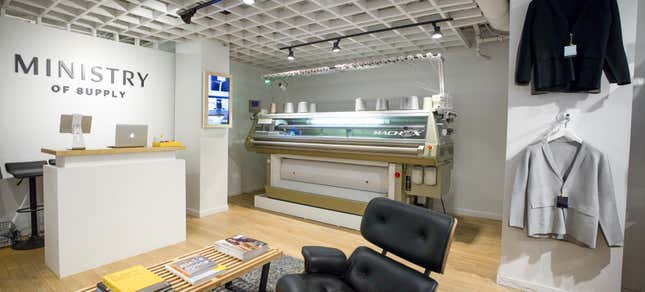 Aman Advani, one of Ministry of Supply's cofounders, says customized products aren't just about selling the item, but about changing the retail experience altogether. "These stores transform into places where you go to learn more about the brand, to help create your product, to understand who is behind the product, to connect with the person who your online inquiry was answered by," he said in a recent interview. "They become much more beacons of the brand, and much less just transactional retail machine."
Customization doesn't have to be high-tech, of course. Brands are also showing off the craftsmanship behind their goods with a focus on bespoke, in-store production. When Coach opened its new flagship in New York, it included an area for made-to-order handbags, and on the store's second floor is a workshop where a full-time craftsman will be visible working, doing repairs and personalizing items for shoppers.
This in-store customization adds another layer of value to the physical store itself. You can, of course, buy personalized products online, too, but it isn't quite the same as talking over what you want with a real person, and possibly even watching the item being made in front of you.
A high-tech mash-up of the offline and online
"Omnichannel" has been one of retail's big buzzwords in the past several years, as brands try to integrate their online and offline channels into one seamless experience. But Farfetch, the wildly successful e-commerce platform that allows luxury-fashion boutiques around the world to sell online without maintaining their own costly digital operations, is taking the notion a step further, unveiling a demo of what it has modestly dubbed the "Store of the Future" on April 12 at its conference at London's Design Museum.
The "store," which launches for real at the London boutique Browns and designer Thom Browne's New York flagship this fall with a bigger commercial rollout planned for next year, isn't actually a store. Rather, it's a retail platform with a suite of different technology products the company intends for partner shops to mix and match to create their own unique experience. The concept is still in beta, but the pilot version includes (paywall):
A log-in that lets the customer digitally check in to the store, providing sales associates with their purchase history, brand preferences, and browsing behavior (and allowing the store to collect data as the customer shops that it can then transfer to their online profile)
Clothing racks enabled with RFID that detect what the customer is browsing and can populate a wish list
Digital mirrors that let the customer view their wish list and request the items in the desired sizes or colors
A mobile payment system for easy checkouts
Other brands are experimenting with some similar tools. Rebecca Minkoff's store in New York's Soho has digital mirrors in the fitting rooms. Bloomingdales and Selfridges have turned to in-store body scanners to make it easy for you to get your size right when shopping online later.
But Farfetch, which doesn't have its own stores, sees its platform as an "operating system" for retailers, and hopes third parties will build their own applications on it the way developers build their own apps for iOS or Android. What Farfetch will maintain control over is the customer data that allows the physical store and any digital product to remain synched up.
Whether or not customers will care, however, probably has more to do with whether all this technology makes their lives simpler. A recent IBM survey comparing the attitudes of 600 executives and 6,000 consumers on digital customer-experience technologies found the executives completely misunderstood what customers want, which mostly came down to a faster, more convenient process.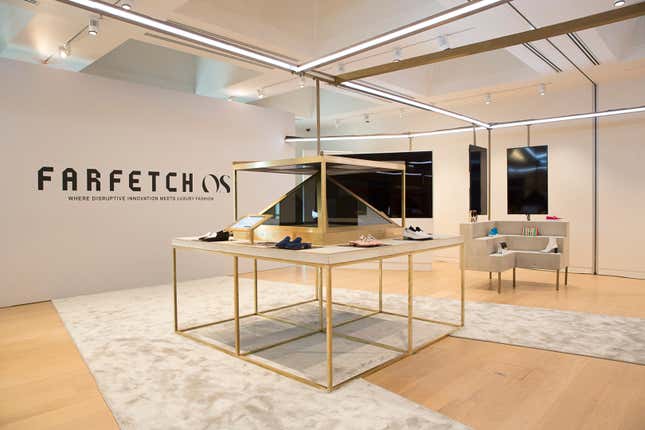 Perfect, frictionless convenience, with no human contact
Speed and convenience are the guiding principles at the Amazon Go convenience store experiment in Seattle. Amazon is seeking a way to bring the frictionless shopping and checkout that has made it such a monster in e-commerce to brick-and-mortar retail.
The store, which sells pre-packaged food, involves no lines or cashiers. Shoppers just have to launch the Amazon Go app when they enter, and from there Amazon uses sensors, computer vision, and deep learning to track them and automatically register which items they pick up. Then customers can simply walk out of the store with the items they want. You don't have to interact with another human at all if you don't want to.
The store is a one-off for now, and Amazon isn't giving many details about its plans for physical retail in the future.
But even if it's an extreme example of eliminating the friction of shopping and checkout, it's clear that more stores are headed in the direction of making those processes as quick and uncomplicated as possible. It's now common to find associates who let you make your purchase on an iPad rather than having to wait for a cashier, and the option to buy online and pick up at your local store is spreading. It isn't quite as convenient as simply ordering off Amazon and having a box arrive at your door, but for businesses that can't offer the same easy shipping, it can make it simpler to get what you want fast.
In this case, stores are trying to emulate the convenience shoppers have come to expect from ecommerce. Since brick-and-mortar remains where the great majority of purchases happen, it makes sense for them to try to integrate the key aspect of online shopping that consumers like.
All of the above
These are just some of the visions of the future of retail that brands have laid out—and it's likely they won't be mutually exclusive. A store could have a customization bar, an area to play around with new products, digital mirrors, and the convenience of mobile checkout, or any other mix of elements. Nike and Adidas, for example, already let you customize products in their experience-based New York stores.
One advantage stores will always have over e-commerce is that you can touch and feel the products. In the case of items such as clothes or sneakers, you can try them on, and avoid the hassle of having to ship something back if it doesn't fit, an all-too-common problem. The online fashion retailer Everlane now has a couple of physical locations that act as showrooms. You can try products on and see what they're like in-person, but they don't carry stock. You buy what you want through their website and they'll ship it for free.
And of course, many stores will likely carry on as slow, analog spaces that are just about the transaction. There's nothing inherently wrong with that. But to get us excited to visit those stores—and make the costs of rent, staff, and utilities count—brands need to think about what all that brick and mortar can offer us that our smartphones can't.