For everyday shoppers, the big promise of all the technology that's changing how sneakers are made is that it could ultimately enable brands to offer fast, fairly affordable, truly custom shoes. That is, not just letting you design the color scheme and get your initials stitched on—which plenty of brands already do—but actually get shoes tailored to the individual shapes of your feet, with your performance needs in mind, like brands often make for their pro athletes.
The idea is still some time away from becoming reality, but in a lot on the Brooklyn waterfront, Adidas is offering a glimpse of what it could look like.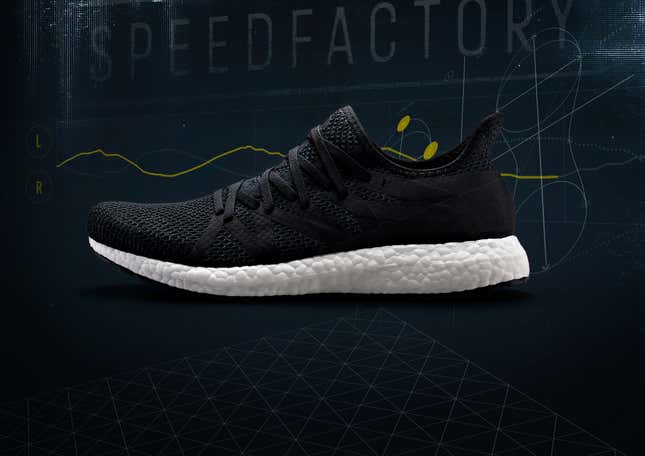 The German sneaker maker opened to the public today (April 26) what it calls the Speedfactory Lab Experience. Speedfactory is the company's innovative, digitally enabled, highly automated factory, which lets it produce shoes rapidly in smaller batches than it previously ever could, making it feasible for Adidas to make shoes specific to different cities—or one day, it hopes, specific individuals. The whole experience is tied to the launch of the AM4NYC, a running shoe informed by and designed for New York City runners, and one in a series of Speedfactory-made, city-specific shoes it's releasing. (The $200 AM4NYC goes on sale today at the Adidas flagship store in New York, and on the brand's website.)
The lab, which for the moment only runs April 26 and 27, is essentially a trailer filled with a few of the forms of data-capture technology Adidas uses to track athletes' bodies and movements for its design process. Right now, people who stop in can walk through and get their feet scanned, or run on a treadmill in front of cameras. Their data gets saved to an online profile they create.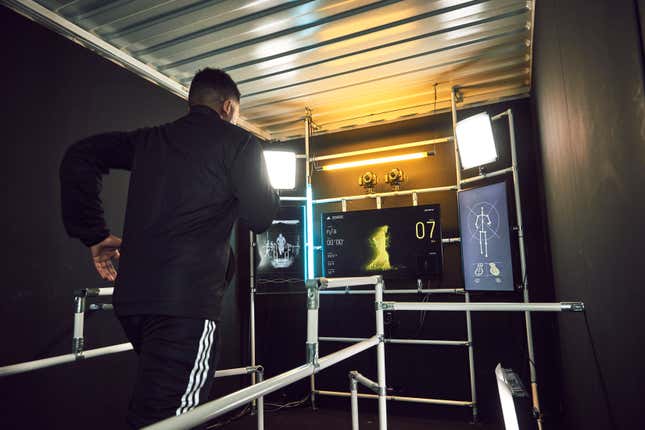 For now, it's mostly useful for giving you stuff to upload to Instagram, but Adidas thinks of this novel pop-up as a testing ground for how to scale the experience to a mass level. "We expect to move into 1-of-1 product, and have to figure out a way to make that condensed," says Zachary Coonrod, senior designer on the Futures team, which looks ahead three to seven years to help set Adidas' course. "Ideally we're moving to a space where we can take the learnings from this—not only learnings on how to build the shoes, but also how to have an experience that you can connect with and understand and get the most out of, and then be able to provide a custom service in the same way that we do to elite athletes."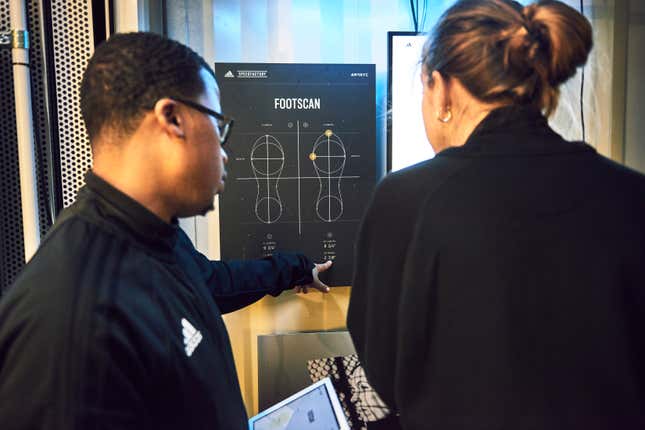 Foot scanning is a big piece of how Adidas envisions scaling a custom service, though it's still working out the best way to do it. It could be through a scanner like the one at the lab, Coonrod says, or "something that's digital you could do with your phone." But part of the point of the lab is to help it weigh the merits of each.
Not everyone will want or need a tailored sneaker, and they wouldn't come cheap. But there's a potentially sizable audience among athletes who can never quite find the right fit, or have differences in their left and right feet—a common problem—that make buying off the shelf a challenge. For those interested, Adidas is working to make it happen.