When Chip Bergh was a middle-schooler growing up in suburban New York, he made his mother drive him to the next town over to buy a pair of rigid Levi's 501s. Back then, the now-60-year-old Levi's CEO says, the jeans brand had a deep meaning to American kids.
"In the '60s, '70s, '80s, and early '90s, this brand was America," Bergh recalls. "You know, it was James Dean, Marilyn Monroe."
Bergh's children, however, held no such allegiance to the brand as teenagers in the early 2000s. "Levi's wasn't even in the consideration set," he says. Young customers were fleeing to newer "designer jeans" brands, including 7 for All Mankind, Diesel, and Citizens of Humanity.
Bergh calls that the "lost generation"—a whole era of American kids for whom Levi's had lost its cool. After the brand's sales peaked in 1996 at $7.1 billion, they rapidly plunged. Even though Levi's has no real rival for the title of America's most iconic denim brand, that didn't safeguard it from the slump in its cachet among American shoppers.
The problem, Bergh explains, was that Levi's wasn't bringing creative ideas and new ways of thinking. When he joined Levi's as its CEO in 2011, after years spent at Procter & Gamble, he made putting the brand "back in the center of culture" a top priority. Innovation was key, he says. That's why among his first big investments was a research-and-development center, called the Eureka Innovation Lab.
The company still has a long way to go before it returns to that mid-1990s height. Last year, Levi's did $4.9 billion in sales. But it marked the company's highest annual sales growth in a decade (pdf), and Bergh says Levi's is connecting with young shoppers in a way it hasn't for decades.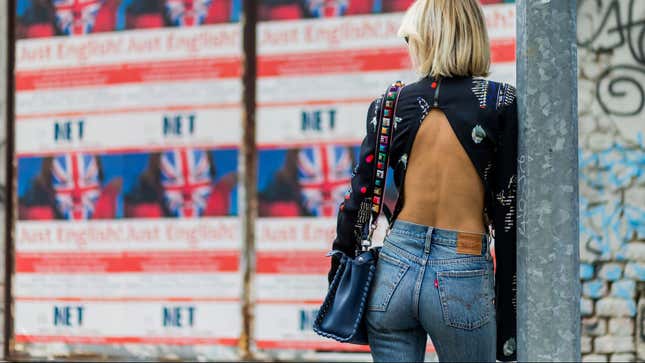 Signs of renewed relevance
They may not be James Dean or Marilyn Monroe, but the Kardashian-Jenner family's embrace of Levi's is one indication that the brand is back on the radar of young shoppers. In 2016, Kylie Jenner gave a lift to the brand's mom-inspired, bum-boosting "Wedgie" jeans, and Kendall Jenner drew attention to its new 501 Skinny—both simultaneously promoting Levi's to their millions of social-media followers. The family's 2017 Christmas card featured the whole crew of reality TV stars in Levi's. These moments happened organically, Bergh says, without any involvement or paid product placement from Levi's.
The brand has done a number of high-profile collaborations to strengthen its cultural clout. It has worked with the fashion label Vetements and designer Virgil Abloh's label, Off-White. It also partnered with the brand Re/Done, a favorite among models and celebrities such as Bella Hadid, which cuts up and reassembles vintage Levi's into new styles. (Though Levi's first reaction was to go after Re/Done for trademark infringement, it instead decided to team up with the company, Bergh says, and it now gets a licensing fee from every pair of jeans Re/Done sells.)
Levi's even remade Air Jordan IV sneakers in denim, and got a taste of the hysteria of a high-profile, limited-edition sneaker drop. "I never thought I would see the day where we had people lining up outside of our door two days before the product went on sale," Bergh says of the release.
A 165-year-old brand, updated for today
The company has undoubtedly benefitted from a resurgence of 1990s style and a renewed preference for light washes and distressing (paywall). But Levi's says it wouldn't have had its recent success without Eureka Lab and a broader emphasis on innovation.
Finishing, for example, which includes fading the indigo to just the right shade and adding wear and distress marks, is so important to Levi's today that it considers its prowess in the field a major competitive advantage. It offers more than 1,000 different finishes every season.
Devising new looks and methods to produce those finishes is part of what Eureka Lab does, and it was the lab that developed the process that's letting Levi's do all its distressing with lasers. It can now add wear marks to a pair of jeans in about 90 seconds, and over time it plans to roll out the technology to all its factories, allowing it to jump on trends and quickly replenish styles that are popular, while avoiding the problem of making a lot of inventory in advance without knowing whether it will sell.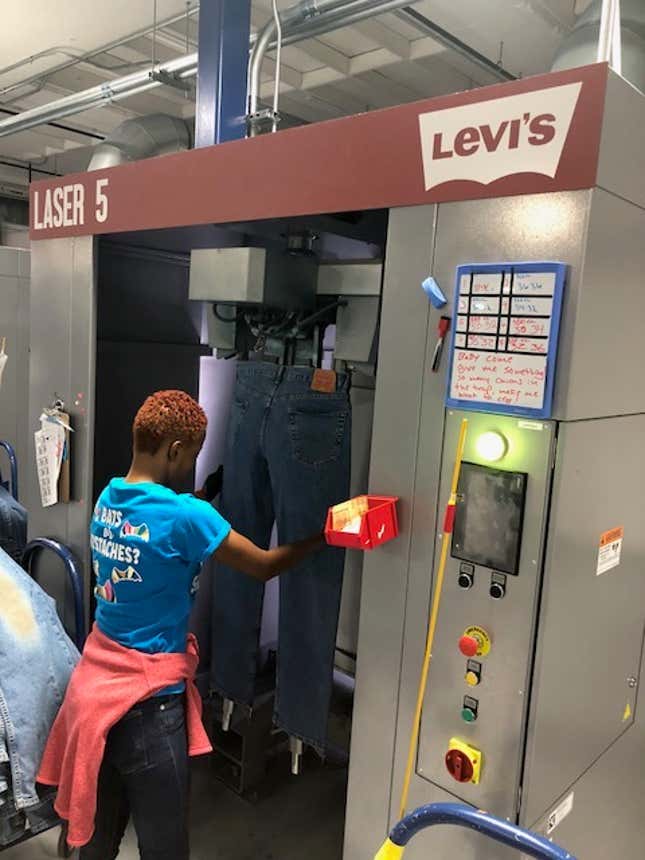 Levi's has been rethinking its products in other ways too: in its efforts to reduce the water used to make its jeans, for example, and in listening more closely to what customers want in fit and fabric, which are what people buy when they buy jeans.
When yoga pants and stretchy athleisure were squeezing the denim market a few years back, Levi's had to do some soul-searching about why leggings were taking over. "[Women] loved the comfort, the soft stretchy material, they liked the way they looked in it. And so the challenge to our designers and product developers is 'How do you match that with denim?'" Bergh says.
The Eureka Innovation Lab worked on the problem, and solved it, according to Bergh: "We now have super-soft, super-stretchy denim that women love. That's what's driving this double-digit growth rate that we've been seeing in our women's business over the last couple of years."
It pays to listen to your customers
Jeans that offer the right fits and the right blends of stretch aren't exactly breaking new ground, nor are they as showy as, say, the smart trucker jacket Levi's created with Google. But developing them takes work, and when Levi's gets them right, they're the products that can sell in large enough numbers to really buoy the company.
The way young Americans, and especially women, are embracing Levi's is a major success for the brand. It needs these demographics to prove its relevance as a fashion label. Levi's still gets more than 70% of its sales from men's products, including its arguably style-agnostic Dockers pants. But that percentage is slowly ticking down as new finishes, fits, and comfy stretch fabrics attract more fashionable female shoppers.
The outreach to women, which included the launch of a new women's collection in 2015, is part of a four-pronged sales strategy that Bergh put in place shortly after he joined to restore the company's financials to health. Sales to women have risen from about $800 million a year to over $1 billion.
The brand is drawing younger guys, too, as it slims and tapers more of its men's products, most of which now include stretch. Since Bergh became CEO, the typical man buying Levi's has gone from age 47 to 34. And Levi's is also selling more products that aren't bottoms, finding new audiences for its Instagram-friendly logo t-shirts and denim trucker jackets.
The future of Levi's is technology
Today, the Levi's brand is healthy. In Morning Consult's recent list of America's best-loved brands, based on a survey of more than 250,000 adults, Levi's ranked in the top 25, the only clothing company to do so.
Of course, Levi's will always have its heritage to draw on. It literally invented the modern blue jean in 1873 when Levi Strauss and Jacob Davis had the idea to use metal rivets to reinforce denim work pants for miners. The oldest-known pair of jeans—a pair of Levi's—is held in the company's archive.
But Levi's still has to work to stay present and relevant in shoppers' minds, as what people want and how they shop keeps evolving. It's doing that work again, and not just with its jeans, but in how it uses its stores as well, introducing tailor shops and customization options, for example.
Asked how Levi's might keep changing in the years ahead, Bergh says it's conceivable that you might be able to walk into a Levi's shop where there's a laser that allows Levi's to cut a custom pair of jeans for shoppers right there. That's probably not too far off, he says.
Clearly excited by the thought, he adds: "In the not-too-distant future, you'll be able to do a little pirouette in front of your iPhone and get a pretty accurate body scan. [It's] not inconceivable that you upload your body scan and get a pair of bespoke, customized, tailored jeans sent to you in a week, produced from your body scan body file and sent to a factory probably somewhere off-shore to be custom-made just for you."
It's just an idea for now, not a concrete plan. But no matter how Levi's looks in the future, innovation will play a big role in getting it there. Bergh doesn't want to let Levi's to lose another generation.