Subscribe to the Quartzy newsletter to receive this in your inbox each Friday.
In recent years, I've gravitated toward wines that are sometimes described as glou glou. Literally, from French, this term translates to "glug glug," as in the sound a person might make when gulping liquid. Wine-wise, says Helen Johannesen, who owns the LA bottle shop Helen's Wines, it's basically a wine that's "chuggable."
"It's easy; it's casual; it's a vin de soif," she said. "You're not going to be swirling it in your glass over three hours trying to extract the tasting notes … It's also a vibe—like: It's a party! It's cool! Life is for the living!" (She said "living" in a Frenchy way.)
This feels to me not only like a wonderful way to describe a wine—because glou glou sounds juicy and bright, and celebrates bottles made to be enjoyed today, rather than hoarded in a cellar—but also a valuable approach to relishing these next few weeks of August. Make them glou glou. 
Glou glou: An expanded definition
Glou glou has also been adopted by a new generation of natural winemakers, whose bottles are created with less intervention and fewer additives than their conventional counterparts. These wines celebrate funkiness, acidity, and cloudiness as telltale qualities of a unique agricultural product, rather than masking them as flaws, and otherwise flout the stuffiness of wine culture.
In her recent exploration of natural wines and glou glou for New York Magazine, Maureen O'Connor argues that natural wines come with their own pretension, it's just different from that of the astronomical Burgundies of yesteryear. (It's more New Yorker tote-bag than Hermès Birkin.)
"Glou glou is a stripped-down renovation that showcases a building's 'bones.'" she writes. "It's not wearing makeup and looking great, because you're well rested and have an elaborate skin-care routine … Glou glou is self-conscious, self-aware, and self-critical. Glou glou is how millennials do snob." (It's also, as you can see above, the title of an indie mag about winemakers.)
Enter the chilled red wine
So is "glou glou" the aspirational class's version of "rosé all day"? Probably. Will that keep me from loving these wines? Absolutely not.
My preferred shade of glou glou is a translucent shade of ruby, best viewed through a glass covered in condensation, because the wine inside is chilled. This week, for a beginner's guide to chilled reds, I consulted the aforementioned Helen Johannesen and northern California winemaker Martha Stoumen. Here's what I learned:
How to pick them: The best wines for chilling have a lower tannic structure, so are likely to be made from thinner-skinned grapes such as Gamay, Carignan, and Zinfandel, or Austrian varietals such as Zweigelt and Blaufränkisch. "Usually a wine that's gonna be a little bit juicier—and not sweet—but just juicier, low tannins, a good amount of acidity," Johannesen says. (Carbonic wines are a good bet too.)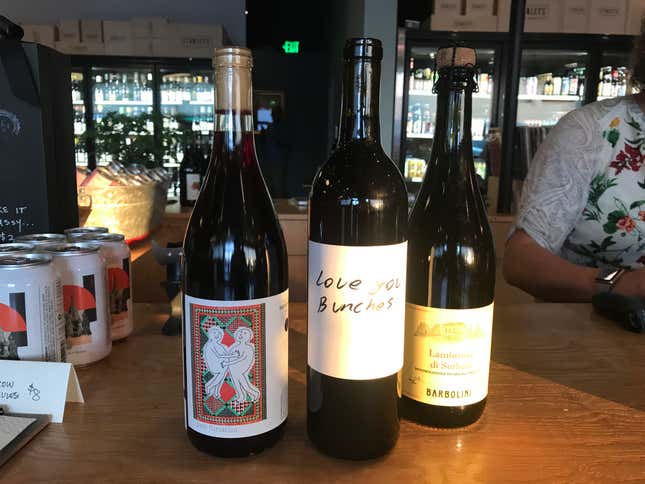 Also—good news!—those qualities often come from wines of younger vintages, which means they're not outrageously expensive.
A current favorite: Martha Stoumen's 2017 Post-Flirtation, a tart $25 Zinfandel-Carignan blend, smacks of Haribo gummy raspberries and has all the hallmarks of a perfect chilled red. It's a young vintage that's juicy but not too sweet, heavy on aromatics but light in tannins and in color, brightly acidic, and cheerfully easy to drink. 
Stoumen describes it as a Zinfandel made with a lighter hand—more fresh rhubarb, raspberry, and pomegranate than the syrupy stewed fruit of old-school California Zinfandels. And it pairs great with tacos. (For more recommendations, see the online reviews of chilled red evangelist, Marissa Ross.)
How to chill: Johannesen says standard cellar temp is around 68°F (20°C), but a chilled red should be more like 42°F. Refrigerators are generally kept at 40°F or below—so a few minutes out of the fridge should put a bottle in the glou glou zone.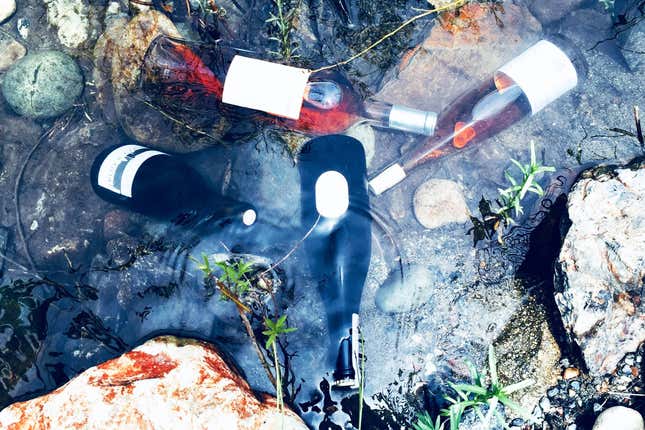 Stoumen chills hers in rivers on camping trips (#lifestyle). Or, at home, she'll just set a 20-minute timer and throw it in the freezer. "You don't have to worry too much," she says, "as long as you're not freezing the wine."
In a pinch, you might even do like my colleague Rosie Spinks, and drop an ice cube into the glass. I prefer to plunge a bottle into an ice bucket or cooler, but these wines are made to enjoy without being too precious. In other words: Just chill.
Sommeliers love canned wine
Perhaps the most glou glou receptacle for wine? A can! Annaliese Griffin wrote everything you need to know about the wave of canned wines from high-quality winemakers who want to have a little fun.
Annaliese recommends VinNY, a dry sparkling white from the Finger Lakes of New York, made by NoMad's Thomas Pastuszak. Or, if you're excited by the idea of a grown-up wine cooler, look for Ramona, a white wine and grapefruit spritzer from Jordan Salcito, the beverage director at Momofuku. As Annaliese writes, and anyone who sipped Sofia sparklers in the movies in their 20s can attest: "Cans go where bottles can't … Cans reflect a state of mind."
---
Last but not least, a glou glou song for chilling: "Loving is Easy," by Rex Orange County is perfect for a summer happy hour.
Have a great weekend!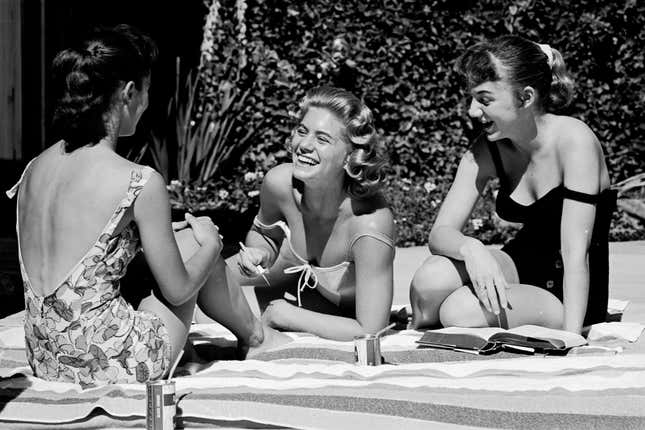 PS: Insecure 
is back!
The Emmy-nominated comedy is back for its third season Sunday on HBO at 10:30pm ET! The second season's finale, which I loved, left a lot of loose ends and unsolved problems. Here's a quick synopsis of where we left off: Issa and Lawrence finally said goodbye, which was devastating, and after being forced to move out of her apartment, Issa showed up on Daniel's doorstep. Molly is interviewing with other law firms and hooked up with Quentin—her Chicago-based colleague who's been supportive through her turmoil at work. She's also still sleeping with Dro, despite her discomfort with his open marriage. (For a more comprehensive recap, see here.) I previewed season three, and I'm glad to report that Rae is still baldly unafraid of addressing just how messy and uncomfortable adulthood can be. But also, funny.