The rise of modest, androgynous, and ugly fashion aesthetics have all contributed to a marked absence of overtly sexy clothes on the world's fashion runways this year. It's also, of course, the #MeToo era, a time when designers are wary of appearing exploitative, and eager to show they are treating women with dignity and respect. Dior, Valentino, and Gucci largely downplayed sex appeal at Paris fashion week, instead favoring sensitive, women-centric designs or avant-garde, gender-bending looks.
So it was cringe-worthy when several designers chose instead to do the exact opposite. While America was a tense audience to the hearings on the Supreme Court nomination of Brett Kavanaugh and the sentencing of Bill Cosby on his sexual assault conviction, three labels were singled out for criticism from within the fashion world, for seemingly tone-deaf shows.
Saint Laurent, Celine, and Thom Browne—all labels led by white, male creative directors—sent out shows that seemed out of step with the times, each for different reasons. Anthony Vaccarello's Saint Laurent came first with an NSFW collection that left models just barely covered on the runway. That was followed by Hedi Slimane at Celine, who took a brand built on a female-centric design philosophy and released a collection of men's suits and revealing club dresses. Meanwhile, Thom Browne sent masked models down the runway with their arms strapped to their sides in a disturbing take on high-fashion bondage.
At Thom Browne, women were literally bound and gagged
Browne's showing featured women fully bound and masked, or both. He told Vogue that the lacing (presumably he's referring to the lacing of women's arms to their bodies), is supposed to evoke the idea of "a punk sensibility, in regard to things being very fitted, and the use of lacing." He said nothing of the masks, some of which included mouthpieces that the models had to put their lips around to wear.
As the fashion-focused Instagram account Diet Prada pointed out, the need "to show women literally bound and gagged on the runway at this particular moment in time…incapacitated by the 5-inch heels (many with their arms laced down, unable to brace a potential tumble)," read as out-of-step with the times.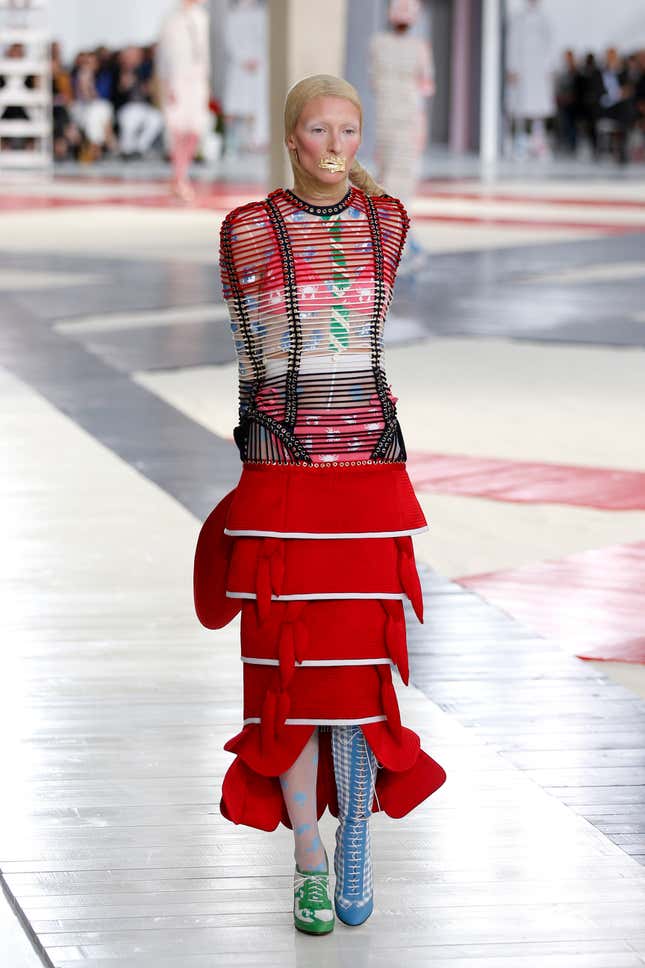 Saint Laurent's regressive sexy
Saint Laurent's catwalk was met with mixed reviews (paywall), and several critics took issue with how exposed the models were (paywall): Feather pasties, which New York Times fashion critic Vanessa Friedman called "old-fashioned," proved only to be accessories when several models sported fully exposed breasts. As WWD's Bridget Foley noted it all "felt tone-deaf, especially at this moment of heightened attention to respecting models." The show's closing walk, Diet Prada notes, ended with "a near vag-exposing finale parade."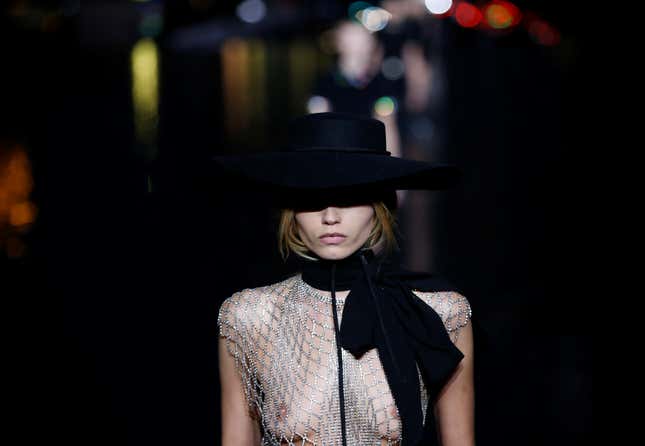 At Celine, women were ignored
Under Phoebe Philo, Celine's previous creative director, the label forged an identity as a bastion of feminist fashion. Philo created a cult following around sophisticated, female-focused apparel that she designed for an elegant and professional woman.
Philo's fans were dismayed when Celine's new head, Hedi Slimane, removed the accent from the "e" in the brand's name, and their fears were realized when Slimane debuted a collection that fully ignored the brand's woman-focused identity, and instead launched a menswear collection with a sprinkle of spangled baby-doll dresses borrowed right out of his time as head of YSL.