Accusations of copying are plentiful in fashion. They're basically the reason the Instagram account Diet Prada exists.
Still, some alleged copies pull from less expected sources than others. Currently on the defensive in such a case is fashion favorite Balenciaga, the fastest growing brand in luxury group Kering's portfolio.
As The Fashion Law reports, the brand is currently being sued in a New York federal court over a set of $275 leather keychains that the plaintiffs, Car-Freshener Corporation and Julius Sämann Ltd., note look a lot like their Little Trees car air fresheners. "A comparison of the two known iterations of the Infringing Product to a genuine LITTLE TREES Air Freshener (pictured in the middle) underscores how slavishly Balenciaga copied Plaintiffs' famous Tree Design Marks in shape, dimension and overall appearance," the lawsuit states, referring to the following picture: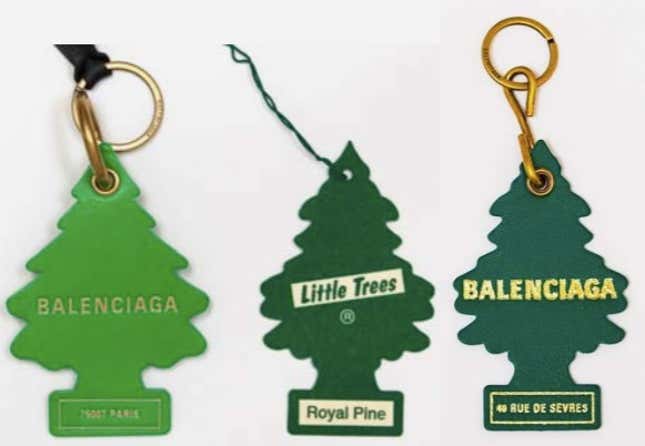 "Indeed, Balenciaga has even copied the specific colors associated with some of the popular scents in which Plaintiffs' LITTLE TREES Air Fresheners are offered," the complaint continues. For those wondering, the scents in question include green apple, black ice, summer linen, and watermelon.
Balenciaga's key rings, which are still available for sale on its site as of this writing, are 100% calfskin, embossed with the Balenciaga logo and parts of the address of Balenciaga's head offices at 40 rue de Sèvres in Paris. "Car fresheners inspiration," the site notes among the product details.
Beyond just air fresheners, Car-Freshener Corporation and Julius Sämann Ltd. use the tree design for all sorts of products of their own, including things like keychains and leather luggage tags. They've also granted a license to designer Anya Hindmarch, who makes her own "high quality hang tags for handbags, sold for hundreds of dollars" with the design, according to the complaint.
The suit claims that Balenciaga's unauthorized rendition of their product infringes on and dilutes their trademark, and may confuse or mislead consumers into thinking Balenciaga's versions "emanate from, are approved or sponsored by, are licensed by, or are in some way associated or connected with Plaintiffs."
Balenciaga at this point has a reputation for finding its inspiration in common, downmarket products. Since taking over as the house's artistic director in 2015, designer Demna Gvasalia, who loves toying with stereotypes and archetypes, has been appropriating everyday items and putting them into a new high-fashion context. In some cases he transforms the items, as he's done with ski parkas.
In others, the item is a fairly literal reproduction of its source material, as in the case of Balenciaga's $2,145 shopper tote that closely resembled Ikea's well-known blue bags. Balenciaga is currently on the receiving end of a separate suit alleging it copied the cheap "New York City" totes found widely in New York's tourist traps.
Car fresheners may not seem like fodder for expensive keychains, but they're exactly the sort of territory Balenciaga has been exploring. As the lawsuit notes, Little Trees "have become staples of American culture, familiar to millions of consumers."