So it's the week of Halloween and you're in a spooky mood, on the hunt for some scary movies to watch. You've come to the right place.
Rather than overwhelm you with every good horror film ever, I've broken the genre down into 10 categories: ghosts, zombies, vampires, witches, slashers, aliens, demons, cults, body horror, and serial killers, so you can pick what kind of scare you're looking for.
Each category has a few recommendations, including one classic film (🏛️); one gold standard within the subgenre (🏆); and one unusual or somewhat lesser known example (😱) for viewers wanting to go a bit deeper.
And accompanying each recommendation is a link to where you can stream, rent, or buy the film. Sweet dreams!
Ghosts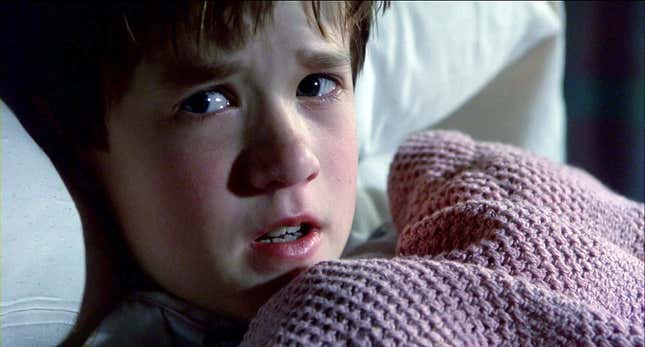 🏛️: The Shining. If you've never seen it, your horror binge must start with this Stanley Kubrick classic. (Netflix, Amazon)
🏆: The Sixth Sense. This was one of the first horror movies I ever watched, and I still have nightmares about it. It's M. Night Shyamalan at the height of his powers. (Netflix, Amazon, YouTube)
😱: The Others. This super stylish and atmospheric mishmash of horror conceits features one of countless stellar Nicole Kidman performances. (Hulu, YouTube)
A couple more: Paranormal Activity (the film that launched the found-footage craze); The Frighteners (years before Peter Jackson directed The Lord of the Rings, he made this goofy ghost dramedy).
Zombies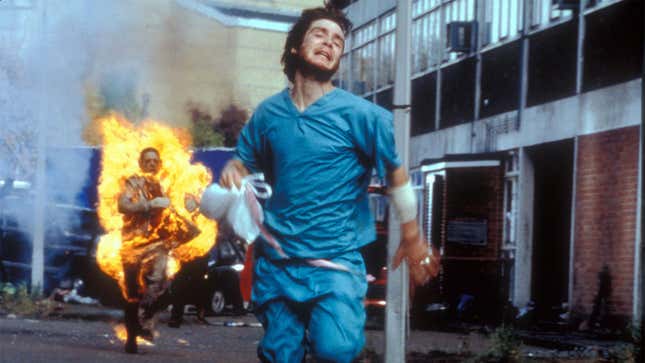 🏛️: Night of the Living Dead. This is the first modern zombie film. (YouTube, Google Play)
🏆: 28 Days Later. By the letter of the law, this may not technically have zombies (they're not undead humans, they're just inflicted with a virus that makes them zombielike), but it's still the most compelling zombie movie made this century. (Amazon, YouTube)
😱: Pontypool. A wildly inventive film, based on the novel Pontypool Changes Everything, about an infection spread not through bites or blood, but through language. (iTunes)
A couple more: Shaun of the Dead (a hilarious satire of the zombie genre); Train to Busan (one of the genre's best, by Korean filmmaker Yeon Sang-ho).
Vampires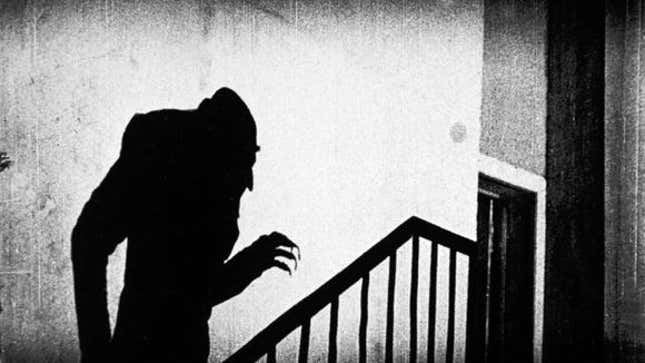 🏛️: Nosferatu. The original vampire. (YouTube)
🏆: Let the Right One In. A terrific Swedish film about a young boy who befriends a vampire girl in the 1980s. The American remake is surprisingly good as well. (Hulu, Amazon)
😱: Interview with the Vampire. One of Tom Cruise's truly under-appreciated roles. (Netflix, YouTube)
A couple more: I Am Legend (Will Smith is great in this post-apocalyptic thriller); 30 Days of Night (an Alaskan town in the midst of a monthlong darkness is invaded by bloodthirsty vampires, death ensues).
Witches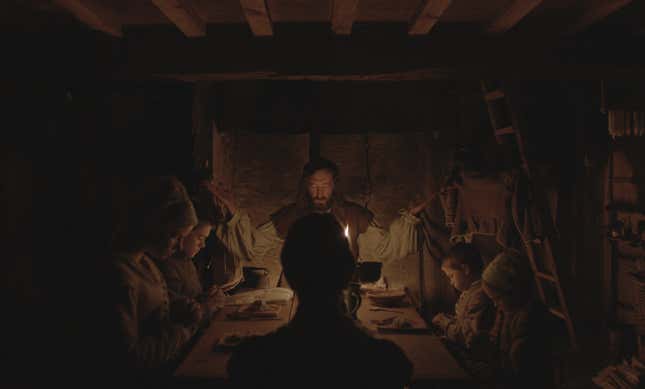 🏛️: The Blair Witch Project. Three students head into the woods with a camera to document the legend of a local witch. Some viewers thought it was a real documentary when it first came out. (Hulu, Amazon)
🏆: The Witch. My favorite horror movie of the decade: the story of a Puritan family in 1630s New England banished to the wilderness, where they encounter an unpleasant interloper. (Netflix, Amazon)
😱: Suspiria. A bold, bewitching, downright strange remake of the Dario Argento cult classic. It's already out in theaters in New York and Los Angeles and will get a much wider release on Nov. 2.
A couple more: Hocus Pocus (the weirdly quotable cult classic you can watch with the whole family); The Crucible (sure, these are not real witches, but this is an all-time great Daniel Day-Lewis moment).
Slashers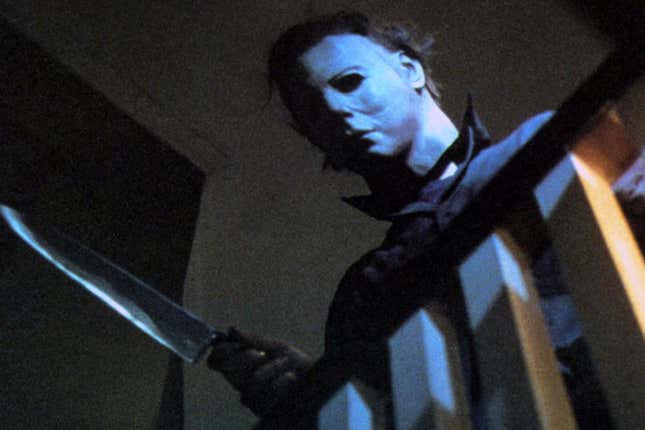 🏛️: Psycho. Alfred Hitchcock's legendary film is probably the first true "slasher" in existence. (Amazon, YouTube)
🏆: Halloween. So good, they had to redo it 10 more times. The recent reboot made a gazillion dollars at the box office. (Amazon, iTunes)
😱: The Cabin in the Woods. This one could probably fit in a few different categories. An elaborate, ridiculous deconstruction of horror clichés, it's one of the most purely entertaining movies on the list. (Amazon, YouTube)
A few more: A Nightmare on Elm Street (Freddy Krueger still haunts my dreams); The Texas Chain Saw Massacre (this 1974 classic introduced a lot of famous slasher tropes we know well today).
Aliens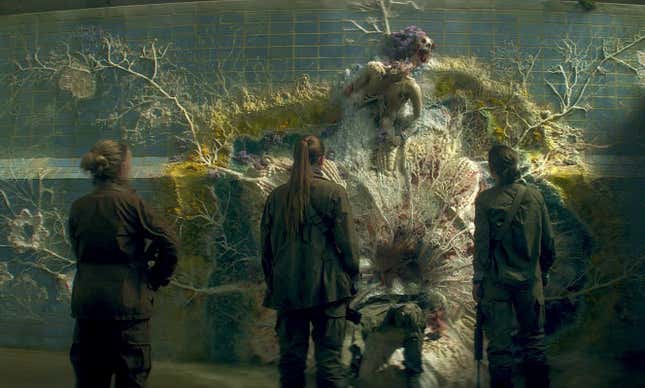 🏛️: The Thing. Not long after he made Halloween, John Carpenter directed this seminal sci-fi horror film about an alien entity that can imitate other lifeforms. (Amazon, YouTube)
🏆: Alien. The title alone tells you that Ridley Scott's masterpiece is the quintessential alien film. (Amazon, YouTube)
😱: Annihilation. A gorgeous and terrifying nightmare in a mysterious uninhabited biome, based on the wonderful book by Jeff Vandermeer. (Amazon, YouTube)
A few more: 10 Cloverfield Lane (this little gem in the "Cloverfield" film universe snuck up on us in 2016); War of the Worlds (this remake is one of Steven Spielberg's most underrated films).
Demons and possession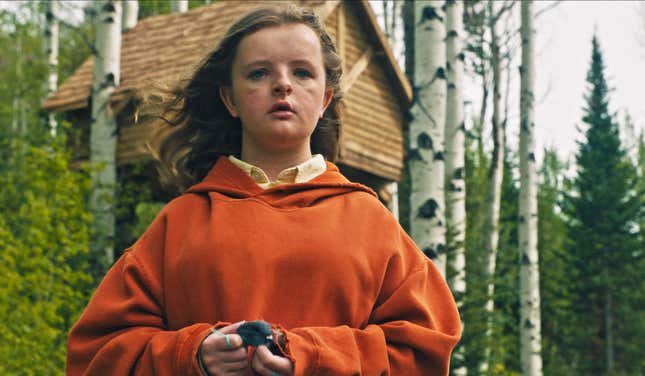 🏛️: The Exorcist. It still holds up, 45 years later. (Amazon, YouTube)
🏆: The Conjuring. The various sequels and spinoffs haven't been as good, but this original 2013 haunting by director James Wan is extremely effective horror. (Netflix, YouTube)
😱: Hereditary. This is another one that could be placed in more than one category, though whatever you decide to call it, Hereditary is a deeply unsettling, finely acted descent into familial madness. (YouTube, Google Play)
A few more: This Is the End (worth watching for the exorcism scene alone); The Evil Dead (among the best cult horror films ever made).
Cults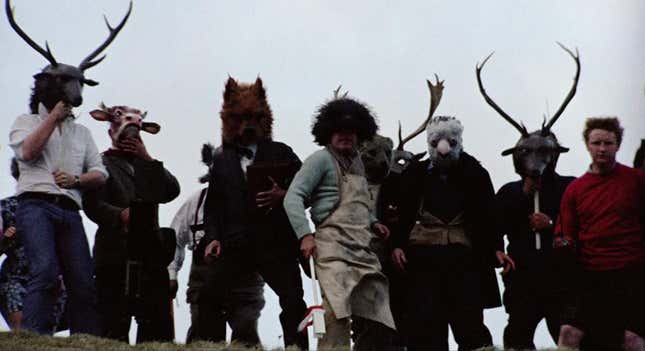 🏛️: The Wicker Man. Christopher Lee's turn as pagan ritual leader "Lord Summerisle" is one of cinema's great villains. The 2006 remake with Nicolas Cage is also good for a hearty laugh or ten. (Amazon, YouTube)
🏆: The Leftovers. Though not a film, this transcendent HBO series about society attempting to move on after 2% of the world's population disappears into thin air is a chilling, poignant depiction of what really moves someone to join a cult. (HBO, Amazon, iTunes)
😱: Kill List. This superb effort by director Ben Wheatley about two British contract killers quickly devolves into something much more horrific. (Amazon, YouTube)
A few more: The Invitation (a great little-known movie by Karyn Kusama about a dinner party gone wrong); Martha Marcy May Marlene (Elizabeth Olsen is great as a woman under the spell of a cult ran by a very creepy John Hawkes).
Body horror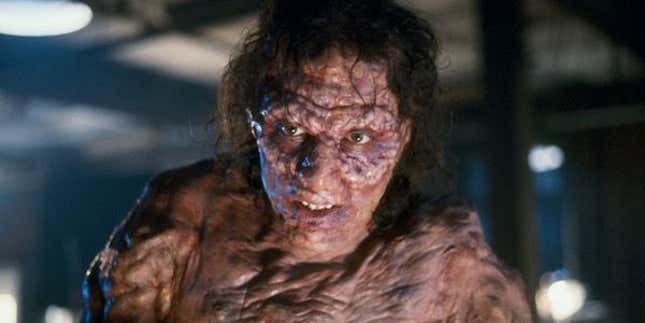 🏛️: Eraserhead. David Lynch's first feature film set the stage for the years of glorious WTFs that followed. (Amazon, iTunes)
🏆: The Fly. David Cronenberg's film, starring Jeff Goldblum as a scientist slowly morphing into a horrid human-fly hybrid after an experiment, is legendary for its makeup and creature design. (Hulu, Amazon, YouTube)
😱: Upgrade. A better "Venom" film than Venom. (Amazon)
A few more: Antiviral (the feature film debut of Cronenberg's son, Brandon—like father, like son); Split (without giving too much away, we think this M. Night Shyamalan thriller counts as body horror).
Serial killers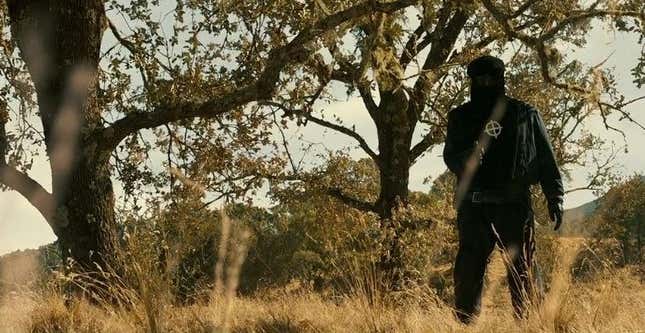 🏛️: The Silence of the Lambs. Every serial killer that's come after it owes The Silence of the Lambs an enormous debt. (Amazon, YouTube)
🏆: Zodiac. David Fincher's depiction of the decades-long search for the Northern California "Zodiac Killer" is a masterclass in simmering tension. (Amazon, YouTube)
😱: American Psycho. Christian Bale is tremendous as a psychopathic Wall Street investment banker in this cult black comedy. (Amazon, Youtube)
A few more: Frailty (a great performance by the late Bill Paxton as a man in the throes of a violent religious delusion); Creep (a sneaky good found-footage film starring Mark Duplass—the sequel is also highly recommended).