Bohemian Rhapsody is fine. It's perfectly watchable, sometimes entertaining, occasionally funny. It's cautious and inoffensive. And that's exactly why it's so disappointing. The Freddie Mercury biopic is the antithesis of its subject's abundant energy, his fearless artistry.
That the film, executive-produced by two surviving bandmates, Brian May and Roger Taylor, turned out bland isn't a shock. Director Bryan Singer was fired two-thirds of the way through production after reportedly showing up late to set on a number of occasions, incensing other crew members and actors including the film's star, Rami Malek. Dexter Fletcher was brought in to complete filming and coordinate post-production, and by all accounts did an admirable job. But the damage was done. It's difficult to take many creative risks with such a strain on the process.
Malek tries his best, and he's quite convincing as the Queen frontman in both appearance and mannerism. Malek, whose biggest role to date is the paranoid, depressed hacker in the TV series Mr. Robot, flourishes on stage as the famously exuberant performer Mercury. The concert scenes, for the most part, are enjoyable—and how could they not be, performing Queen's legendary songbook? If you're looking only for a generally amusing re-enactment of the band's greatest hits, then you'll be pleased with Bohemian Rhapsody.
If you want something more, an experience that actually honors Mercury by following in his radical footsteps, then you will not be rocked by Singer's film. (Due to Directors Guild of America rules, Singer was given the sole directing credit. Fletcher is credited as an executive producer.)
"No one will play us on the radio," Freddie says in the trailer for the movie. "We need to get experimental," guitarist Brian May suggests—sage advice that Bohemian Rhapsody ignores.
Born Farrokh Bulsara in 1946 in Zanzibar to Parsi parents from British India, Mercury was no one's idea of a future global rock star. He was born with four extra incisors, which he later claimed helped his renowned vocal range. They made his upper front teeth nearly bulge out of his mouth. He was shy, too, and he'd remain shy the rest of his life—except when he was on stage. And he was always utterly in love with music. Mercury taught himself piano as a child and listened to a diverse assortment of music, foretelling a peerless ability to jump from genre to genre within an album, sometimes within the same song. (The song the film is named after is a classic example.)
Though he wasn't religious and rarely talked about his upbringing publicly, Mercury was privately proud of his Parsi heritage, according to his parents. In 1964, when Mercury was 17, he and his family fled to London following the Zanzibar Revolution. He got involved in the local rock scene, eventually meeting May, drummer Roger Taylor, and bassist John Deacon, and Queen was born. That's also when he officially changed his name to Freddie Mercury.
He had relationships with women, namely Mary Austin (played by Lucy Boynton in the film), who'd remain his lifelong friend, but Mercury was gay. He made no attempt to hide that fact, but to the chagrin of many who hoped he'd use his platform to speak out about LGBT issues and the AIDS crisis, Mercury did not talk publicly about his sexuality. Whether or he should have is not a question Bohemian Rhapsody is interested in exploring. In fact, it's not interested in exploring much of anything that made Mercury such a unique figure in history.
No, the film does not straight-wash the Queen singer, as some predicted it would. He's shown having relationships with men, including his long-term partner Jim Hutton, who was with Mercury for the last six years of his life. We see him get thinner and sicker after an AIDS diagnosis which, too, is included in the film. (The movie does not include Mercury's death, however. He succumbed to complications from the disease in 1991, four years after his diagnosis.)
The film can take credit for not ignoring these aspects of Mercury's life. But it also doesn't delve into them in any meaningful way, instead delivering surface-level depictions. And it does all that in the most conventional and colorless way possible—the exact opposite of how Mercury lived his life and performed for the world.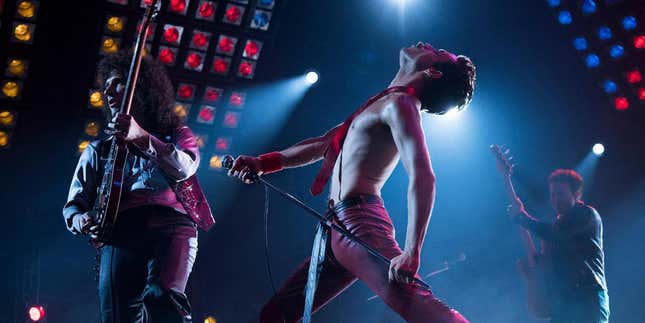 The important story beats are dutifully catalogued: the band's inception, its first record deal, the recording of "Bohemian Rhapsody" (the song), the band's rise to fame, Mercury's AIDS diagnosis, and, finally Queen's mythical set at Live Aid in 1984—which, admittedly, is a fun sequence. So too are nods toward Mercury's outsize personality and his creativity: the parties (we see a single one), the songwriting (he jots notes down on a paper once or twice), his contentious and sometimes hilarious run-ins with the press (the only one is near the end of the film as reporters bombard him with questions about his health).
We see some semblance of growth from Mercury as a film character, as well. His dress becomes more and more flamboyant, his personality bigger and bigger (until it's too big for the rest of the band), all while his body begins to fail him. But it's just going through the motions. Mercury had a four-octave vocal range; Bohemian Rhapsody has only one. The singer could be more captivating in five seconds on stage than the whole of this 134-minute film.
Perhaps that's because no film can adequately reflect Mercury's almost unfathomable talent. And no film could ever come close to risking as much as he did, on and off the stage. Fox's posters for the film include the tag line "Fearless Lives Forever." And Mercury—his stunning music and, yes, his fearlessness—will live forever. Bohemian Rhapsody will likely be forgotten quickly.