The latest fashion accessory being touted by Gucci is surprisingly old school and accessible to everyone. You may not be able to afford the luxury brand's $730 horsebit-adorned loafers or a $3,000 tote with trademark stripes, but you can buy and read printed books, and Gucci thinks that's a super cool look.
The luxury designer has just opened a bookstore within its very high end Wooster store at 375 Broadway in New York, and if anyone can make reading print a thing again, it's probably Gucci.
The Gucci Wooster Bookstore, curated by Dashwood Books, is a reading nook with 2,000 titles about fashion, art, design, culture, illustration, photography and more, meant to highlight the brand's appreciation of literature and the Soho location's artistic roots. Its offerings are relatively modestly priced, starting at$20 and going up to $1000 for rare items. "Hopefully there's something for everyone," the curator, David Strettell of Dashwood Books, told Vogue.
Strettell explained that he chose the specific collection based on the brand's aesthetic preoccupations and the store's placement in Soho. For example, the nook sells an out-of-print Japanese edition of King for a Decade by the New York artist Jean-Michel Basquiat for its style, substance, and local references. Basquiat created street art in the neighborhood in the 1970s and '80s and the book's got an "awesome cover" and design, according to Strettell.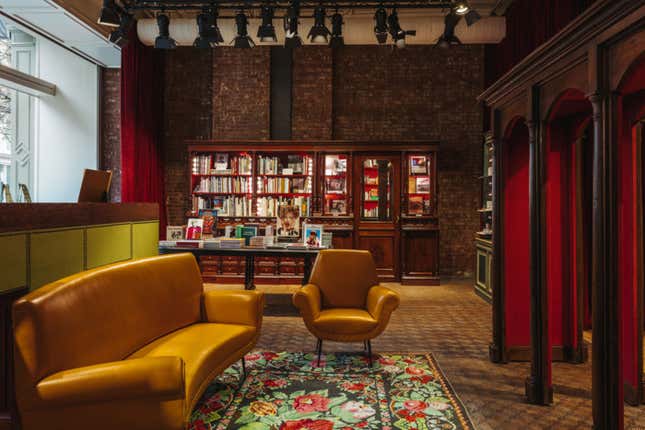 The bookstore will also feature titles that inspire Gucci designer Alessandro Michele's work. Michele incorporates literary references into the brand's fashions and plans to add new books to the nook when they end up informing a look. Gucci's fall 2017 collection, for example, featured bamboo-handled bags that came with limited-edition miniature printed Jane Austen titles inside them. Last year, the company had classics professor Stephanie McCarter of the University of the South in Tennessee explain the Greek myths that inspired the Gucci gift catalogue on its website.
This autumn the feminist philosopher Donna Haraway's 1985  "Cyborg Manifesto" informed some of Michele's designs. The manifesto is about the dissolution of boundaries—between genders people and machines, and humans and animals— which is why Gucci models in the fall runway show carried chameleons and adhered to no traditional notions of who wears what, with men sporting dresses and women donning suits and skirts over pants in mismatched patterns.
Eliminating the boundaries between forms is what the bookstore-within-a-luxury-goods-shop hopes to do, too. The literary nook–and, indeed, the whole store–is meant to serve as a cultural center for book signings and author readings. The Gucci Wooster shop has an adjacent screening room, too.
Gucci is not the first retailer to create a book nook. The furniture purveyor IKEA gave away books in a reading space in a London store this summer to emphasize the value of reading for stress reduction. But that was a temporary endeavor, whereas Gucci is making its bookstore a permanent fixture and even hired bookworms and a librarian to run the space.
Gucci is not the first clothing store to sell books. Urban Outfitters sells them, as does the LA brand Kitson. And IKEA created a temporary book nook in a London store this summer. But Gucci does seem to be the first luxury goods seller to create an actual bookstore inside a prominent shop, and one with works that have a connection to its designer's collections and aesthetic.
While a bookstore may seem like a strange way to attract fashionistas, it's perhaps not surprising that an enduring luxury brand like Gucci, founded in 1921, would look to old-school items like printed books for added edge. Reading never really goes out of style, and nothing signals quality like a classic title. Retail stores competing with online sellers now need to offer more than just stuff—they are selling experiences, a whole way of being. Buying an obscure book or niche magazine at Gucci is a sign of insiderness in an exclusive club of highly cultivated people with sophisticated preoccupations.
And if anyone can sell the old pastime of reading books as the new thing to do again, it's Gucci. The company has experienced a huge resurgence in cool in recent years. In fact, the name Gucci has come to signify awesomeness itself—ask any American youth and they'll tell you that when something is "so Gucci" it's great (as my niece and nephew and Strettell's 12-year-old daughter will confirm). While the average teen with a paltry allowance is probably not who Gucci is aiming to attract to its book nook, the brand's aesthetic and choices resonate far beyond the relatively limited number of consumers who can actually splurge on their high-end items.
With its new book nook, Gucci is making reading, literally, "so Gucci." It is undeniably a good look for the brand and the Wooster store, and may convince even fans who can't afford it that reading is fashionable.