Subscribe to the Quartzy newsletter to receive this in your inbox each Friday.
It recently came to my attention that much of my lifestyle coverage might be accurately described as "old-timey" or perhaps less generously, "crotchety." A Twitter user shared my lament about a local toy-store's demise and plea for people to holiday-shop in real stores recently with the very apt comment: "Old man yells at cloud."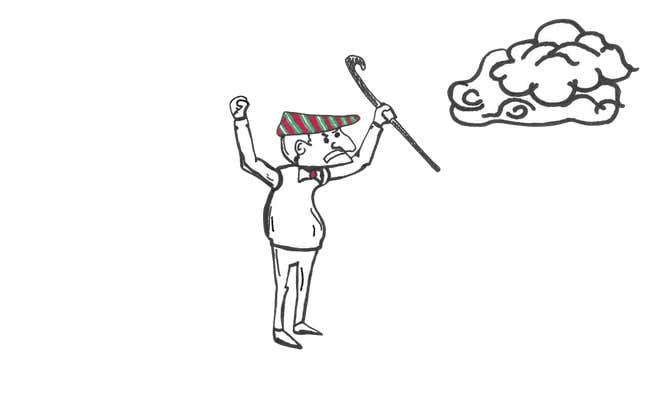 It's probably fair to say I'm a figurative old man yelling at clouds year-round—but the holiday season really brings it out in me. I'm not the only one, here at Quartzy. It's not that we're a bunch of Luddite grinches. It's more that the glittery, flashing, consumerism-on-steroids version of the holiday season can sometimes provoke us to behave, as Annaliese Griffin put it, "like something out of a wartime scene from Little Women."
Annaliese was describing her family's version of a "Yankee swap," which caps overspending on unwanted gifts by limiting the participants to a single pair of socks, a dish towel, or a bar of soap. Austerity aside, she writes, "there's something about the game that encourages really goofy wild card gifts, and lasting moments of real joy." One legendary year, her treasured prize was a pair of socks custom-printed with her sister's face.
Homemade gifts 
I have also in the past suggested that you might please a holiday party host by bringing them a bundle of chocolate-dipped Clementine sections, wrapped in waxed paper and tied up with string. (Seriously, a roll of baker's twine goes a long way this time of year.) That recipe came from my first rather Dickensian winter in Manhattan in a tiny studio apartment with a Murphy bed and a hot-plate, but no oven.
If you do have an oven you enjoy operating, you might follow Annaliese's guide to holiday cookie domination by way of pre-mixing and freezing dough. My favorite part, beyond the idea of spending a solid couple hours in the kitchen with butter, flour, sugar, and the Vince Guaraldi Trio, is Annaliese's advice to make three cookies: one sugar cookie, one chocolate, and one "wild card." (Both Annaliese and my mom have already gotten "wild" with these zebra-striped shortbreads from Bon Appétit, and I'm right behind them.)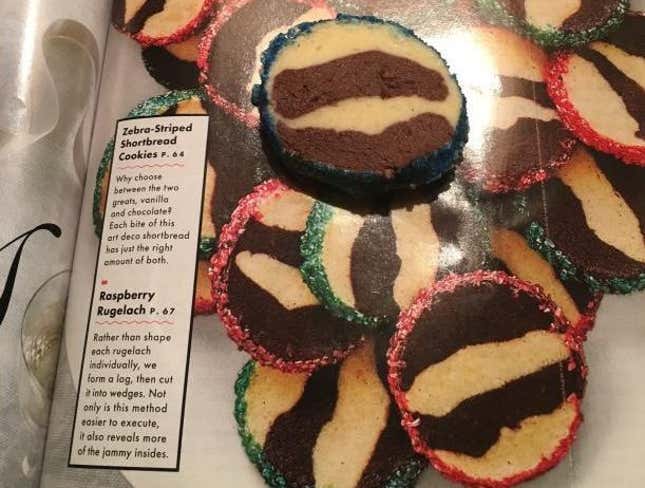 An old-fashioned birthday reminder
As for this year's wish list, I'm standing by my old-timey approach. My mom asked me for a beeping Tile to keep track of her iPhone, and I asked her for an actual book made of paper in which to write people's birthdays. I got this idea from my new lifestyle guru, Quartz reporter Hanna Kozlowska's Polish grandmother. These birthday records are apparently called perpetual calendars because you keep the same one year in, year out—and if you are Dutch, you might even keep it in the bathroom! I love this.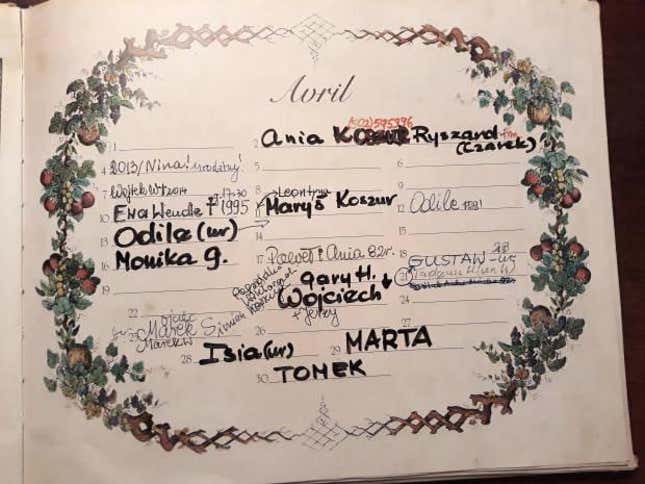 Fancy a smoke?
The other retro item on my wish list doesn't throw it back quite so far. This newfangled age of legal cannabis brings a host of high-end—and high-tech—devices. But for the light toker who can't quite get behind a smartphone-connected vaporizer, there's nothing like a classy little one-hitter.
The one-hitter, for the uninitiated, is a pipe designed for just a single hit of herb—which might be all one needs, given the potency of today's cannabis. The quintessential version many of us remember from our teenage years looked like a cigarette, making it discrete in both size and appearance.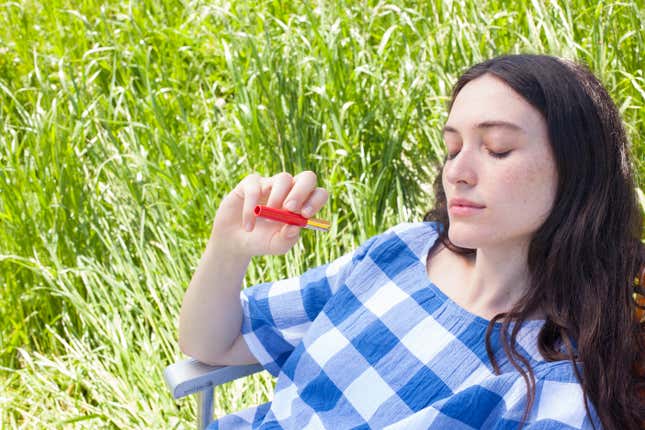 Those were typically made of painted metal, but today fancy old people can upgrade to the Voltaire Pipe, a version that's hand-shaped in multiple colors of porcelain by the ceramicists at the Pursuits of Happiness, and finished with a 22-karat gold over-glaze where the "filter" ought to be. It's a splurge at $75. But sneaking a hit the old-fashioned way? Priceless.
Holiday fashion
As for dressing for the holidays, Sangeeta Singh-Kurtz went full old-man-yells-at-cloud on what she called the "grim march of sparkly fast-fashion" holiday clothes. She points out that shite sequins stitched onto polyester represent the worst of the wasteful fast fashion cycle of "poor quality clothing designed to only wear once or twice (and priced to convince you that's fine)."
But even if you don't feel like imposing a Little Women dress-code and pairing a pioneer dress with a Fair Isle sweater for your office party (though why not?!), you still have options. You know where reasonably priced sequins of superior quality abound? Second-hand stores. Find a vintage sequined blouse that buttons up the back, take out the shoulder pads, turn it around, and wear it cardigan-style over a bodysuit and some boot-cut jeans. Bob's your uncle.
Party-wear plan C: a midi-length pleated plaid skirt. As the Cut's Rebecca Harrington writes: "It is so singular, so not of an actual wardrobe that it transcends dress code. It just says 'holiday.'"
It is perhaps the perfect outfit for shouting at a cloud. But festive.
Have a great weekend!

PS: Roma
 is out on Netflix—and still in theaters.
Director Alfonso Cuarón's long-awaited follow-up to Gravity, is out in limited theatrical release and available on Netflix as of today. Roma, which just nabbed three Golden Globe nominations, takes us to Mexico City, where Cuarón's 2001 breakout film, Y Tu Mamá También, also began. The film takes place in the 1970s, and follows the story of an indigenous domestic worker amidst political and personal turbulence. Much to the delight of film purists, it was filmed on location on 65 mm film, resulting in what Quartz's Adam Epstein called "a sensuous, evocative visual journey." (And that was just the trailer.) So yes, you could stream it on your couch, but the trailer—and critical response—suggest that the story, cinematography, and sound make this one worth watching the old-fashioned way.