"Time is a flat circle," Matthew McConaughey once said, in character as True Detective's Rust Cohle. "Everything we've ever done or will do, we're gonna do over and over and over again."
It's certainly true in fashion. On Monday (Dec. 3), GQ inspired rage, disgust, laughter, and many tweets with a headline declaring that "boot-cut jeans are making a comeback."
It was straight fear-mongering, in the form of a photo of a sad-looking man in a pair of baggy, medium-blue trousers that tapered toward his knees and swept out below them. Where a true bootcut jean may break just once at the wearer's shin, the pictured pair wrinkled, folded, and pooled above the wearer's feet.
They're Balenciaga, of course
Those jeans—which really are more droop-cut than boot-cut—were the work of Balenciaga creative director Demna Gvasalia. On one hand, Gvasalia is a very influential designer. (See: ugly sneaker outbreak.) On the other, it often feels like he's trolling the entire industry. (See: $2,000 IKEA-style totes, $330 DHL t-shirts, again, ugly sneaker outbreak.) These jeans are textbook Gvasalia. They look hideous, unstylish, ridiculous. But do they also look like the future?
Let's zoom out for a little perspective.
Bell-bottoms, of course, were popularized in the late 1960s and early 1970s by rock-stars such as Robert Plant, whose tight-bottomed, nip-kneed denim flares might still be considered the silhouette's Platonic ideal. (See also: Cher.) In the 1990s, we saw a watered-down version of the style go mainstream in the form of the boot-cut jean. Boot-cuts, just as the name suggests, had a straight leg that widened slightly below the knee—allowing room for a pair of boots, but not exactly flapping in the wind.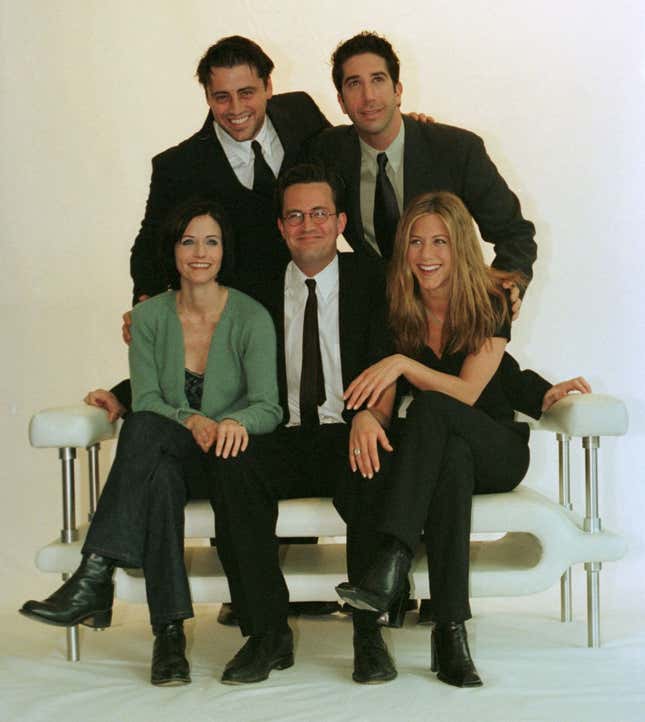 A decades-long design rut?
In a 2012 essay, Kurt Anderson wrote about how little pop culture, and especially design, had progressed since the 20 years prior, despite the leaps in technology. "The past is a foreign country," Anderson wrote, "but the recent past—the 00s, the 90s, even a lot of the 80s—looks almost identical to the present. This is the First Great Paradox of Contemporary Cultural History."
The concept was illustrated by a guy whose wardrobe reflected the prototypical style of 1932, 1952, 1972, and 1992, and 2012. Except that the 2012 guy, in a red plaid shirt and some Stan Smith-ish sneakers looked nearly identical to the 1992 guy, save for the addition of some earbuds.
There's one glaring exception, however, to Anderson's thesis—denim. While some of us think of jeans as trend-proof and unchanging—the true north of fashion—the backlash that those Balenciaga boot-cuts triggered proves that we're not all just wearing the same 501s year in, year out. Many of us can identify an era by the jeans that we (or the masses) wore then. Much of fashion remained relatively unchanged between the 1990s and the 2010s, but our pant-legs did not. Broadly speaking, they got narrower.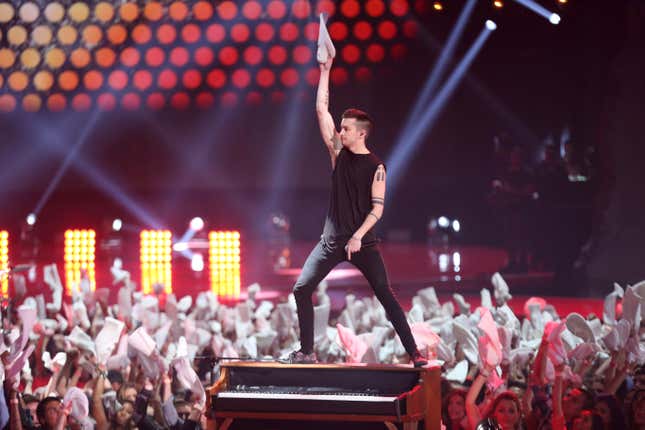 Enter the skinny jean
From the early 2000s, jeans began to hug our calves so closely that they required a new word: jeggings. Denim got stretchy, and hems were tucked into boots rather than flowing over them. So-called skinny jeans had their high points; the stretchiness made them comfortable, and their slim-cut legs made jeans feel tidy enough for work or an evening out.
But fashion is a flat circle, and we're starting to come back round again.
The great easing
In 2015, we started seeing fewer skinny jeans on the runway. European labels like Dries van Noten and Chanel showed denim palazzos and wide-legs, and the beloved New York-based designer Rachel Comey offered jegging relief in a rigid, high-waisted style with a wide cropped leg and a frayed hem called the Legion Jean. It changed everything.
First introduced in 2014, the Legion Jean cost $345 and inspired waiting lists, a "cultiest new cut" label from Vogue, and so many low-cost imitators that we can now recognize it as the beginning of a paradigm shift in women's trousers.
Unflattering pants
As Marc Bain reported in September, this high-waisted, A-line dungaree is driving what Urban Outfitters CEO Richard Hayne called a "macro fashion shift" toward roomier legs. Unlike a flash-in-pan micro-trend, a macro shift has more to do with proportions and silhouette than color, prints, or materials. A macro shift, said Hayne, is good news for clothing retailers, because it can require a customer to revamp their entire wardrobe, replacing other items to go better with the new leg proportions: Remember when low-rise jeans necessitated extra-long t-shirts?
This new shape—which to be sure, hearkens back to the 1970s (remember, flat circle)—is not without its challenges. I like it because it works over bodysuits, of which I'm a fan, and I live somewhere warm enough to go sock-less with espadrilles nine months of the year. If I were midsection-squeamish or lived in less mild conditions, a full embrace of what The Cut's Molly Fischer called the "masochist aesthetic" of Unflattering Pants (in a must-read essay on the topic) may prove more challenging.
The good news
Thankfully, as the Business of Fashion's Lauren Sherman pointed out amidst Twitter's boot-cut meltdown, "we live in a world of choice." The internet has flattened the last few decades of trends and spattered them out, and there's no single stream of fashion authority that says tight-rolled or bootcut jeans are over—just as the fashion police will not arrest you for failing to adhere to the new A-line aesthetic.
I was in a Madewell store last weekend, and tried on a pile of blue jeans that ranged from the Unflattering Pant to a "slim straight" jean I might easily have worn in 2005. There was even a "demi-boot," which is a jaunty little cropped bootcut. Meanwhile, Levi's has invented jeans especially for showing off one's sneakers. And we live in a golden age for sourcing vintage denim online.
In short, you can just wear the jeans you like.
I've actually held onto a pair of inky black bootcut flares that I regularly wear over mules with a cowboy-ish silhouette. I feel like a badass when I do, not only because they make my legs feel three inches longer, but because they loudly declare: I am not a lemming whose pant-legs are prey to the whims of European designers or Instagram influencers.
Which brings us back to those Balenciaga droopy boot-legs. It's highly possible that this is one shape of the future. But it will be one among many.