For a long time now, the paradigm for airport terminals has been a sealed, secure, airtight box. A succession of terrorism incidents led architects to eliminate features like tourist-friendly balconies and viewing galleries in air control towers. Considered welcoming places of leisure in decades past, most airports today are oppressive gateways to avoid at all costs.
But this is quickly changing, says Robert Chicas, director of the aviation and transportation practice at HOK, one of the world's largest architecture and engineering firms."The [air travel] industry right now is at a very interesting point in its evolution," he explains. "It's all about creating an environment that's more than about sitting and waiting for your flight."
Airport greenery
Tasked with overhauling New York's LaGuardia Airport—named the US's most stressful airport last week—HOK is steeped in researching ways to create better environments for weary travelers. Chicas notes that airport administrators are clamoring for hospitality-driven environments that emphasize the wellness of passengers and airport workers. Architects are introducing greenery and natural elements at airport terminals, and citing tenets of biophilic design, a principle that draws inspiration from nature (paywall) to improve human health and well-being in built environments. Instead of erecting hermetically sealed structures, more airport designers are drawing inspiration from parks and natural landscapes.
One solution is creating more open-air spaces throughout terminals. For example in modernizing the Long Beach airport's terminal (built in the 1940s), HOK designed "airside gardens" that allow passengers to pop out of the air conditioned terminal and experience the idyllic California weather while waiting for their flight. Fire pits and palm trees in the outdoor plaza "make guests feel like they are in a resort instead of an airport," Chicas explains. This philosophy echoes the design of Honolulu's Daniel K. Inouye International Airport. Built in the 1970s, Hawaii's largest hub has a circuit of Chinese, Hawaiian, and Japanese gardens to soothe passengers.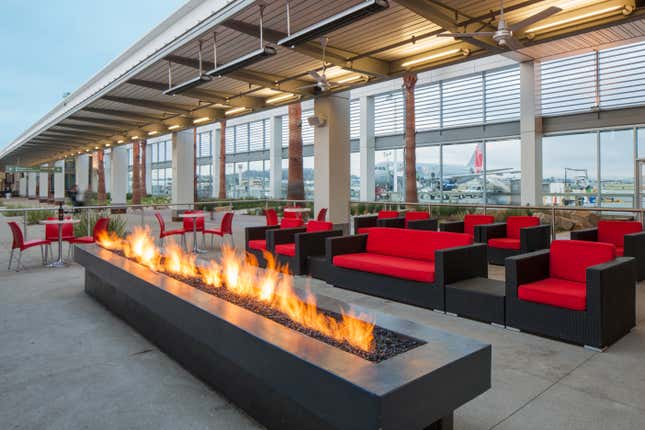 Another idea is creating indoor terrariums and gardens, as in Singapore's Changi, often cited as the "world's best airport." Its Terminal 1 features over 340 species of plants and an "Avenue of Trees," as Quartz reported. "It's a recognition that natural light and access to a beautiful serene space… benefits you from a wellness perspective," explains Matt Needham, who oversees the West Coast division of HOK's aviation practice.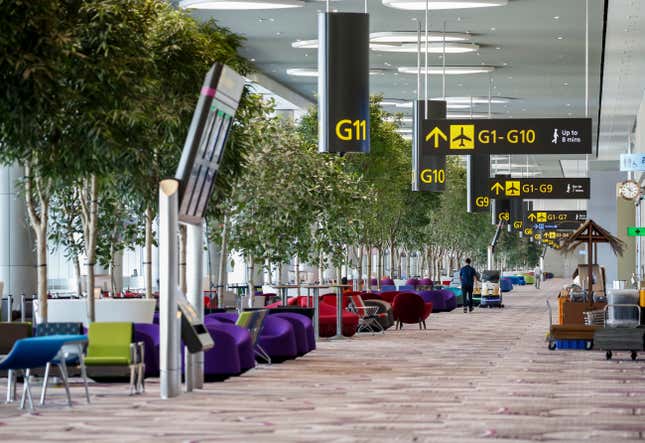 Chicas points to Amsterdam's Schiphol as another high expression of biophilic design at airports. Aside from being the first major aviation hub to install green roofs throughout its facilities, Schiphol's newest terminal celebrates the landscape and vegetation of the Netherlands, he says. "They'e been inspired by the likes of the High Line Park in New York. It's celebrating people's passage through the terminal with areas of vegetation and green."
"The congested 'hold room' landscapes of the past had tightly spaced seating, limited power and data ports, subpar service offerings and 'cattle call' boarding procedures," notes Chicas. "This is no longer acceptable."
Pleasant and profitable
Needham explains that investing in wellness-oriented spaces not only benefits travelers but is also a boon to the bottom line. Entering an airport, "your stress levels are very high until security, and it goes down dramatically after that," he says. "How far down they go directly corresponds to how much travelers spend post-security."
Julian Lukaszewicz, head of business design at design firm Fjord, echoes Needham's observation. "Passenger propensity to spend is affected by stress levels," he explained to the Telegraph. That's why many airports want to provide information to passengers and create a stress-free environment, he added, "so that passengers feel more relaxed and spend more money."