After more than 30 years as the artistic director of Chanel, Karl Lagerfeld's name is practically synonymous with the storied house. Now, in the wake of Lagerfeld's death today (Feb. 19), Chanel has announced a successor.
Virginie Viard will serve as Chanel's new creative director. It's a logical choice, even if Viard's name isn't well-known outside fashion. There's probably nobody better suited to keeping Chanel on its current course.
Viard worked with Lagerfeld for more than 30 years, starting at Chanel as an intern in haute-couture embroidery in 1987, a few years after Lagerfeld joined the house. The two developed a close relationship; Viard even followed Lagerfeld to fashion brand Chloé when he was appointed that brand's creative director for a stint in the 1990s.
Since, she has risen to become Chanel's studio director, meaning she was the person responsible for making Lagerfeld's fantasies into reality, as The Telegraph noted in a 2017 story (paywall) on some of the key women at Chanel. In the story, Viard explained:
I make the collections come to life with the ateliers and the Métiers d'Art houses, based on Karl's sketches. I coordinate the teams, liaise with suppliers and choose fabrics. Then, of course, I do fittings with Karl. As soon as I receive his sketches, the process begins. I try to please him, but I like to surprise him too.
In a sign of Viard's importance at Chanel, when Lagerfeld was too tired to come out for his customary bow at the end of its January couture show, she was the one who took his place.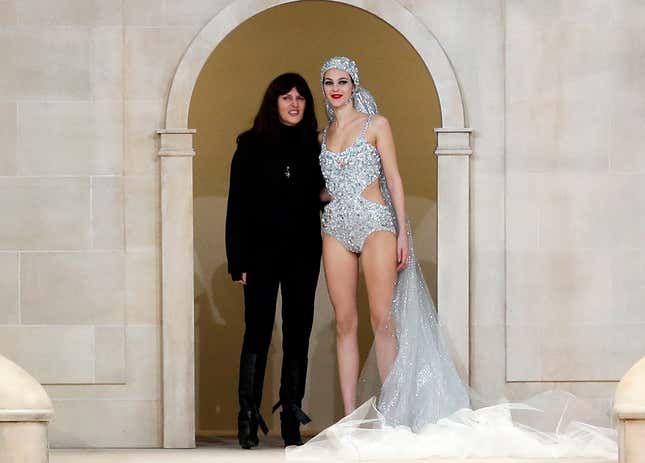 Though big fashion houses now routinely turn to new, high-profile designers to shake things up creatively—see Dior hiring Raf Simons, or Burberry appointing Riccardo Tisci, for instance—that approach comes with drawbacks. Shiny new name-brand designers tend to imprint their own visions on a house, while having a tendency to leave after a few years.
Sometimes even internal hires will reinvent a brand, as Alessandro Michele did when he took moved up from head of accessories to creative director at Gucci a few years ago. But Gucci's parent company, Kering, wanted a new vision for the flailing label.
Chanel, however, is a brand that has long showed a preference for stability rather than occasional revolutions. It's an understandable bias given that the formula seems to work for it. The brand, which is privately held but revealed its earnings for the first time last year, did $9.6 billion in sales in 2017, making it one of the world's two largest luxury fashion houses, alongside Louis Vuitton.
Lagerfeld himself was adamant that he didn't want to impose too much of his own personality on Chanel, rather aiming to update the ideas of founder Coco Chanel for a new audience, even if he still exerted his own influence in the translation.
Chanel knows that Viard is already intimately acquainted with the internal workings of the brand and isn't likely to leave in a few years. Perhaps most importantly, she understands that her goal as creative head of Chanel isn't necessarily to remake it in her image, or even to ask herself, What would Karl do? It's to ask, What would Coco do?