Balenciaga has a knack for grabbing attention like few other luxury brands today. That's largely down to artistic director Demna Gvasalia's habit of mixing the unusual and the expensive. Outlets such as CNN covered the brand's $2,145 replica of an Ikea tote. There was a similar flurry around its $1,290 t-shirt attached to a button-up; and the $9,000 coat with as many layers as an onion, which drew comparisons to the episode of Friends where Joey puts on all Chandler's clothes.
Forget those things. Gvasalia's real talent lies elsewhere. Season after the season, the designer has proved adept at turning the familiar into something new, not through gimmicks—though not every idea has been great—but through the way he constructs clothes, using inventive techniques to reinvent the most pedestrian items. That ability stands out mostly clearly in the ski parkas, puffers, and other technical outerwear that the designer has reimagined in his three years with Balenciaga.
At the brand's runway show in Paris yesterday (March 3), Gvasalia reworked the sort of jacket you'd find sitting on a rack at an outdoor retailer, changing the proportions and adding leg-of-mutton sleeves. On several other pieces, including an otherwise familiar puffer jacket, he pulled forward the yoke across the top of the back to create an unexpected frame around the shoulders. A long down jacket—the kind that's reminiscent of a comforter—morphed into a regal robe.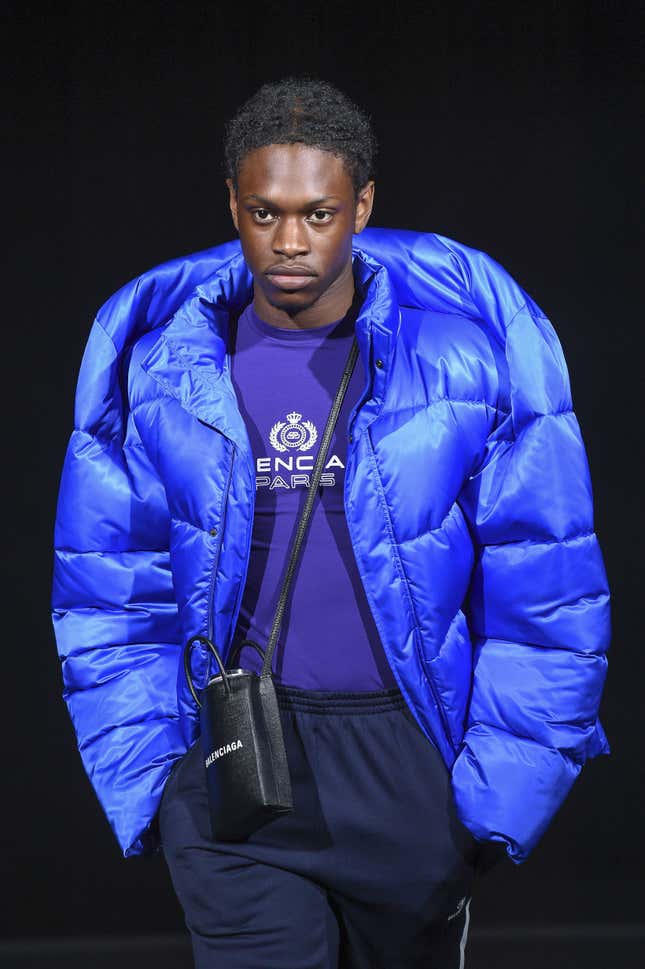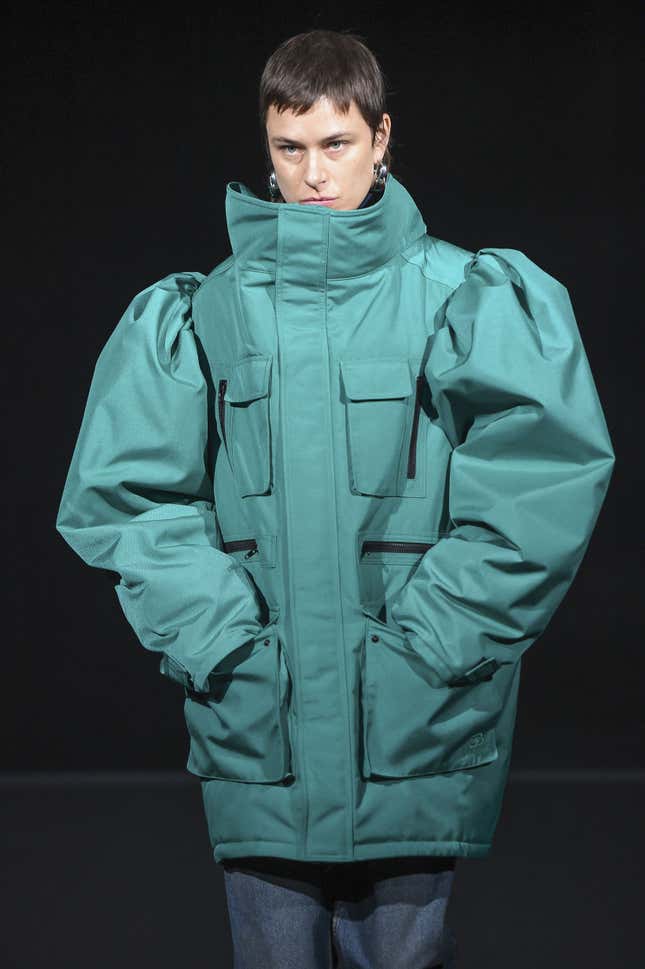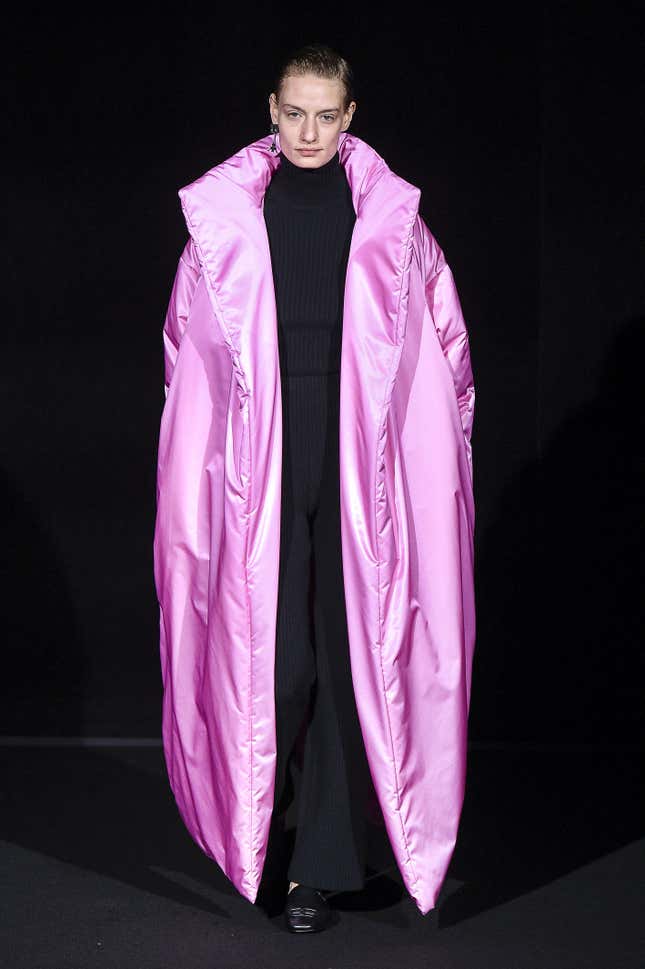 It's territory Gvasalia has been working since his 2016 debut for the label, which he described at the time as "a series of couture attitudes transforming a modern, utilitarian wardrobe." Among the standouts from the collection were a parka and puffer constructed so that they yawned open at the collar, creating the sort of silhouette normally reserved for evening gowns and opera coats.
"I thought that [parka] was fascinating and extraordinary," Washington Post fashion critic Robin Givhan told Quartz recently (paywall). "[Gvasalia] managed to take this familiar, unimpressive garment and merge it with what you could describe as a couture-ish sensibility, and come up with something incredibly familiar and incredibly different."
Since, he has continued to devise an impressive array of artfully constructed puffers.
Gvasalia inherited a legacy when he took over Balenciaga. The house's namesake, Cristóbal Balenciaga, was seen as a master of his craft by eminent couturiers such as Christian Dior, and famed for his unusual silhouettes. Rather than fitting clothes to the body to show off the wearer's form, he might abstract it, as with his kimono-inspired cocoon coats, or his 1957 "sack" dress, which ignored the waist entirely. It "was initially met with hostility from both clients and press," according to London's Victoria & Albert Museum.
Gvasalia has used those same ideas, including the lines of Balenciaga's cocoons. Except as he gets much of his inspiration from the street, and likes to appropriate commonplace items, he has turned Balenciaga's codes on everyday clothing, not just tailoring and evening wear. The contrast has been most striking when applied to the kind of outdoorsy outerwear that has made brands such as The North Face and Canada Goose such status symbols.
Gvasalia's designs can be strange, as in the case of his monstrous and financially lucrative Triple S sneakers. But so could Balenciaga's. What he's really done is to find a way to bring these constructions into the 21st century in a relevant way, and turned clothes into fashion in the process.