When The North Face introduced the Nuptse jacket in 1992, its goal was to offer high-performance outerwear for serious mountain climbers. It came out of a research trip where designers were studying what climbers needed in an expedition layering system. They chose down for insulation to keep the jacket light, warm, and easy to pack, and introduced an innovative baffle construction that held the feathers in horizontal bands to keep them from shifting. The length was kept short, hitting at the waist, so climbers could easily get to their harnesses. The name itself, Tibetan for "West Peak," refers to a mountain in the Himalayas near Everest.
A much wider audience than mountaineers quickly adopted the jacket, and it has remained a staple for The North Face, getting tweaked with larger baffles in 1996 and other updates since. Right now, the jacket is in the midst of a surge in popularity, especially among guys who aren't going anywhere near a mountain. It's reaching a new peak as it dovetails with some of the major currents driving fashion.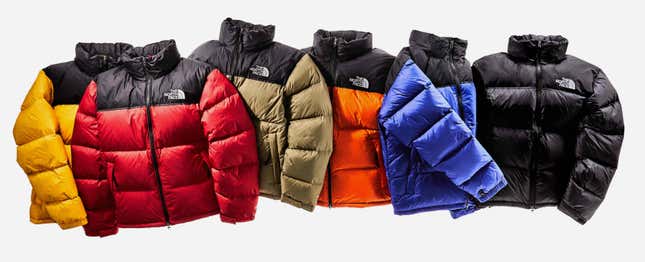 In the last quarter of 2018, the Nuptse ranked as the second-hottest men's product in the quarterly index compiled by fashion search engine Lyst. It came in just behind an electric-yellow version of Nike's top-selling Air Force 1 sneaker and ahead of products from labels such as Givenchy and Fendi. According to Lyst, its index looks at the online shopping behavior of more than 5 million consumers, taking into account "global Lyst and Google search data, conversion rates and sales, as well as brand and product social media mentions and engagement statistics worldwide over a three-month period."
The puffed-up, color-blocked Nuptse is a common sight on the winter streets of cities such as New York, where shoppers don't want to sacrifice functionality or looks. Several big fashion trends are working in its favor. It fits with the resurgence of 1990s styles. It satisfies the growing appetite for performance outerwear, including a whole lot of puffer jackets, and outdoorsy clothing such as Patagonia fleeces. And it also tracks with the rise of streetwear, which has deep roots in hip-hop, the genre that offered an important early audience for the Nuptse.
New York, one of hip-hop's epicenters in the 1990s, was a place where much of its influential style took shape. The Nuptse was part of it. As streetwear expert Ross Wilson explained in Highsnobiety: "With the icy chill of the Hudson River running through its avenues, the city can become unbearably cold during January and February, so the Nuptse's simple styling and 700-fill goose down insulation ensured it quickly became a NY staple, alongside Timberland 6-inch boots, Karl Kani jeans and oversized Polo Sport sweatshirts."
The Nuptse trickled into prep schools too, including among kids emulating the image projected by hip-hop. "Their heads chuck back and forth inside North Face jackets to Tupac bumping on the sound system: Ain't nothin but a gangsta party—," Nancy Jo Sales wrote in her 1996 New York Magazine story, "Prep-School Gangsters."
It also filtered into the city's skate scene, which had a hub in the downtown skate shop Supreme, founded in New York in 1994.
Supreme has been a key brand in streetwear's ascent, and a regular collaborator with The North Face, releasing its own versions of the Nuptse. The ties to streetwear and hip-hop also likely have some influence on why guys such as Kanye West and designer Virgil Abloh have been spotted wearing Nuptses in recent years. At the same time, designers including Junya Watanabe and Sacai's Chitose Abe have done their own collaborations with The North Face, adding to the brand's fashion cred.
Helped along as well by the 1990s revival and the borrowing of hiker gear as fashion, the heat has continued building around The North Face and the Nuptse. In September, the company re-released the original 1996 version, featuring a slightly different baffle construction and a boxier silhouette. The North Face's parent company, VF Corp., highlighted it the next month during a conference call to discuss quarterly earnings. "The launch was supported as a key pillar of our 'New Explorers' campaign and was highlighted in our first-ever urban brand experience," CEO Steve Rendle said. "It was sold out in minutes. The North Face is re-energized."
In its most recent quarter, VF Corp reported that The North Face's sales grew 16%. Rendle told investors that a return to double-digit growth in the Americas led those results. It takes a lot of products to lift a whole brand's sales, and the Nuptse looks to be one of those lending its muscle.
The jacket's history at this point is older than a lot of the kids wearing it. The design has proved long-lasting, and a few decades later, the Nuptse is a hit again.