Selfies in goth makeup have become the latest form of protest in China.
It all started when a Guangzhou woman was reportedly asked to remove her goth makeup at the entrance of a subway station by a security guard who said her look was "problematic" and "too horrible," according to her March 10 post (link in Chinese) on the microblogging site Weibo. That post has been reposted more than 5,000 times as of this writing. The woman called the incident discrimination, and questioned the legal basis of her being barred. She said she realized she was not the only one to have such an experience, after a Weibo search.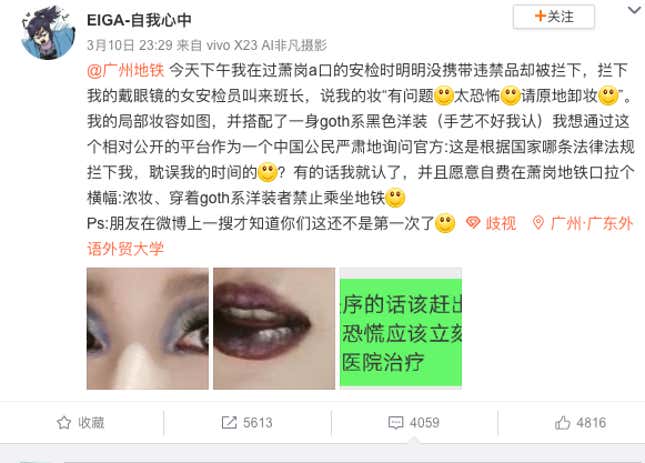 Guangzhou Metro has since apologized on Weibo (link in Chinese) for "inappropriately" handling the matter, and says it has suspended the security staffer for retraining.
Still, the incident started an online protest movement, with thousands of people posting selfies on Weibo in goth makeup, showing their disapproval of what they see as intolerance of cultural diversity and self-expression. These have garnered more than 5.4 billion views and some 6,000 messages under the hashtag #为广州地铁发自拍# ("take selfies for Guangzhou metro") on Weibo, which has around 460 million monthly active users.
Goth, as Quartz's Marc Bain has written, is "a subculture defined mainly by a predilection for dark, gloomy music, black clothes, and all things moody and macabre, including at times Edwardian and Victorian design." In China it has manifested as "Lolita fashion." "Japanese manga novels, and the Twilight novel franchise have also been influential in bringing gothic culture to China," the BBC reports. Rock music from the West has been associated with the subculture—the Canadian singer Avril Lavigne in the early 2000s, for instance.
One Weibo user (link in Chinese) identified herself as from overseas, and posted nine pictures of a girl with piercing near her mouth, and colorful makeup brushed over her face. "I hope there is cultural diversity," she writes. "I have never had negative feedback on my makeup. In London, people appreciate my look from top to toe everywhere I go. I might not feel what it feels like to be that girl, treated so unfairly, but I just want people to raise their tolerance."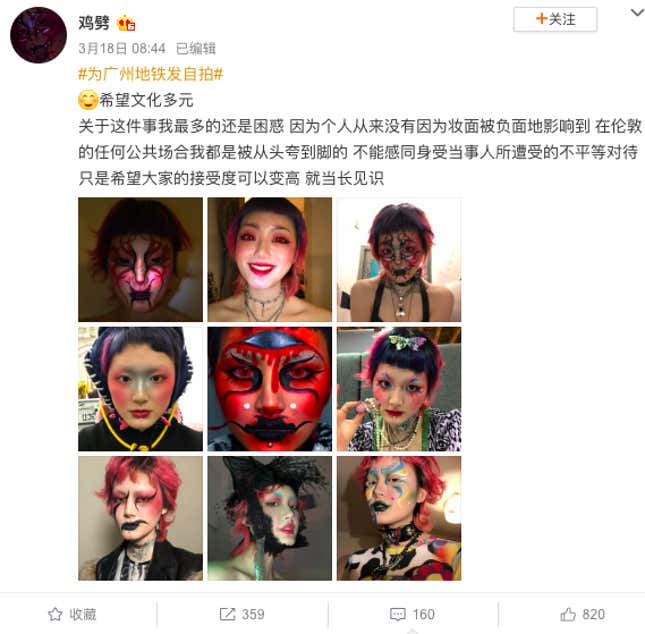 A Yunnan-based Weibo user posted six pictures (link in Chinese) of a girl with blond hair wearing heavy eyeliner, and a picture of a spider. "You have no right to ask a girl to remove her makeup in a public sphere," she wrote.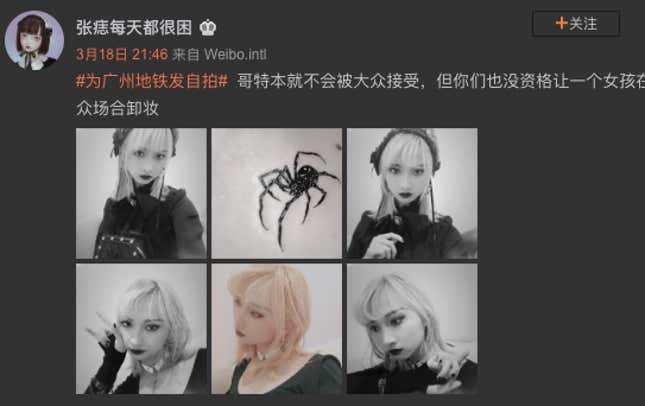 "Nobody can stop me from being who I want to be," wrote another user, who posted nine pictures of a girl in Gothic makeup, with a piercing on her face (link in Chinese). "Narrow-mindedness always co-exists with ugliness. But we won't give up fighting."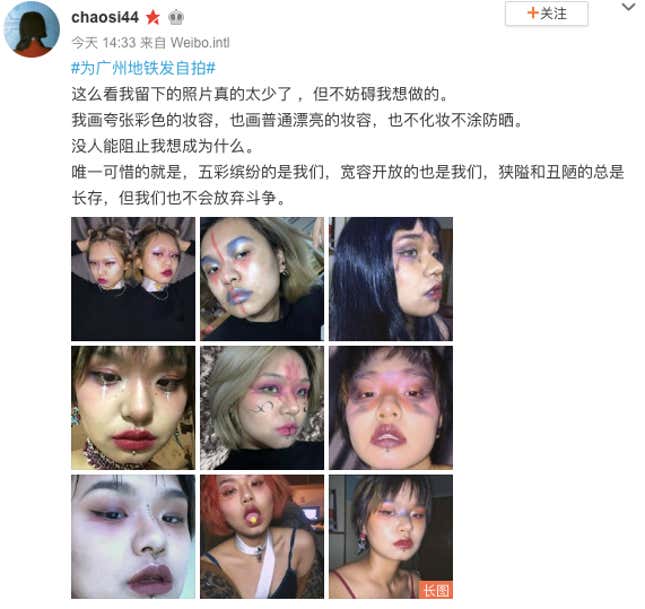 China's authorities tend to be nervous about subcultures, which they often consider a negative influence on young people. Recently, videos of Peppa Pig, a British cartoon character for young children, were temporarily removed from Douyin (known as "Tik Tok" overseas), one of the country's most popular live-streaming apps, after state media said the chubby pig was promoting a "gangster" vibe to young people.
Correction: An earlier version of this story stated that Weibo has 460 users; the correct number is 460 million.