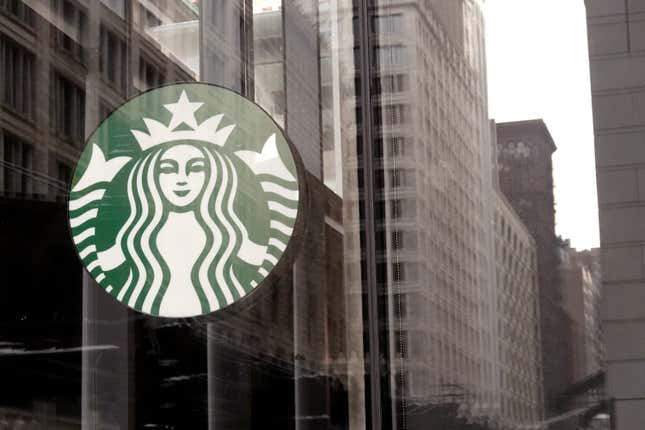 A federal jury in New Jersey awarded $25.6 million to a former Starbucks manager who claimed she was fired for being white following the arrest of two Black men at a Philadelphia store that sparked nationwide condemnation.

Marcus Samuelsson on the New York City restaurant scene
The jury on June 12 decided to award the ex-manager, Shannon Phillips, $25 million in punitive damages and $600,000 in compensatory damages after finding Starbucks had violated her federal civil rights and New Jersey laws prohibiting racial discrimination.
The case dates back to 2018, when Phillips was a regional director for Starbucks—a role that included oversight of operations in Philadelphia. In April of that year, two Black men, Donte Robinson and Rashon Nelson, went to a Starbucks in Rittenhouse Square, Philadelphia for a business meeting. While waiting for a third person to arrive, Nelson asked to use the restroom. He was denied. After sitting in the store for a while, without purchasing anything, a manager called the police. Both were arrested on trespassing charges and removed from the store in handcuffs.
A video of the incident circulated online, gathering millions of views, and sparked widespread outrage, protests, and media coverage. In response, Starbucks closed 8,000 stores for one day to teach staff about racial bias, and changed its bathroom policy to be open to all who enter the store, regardless of whether one makes a purchase.
Quartz contacted Starbucks for comment on the jury decision.
Phillips alleged she was fired because she is white
In her initial complaint (pdf), Phillips claimed Starbucks "took steps to punish white employees who had not been involved in the arrests, but who worked in and around the city of Philadelphia, in an effort to convince the community that it had properly responded to the incident."
She also claimed that Starbucks did not take action against the Black manager for the Rittenhouse Square store, Paul Sykes. Phillips had been an employee of Starbucks for almost 13 years, managing about 100 retail stores across Philadelphia, Delaware, and parts of New Jersey and Maryland.
Starbucks said it fired Phillips because of her "leadership failures"
Phillips was fired in May 2018 after Starbucks said she "was not able to lead the Philadelphia market and its partners through this moment of crisis," according to one court filing (pdf). The filing also mentioned she "appeared overwhelmed and lacked awareness of how critical the situation had become." Starbucks denied Phillips was fired because she is white.
Quotable: Words from Donte Robinson and Rashon Nelson
In an interview with "Good Morning America" in 2018, several days after the incident, both Robinson and Nelson shared their thoughts.
"I want to make sure that this situation doesn't happen again. So what I want is for a young man, young men, to not be traumatized by this, and instead motivated, inspired," said Robinson.
Nelson said he wanted to "take this opportunity as a stepping stone to really stand up and show your greatness." He added, "and that you are not judged by the color of your skin."
Robinson and Nelson reached a financial settlement with Starbucks in May 2018. The sum was not disclosed. They also settled with Philadelphia, with each receiving a symbolic $1, and city officials pledging to spend $200,000 to establish a program for young entrepreneurs.
Related stories
🚓 Proactive policing begins harming Black people before they are even born
👀 What workplaces underestimate about their antiracism commitments

🤔 What actually happens in bias training seminars?
This story was updated with details on Robinson and Nelson's settlements.