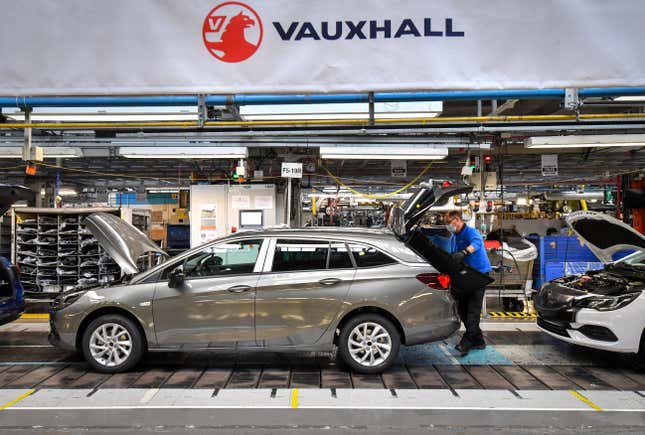 Automaker Stellantis warned UK lawmakers that it may be forced to shut some of its operations in the country, jeopardizing thousands of jobs, unless Brexit's trade rules are renegotiated.

Eric Beiley Part II: Where rates are heading
The company's submission (pdf) to a parliamentary inquiry on EV production, published today (May 17), said impending tariffs on EV exports from the UK to the EU could pose a serious threat to its business, and hamper the broader UK car industry.
"If the cost of EV Manufacturing in the UK becomes uncompetitive and unsustainable operations will close," Stellantis said in its submission to the Business, Energy and Industrial Strategy (BEIS) committee.
Executives from Stellantis, the world's fourth-largest automaker, are meeting with UK business secretary Kemi Badenoch, a Brexit supporter, to discuss their concerns, the Associated Press reported.
The automotive parent company owns brands including Italy's Fiat, the UK's Vauxhall, and France's Peugeot and currently employs more than 5,000 people in the UK. It has two major UK manufacturing plants located in Ellesmere Port and Luton, and is working towards fully electrifying its range of vehicles.
Quotable: The UK's EV ambitions
"Watch this space because we are very focused on making sure that the UK gets EV and manufacturing capacity." —British chancellor Jeremy Hunt at a British Chambers of Commerce event on May 17, quoted by Reuters
EV tariffs costs are set to go up under Brexit terms
Under the current Brexit deal, 45% of an EV's value sold in the EU must originate from the UK or EU to avoid export tariffs. But stricter rules of origin, set out in the UK and EU's free trade agreement, will increase that requirement to 65% in 2024, meaning the company's EVs could be hit with a 10% export duty.
Stellantis said it will face a "competitive disadvantage" under the rule change, and has asked that the UK negotiate with the EU to maintain the current sourcing rules until 2027.
The carmaker explained in the submission that the UK still lacks the capacity to carry out car battery production on its own, and requires overseas sourcing from Asia and Europe. Under the new rule, logistics costs would go up, and the UK would become less attractive as a production site for the auto industry. The submission cites Honda and BMW, who have shifted business to the US and China, respectively, in recent years, as a signal that Brexit has already negatively impacted the auto sector.
Two years ago, Stellantis announced an investment of £100 million ($126 million) in Ellesmere Port, which has been in operation since 1964, to become its first plant devoted to EV production.
Related stories
🔋 Every fifth car sold worldwide this year will be electric
🙅‍♂️Why BMW, Nissan, Rivian, Hyundai, Volvo and Volkswagen no longer qualify for Biden's EV tax credits
🚗 BYD profit surged by 400% last year as the electric vehicle market keeps going in China