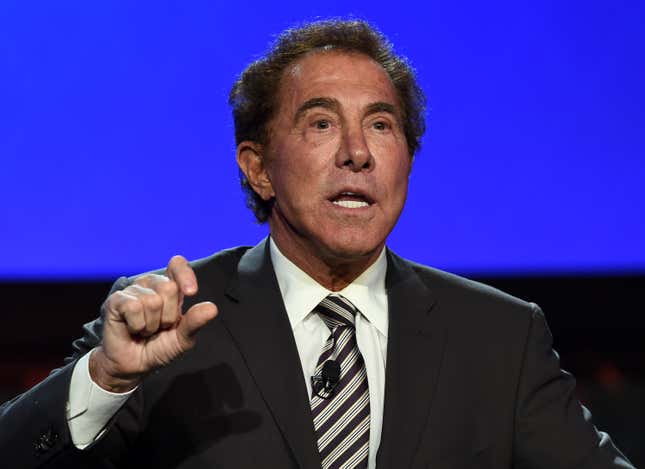 Casino magnate Steve Wynn was banned from the Nevada gambling industry, one that he had a sizable role in developing, in order to settle a 2019 sexual misconduct case with the state's authorities. Wynn was accused of making unwanted sexual advances towards multiple women under his unemployment. As part of the deal, he will also pay $10 million and is permitted to maintain a direct or indirect ownership of 5% or less in publicly traded companies registered with the Nevada gaming authorities.

Should you keep investing in Big Tech?
The settlement marks the "closing of a dark chapter," said Kirk Hendrick, chairman of the Nevada Gambling Control Board, in a statement yesterday (July 27). The fine is the largest ever levied against an individual in Nevada, according to the state agency.
Wynn signed the settlement agreement on July 17, in which he recognized his actions "constituted a failure to exercise discretion and sound judgment" and that they were "inimical to the public health, safety, morals, good order, and general welfare" of people in Nevada. Wynn has neither admitted nor denied the sexual misconduct allegations.
The 81-year-old is the founder of Wynn Resorts, a Nevada-based hotels and casino company, and made his fortune building famous gaming houses including the Bellagio, Treasure Island, Mirage, and Wynn Macau. Wynn has a net worth of $3.2 billion, according to an estimate from Forbes.
How Wynn's alleged sexual misconduct came to light
Jan. 2018: The Wall Street Journal published an article accusing Wynn of having a decadeslong record of sexually harassing and assaulting his employees, based on the collected accounts of "dozens of people."
Wynn called the allegations "slander" in a statement and blamed the media coverage on his ex-wife, Elaine Wynn, claiming it was related to her efforts to revise their divorce settlement. The day after the article was published, Wynn stepped down as finance chair of the Republican National Committee.
Feb. 2018: Following an "avalanche of negative publicity," Wynn resigned as chairman and CEO of Wynn Resorts. Later that month, a woman came forward to the Las Vegas police alleging Wynn had raped her multiple times in the 1970s.
Mar. 2018: Three women, two massage therapists and a manicurist, filed civil complaints against Wynn alleging sexual misconduct.
Fines and settlements paid related to Wynn's alleged sexual misconduct
$7.5 million: Settlement Wynn paid to end a lawsuit filed by a manicurist that alleged he had raped her in 2005, according to the 2018 Wall Street Journal article
$20 million: Fine levied by the Nevada Gaming Board Commission in February 2019 against Wynn Resorts for not investigating claims of sexual misconduct made against Wynn before he resigned as chairman and CEO, marking the biggest fine ever issued in the agency's history
$35.5 million: Amount Wynn Resorts paid to the Massachusetts Gaming Commission in April 2019 for applying for a gaming license in the state without disclosing the sexual assault allegations against Wynn
$41 million: Damages Wynn Resorts agreed to pay, $20 million of which was directly paid by Wynn, in November 2019 to settle a lawsuit with New York pension funds related to its failure to address the sexual misconduct allegations
Related stories
😔 A major J-pop agency apologized over the allegations of sexual abuse involving its late founder
😈 JPMorgan and the US Virgin Islands are locking horns over who did the most to facilitate Jeffrey Epstein's crimes