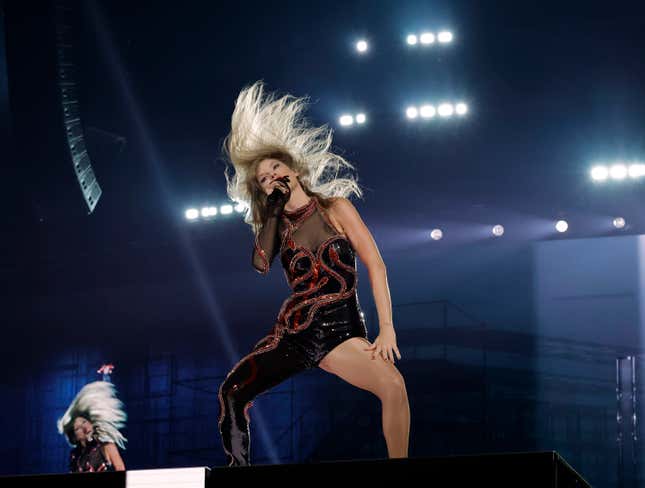 Indonesia is struggling to attract international artists and the cash influxes that concerts can bring to the local economy. Coldplay is playing for just one night in the capital Jakarta as part of their tour, their first stop in the country ever, but they added a fifth concert day in Singapore during their January 2024 itinerary. Separately, Taylor Swift, who is performing in Singapore for 6 days next March, is skipping Indonesia during the Eras world tour altogether.

Why a tightening of credit conditions could lead to a weak economy
Indonesia minister of tourism and creative economy, Sandiaga Uno, has taken note of the artists' decisions to minimize their footprints in southeast Asia's largest economy.
"One of the reasons why Coldplay only chose one day here and more than one day in other countries, was due to factors such as permissions, both ease of licensing, time of licensing, and also the cost (management process) of the permit," Uno said after attending a closed meeting led by President Joko Widodo at the Merdeka Palace, Jakarta, yesterday (Aug. 1).
The tourism minister has pledged to simplify the permit process by digitizing it. The pilot project, set to launch in September, will streamline processes and will not dole out licenses last minute.
Southeast Asia's concert economy, by the digits
197 trillion Indonesian Rupiah ($13 trillion): The expected contribution of around 3,000 events to the Indonesian economy this year
17 trillion Indonesian Rupiah ($1.1. billion): What can be gained if digitization improves efficiency as predicted, according to Sandiaga
21 days: Time by which Indonesia is hoping to issue permits for an international event. For national events, the timeline will be a little more truncated at 14 days, but still allow for more breathing room than the current regime
28%: Increase in outstanding loans from digital platforms from a year ago, according to the Financial Services Authority, or OJK. Commissioner Friderica Widyasari Dewi attributed the increase to an uptick in discretionary spending, "for example buying new gadgets, recreation, fashion, and even recently to buy concert tickets." K-pop band Blackpink had a sold out concert in March.
200,000+: The most number of concert tickets sold in a single day in Singaporean history after all pre-sale tickets to the four concerts Coldplay originally announced sold out within hours. The Yellow band added a fifth show after that. Many Indonesians are planning to travel to Singapore and even Japan for the Coldplay concert
330,000: Seats available for Taylor Swift's six days performing in Singapore—her only stop in southeast Asia
5,000: The capacity for South Korean singer Taeyeon's concert at Hall 5 in the Indonesia Convention Exhibition (ICE), about half the size of the venues she typically sells out.
One more thing: Backlash against Coldplay in Indonesia
Muslim group Persaudaraan Alumni (PA) 212 has called for the cancellation of Coldplay's concert in Jakarta, scheduled for Nov. 15. Novel Bamukmin, the cohort's secretary-general, has alleged that the British band's pro-LGBT and atheist views are against Indonesian values. (Lead singer Chris Martin claims to be an "alltheist"—meaning that he believes in everything, rather than nothing.)
If the show is not cancelled, they've threatened to flank the airport in protest. In 2012, Islamist groups opposed Lady Gaga's concert in Jakarta, leading to its cancellation over safety concerns.
Officials say the Coldplay concert will go on as planned.
Related stories
🎤 Beyoncé's bills, bills, bills kept Sweden's inflation surprisingly high
🎵 Beyoncé and Taylor Swift are poised to knock out the record holder for highest-grossing tour of all time