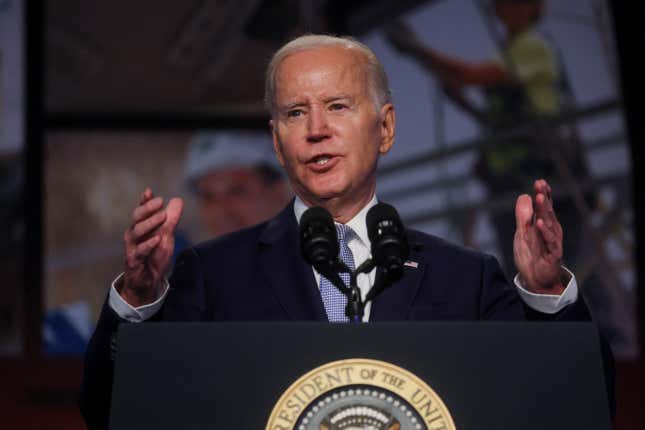 The Republican National Committee (RNC) responded to US president Joe Biden's announcement that he's seeking reelection, releasing an AI-generated ad that simulates a second Biden term plagued by disasters.
Carin Pai, Part 2: Reasons to de-risk your portfolio
The video shows a series of photos made by artificial intelligence that portray Biden and vice president Kamala Harris navigating a Chinese invasion of Taiwan, martial law in San Francisco, and a collection of other domestic and international crises. "Built entirely with AI imagery," reads a message in small type accompanying the pictures.
It marks the first time an American political party has embraced AI in campaigning. RNC chair Ronna McDaniel issued a statement along with the video response.
"Biden is so out-of-touch that after creating crisis after crisis, he thinks he deserves another four years," McDaniels said. "If voters let Biden 'finish the job,' inflation will continue to skyrocket, crime rates will rise, more fentanyl will cross our open borders, children will continue to be left behind, and American families will be worse off."
How will AI affect the 2024 presidential election campaign?
With AI platforms like MidJourney and Dall-E making it simple to create phony images that resemble real-life scenarios, the 2024 presidential campaign could see a record level of disinformation and misleading media.

For example, when former US president Donald Trump was arrested in New York last month, a series of AI-generated images of the event went viral on Twitter. The creator of the images said he was able to make them with simple prompts like "Donald Trump falling down while being arrested."
Trump has also recently embraced AI-generated photos on his personal social media accounts. In late March, he shared an artificially created image of himself solemnly praying, with a caption demanding that his supporters "pray for this man." Although the photo isn't identified as an AI-generated image, it bears many of the telltale signs, like a finger missing from Trump's right hand and poorly proportioned figures in the background.
Related stories:
🖥️ As fake photos of Trump's "arrest" went viral, Trump shared an AI-generated photo too

📷 The era of easily faked, AI-generated photos is quickly emerging
🗳️A surprising number of people trust AI to make better policy decisions than politicians