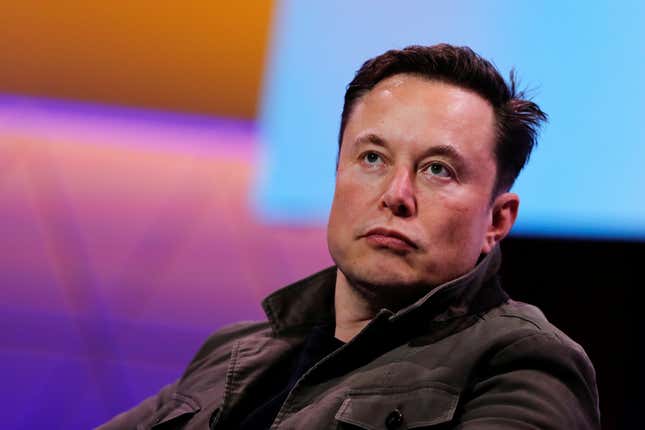 Scientists and environmental activists have been fleeing Twitter—now called X—after Elon Musk bought the social platform and took a wrecking ball to its innards.

What inspired Elon Musk's design for Tesla's Cybertruck?
A study (pdf) published in a journal called Trends in Evolution and Ecology on Aug.15 showed, that out of a sample of 380,000 environmentally oriented X users, "nearly 50% became inactive" after Musk's acquisition. This rate, the researchers found, was "much higher than a control sample." By April 2023, only 52.5% of sampled environmental activists on X were still active.
The study was conducted between Dec. 2022 and May 2023. Days after Musk's acquisition of Twitter was concluded on Oct. 22, 2022, analysts reported that more than one million users were no longer active on the platform, a doubling of the previous baseline. The outmigration continued with the arrival of X's rival, Meta's Threads—and among those leaving, as the study discovered, were thousands of vocal environmentalists.

The change of X's API is hindering climate change activism

The study, led by Charlotte Chang, a professor of biology and environmental analysis at California's Pomona College, revealed that activists left X because of rising levels of abuse and hate speech—a direct result of Musk's soft-pedaling of content moderation on the platform. In tandem, X has hosted increasing volumes of climate change dis- and misinformation.
The researchers also found that changes to X's application programming interface (API) and service outages "impeded volunteer and researcher access to real-time Twitter data with real-world consequences." These changes posed hurdles, for instance, in crowdsourcing information during the earthquake in Turkey and Syria earlier this year. X's slack corporate governance also resulted in overdue payments to cloud service vendors such as Google Cloud, accompanied by slowed-down user access to posts.

For long, Twitter was the dominant social media platform for environmentalists to organize and communicate. But the "changes since Twitter's acquisition likely have ripple effects for numerous other user segments, such as the climate policy sphere, or future disaster response after extreme weather events," the study's authors wrote.

The exodus from X has unfolded at a particularly inopportune moment, when disasters sparked by climate change—such as the wildfires in Maui, floods in India and Norway, baking heat in southern Europe—are killing, injuring, or rendering homeless thousands of people around the globe.
Currently, there is no social media platform capable of replacing X, so those departing the platform have nowhere else to congregate. That puts at risk all manner of processes of sharing ideas, coordinating responses to extreme weather disasters, alerting citizens about floods, organizing pre-hurricane evacuations, preserving biodiversity, and engineering climate change adaptation. The "exodus of environmental users on Twitter," the study's authors wrote, "is an existential threat" to the fight against climate change.