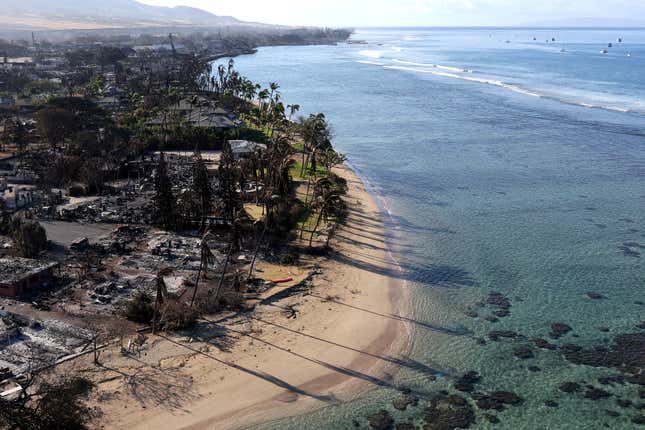 Good morning, Quartz readers!

---
Here's what you need to know
The wildfire that destroyed parts of Maui was one of the deadliest in US history. The death toll, currently at 96, is expected to increase over the course of the week.
Making money investing in Japanese robotics companies like FANUC
A conservative think tank lost a bid to sue Starbucks over its diversity policy. A US judge dismissed the lawsuit, one of several targeting companies pursuing diversity and inclusion policies, as frivolous.
Whales could derail a new US trade deal. The Indo-Pacific Economic Framework—a sprawling trade agreement between the US and a dozen other countries—has been jeopardized by Japan's taste for whale meat.
The US Congress called on FIFA to recognize the exiled Afghan women's soccer team. The international pressure coincides with the knockout stage of the Women's World Cup.
---
Robo delivery has a ways to go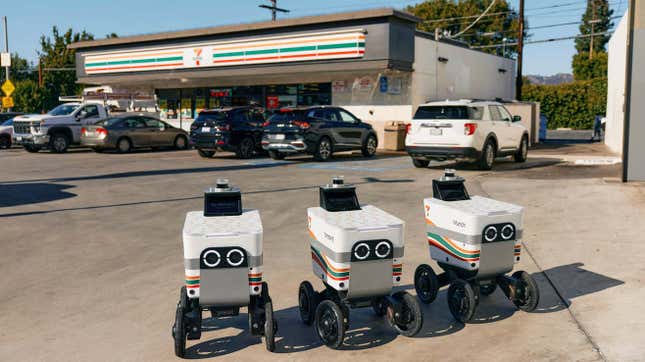 Serve Robotics—an Uber-backed robot delivery company—is going public, but it needs a lot of money before its fleet of Wall-E wannabes start delivering your pizza.

Developing and operating robots is costly. Just take a look at the figures below:

2,000: Number of delivery robots Serve plans to deploy with Uber Eats
$56 million: Amount of funding Serve says it has
$1.4 million: Serve's operational costs—per month
As Quartz reporter Michelle Cheng explains, the robot-delivery industry is still very much in its infancy.

---
Who'd win in Musk vs. Zuckerberg? Italy!
Mark Zuckerberg called Elon Musk's bluff on the proposed fight between the two tech CEOs. Should it ever take place, the victor won't be either billionaire, but rather, the proposed location.

The "epic location" of the battle of egos—potentially Italy—would fulfill a Gladiator-esque dream of Musk's. But if the fight and the location hold true, it'll mean big tourism bucks for the host country, as well as millions of dollars in philanthropic donations.

---
The World Bank is inconsistent on homosexuality
The World Bank has suspended all new loans to Uganda, arguing that the country's law against homosexuality, passed in March, "fundamentally contradicts" the Bank's values.

The institution isn't the only one to take a stand against Uganda's draconian law—the US, for one, is reviewing $1 billion in aid to the country. But it's not like Uganda is an anomaly. In fact, it's one of 62 countries that have enacted laws criminalizing homosexuality in some form or another, many of which the World Bank still has relationships with.
---
Quartz's most popular
📽️ Some Indian workers got the day off to watch a popular actor's new movie
🚗 Hyundai and Kia are recalling close to 92,000 cars in the US over fire risk
✈️ Mexico's army-run airline is almost ready for takeoff
🚚 Everyone wants to be a UPS driver now
🖱️ It's no surprise Zoom wants workers back in the office
⏹️ America's wholesome square dancing tradition is a tool of white supremacy
---
Surprising discoveries
AI has made its way to White Castle. So has a massive Terms and Conditions agreement—no really, it's huge.
A fifth force of nature likely exists. Step aside gravity, electromagnetism, strong force, and weak force, there's a new subatomic-particle mover in town.

Not one, but two new types of moles were discovered. The furballs have been secretly living in the mountains of Turkey, where they can withstand severe heat and cold.

A NASA spacecraft studying the Sun for the past 17 years is homeward bound. It'll be doing a lap near Earth for the first time since it launched.

You can still get Twitter-branded stuff. Among the 600 items up for sale is a neon sign of the flashing once-iconic bird.

---
Our best wishes for a productive day. Send any news, comments, slider terms, and chicken-ring conditions to talk@qz.com. Reader support makes Quartz available to all—become a member. Today's Daily Brief was brought to you by Sofia Lotto Persio and Morgan Haefner.