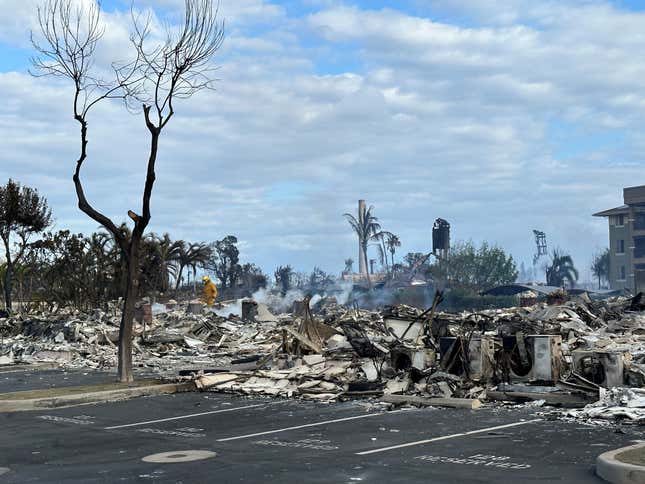 The search for missing persons in Maui continues in the wake of what has now become the deadliest wildfire in US history in over a century. The casualty count stands at 96 as of Aug. 14 but is expected to rise further.

The one thing companies should do before a disaster to support their team
"What we've seen today has been catastrophic," said John Green, Hawaii's governor, at a press conference on Aug. 12, "What we saw was likely the worst natural disaster in Hawaii state history." He also said that the casualty toll will continue to climb, a warning echoed by Maui police chief John Pelletier.
"None of us really know the size of it yet," Pelletier said at a news briefing yesterday (Aug. 13). "The remains we're finding is through a fire that melted metal," he said, explaining that "rapid DNA" tests are being used to identify victims of the fire.
Maui County has confirmed that so far only two of the 96 casualties have been identified.
Wildfires ignited on Hawaii's second largest island on Aug. 8. The flames spread rapidly, driven by winds from Hurricane Dora, a category 4 storm swirling hundreds of miles offshore in the Pacific Ocean. The blaze engulfed entire neighborhoods, reducing them to ash and rubble, and wiped out the entire historic town of Lahaina.
Charted: The top 10 deadliest wildfires in US history
The US government is mobilizing disaster assistance for Maui

President Joe Biden declared the Maui wildfires a major disaster on Aug. 10, which made assistance from Federal Emergency Management Agency (FEMA) available to those affected. FEMA said in a press release the same day that financial help would be available to individuals and business owners impacted by the fires, and to local government and non-profit organizations as well.
Green issued a fifth emergency proclamation related to the disaster yesterday (Aug. 13), permitting pharmacists to refill medications for up to a 30-day supply, even without authorization from the prescriber. He also lifted the $10 million cap on the state's Major Disaster Fund.
The Hawaii Emergency Services Administration confirmed on Aug. 11 that neither Maui's nor Hawaii's emergency sirens went off during the wildfires. Deprived of this warning, and confronted by a rapid spread of the flames, residents had to fend for themselves. One family trapped in a car reportedly used Apple Emergency SOS via satellite system to text responders when cell service went down—a function that ended up saving their lives. Other survivors jumped into the ocean to escape the advancing flames.
Related stories
📈 The data on 40 years of California wildfires is alarmingly clear
🔥 Canada's massive wildfire problem is worsening