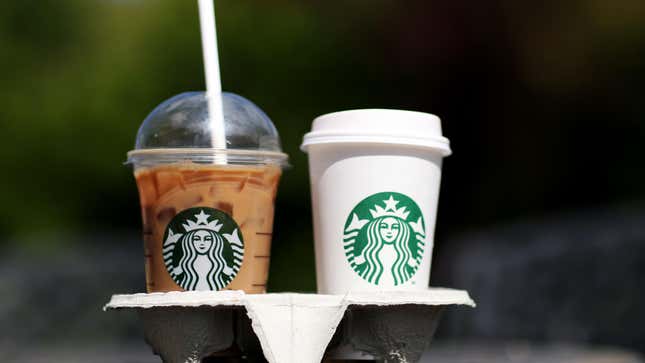 A recent Starbucks win suggests conservatives may be fighting a losing war in dismantling America Inc.'s diversity, inclusion, and equity initiatives. A US district judge approved on Friday (Aug. 11) the beverage giant's motion to dismiss (pdf) a case conservative think tank National Center for Public Policy Research (NCPPR) brought for "illegal racial discrimination."
In 2020, Starbucks announced a policy that aimed to increase BIPOC [Black, Indigenous, People of Color] representation at all corporate levels to at least 30% by 2025. At the time, BIPOC employees filled 18.5% of the positions at the senior vice president level and above. The company's efforts included accelerator programs for BIPOC individuals and grants to nonprofits supporting BIPOC youth.
In August 2022, the American Civil Rights (ACR) Project sued the company (pdf) over the diversity hiring policies on behalf of Delaware-based NCPPR, which held $6,000 worth of Starbucks shares. At the time, Scott Shepard, director of NCPPR's Free Enterprise Project (FEP), alleged that setting goals for "the number of 'diverse'—meaning not-white—employees it hires" and tying them to executive compensation "is outright racial discrimination."
US district judge Stanley Bastian in Spokane, Washington, dismissed the lawsuit as frivolous. "If the plaintiff doesn't want to be invested in 'woke' corporate America, perhaps it should seek other investment opportunities rather than wasting this court's time," the judge said at Friday's hearing, according to Reuters. Plus, the judge barred NCPPR from refiling its complaint, while saying Starbucks may seek legal fees.
After the US Supreme Court struck down affirmative action in college admissions, conservatives are focusing on targeting diversity and inclusion programs in corporate America. Judge Bastian's decision could have widespread impact on similar complaints brought by conservative groups against companies such as Kellogg's, Disney, and Target.
Quotable: Right-wing critics seeks courts' support
"Corporate America has embraced illegal, discriminatory policies that almost all Americans oppose because its decisionmakers get all the benefits while the costs are diffused across lots of unorganized shareholders. Courts need to change that by putting the decisionmakers on the hook for the harms they do."
Companies targeted by right-wingers over diversity in August 2023 alone
Fearless Fund. Nonprofit American Alliance for Equal Rights (AAER), founded by the man who spent years dismantling affirmative action, Edward Blum, filed a lawsuit against the four-year-old Atlanta-based, Black-women-owned venture capital firm for a grant competition which awards Black women small business owners $20,000 four times a year in partnership with Mastercard. Recent studies reveal companies led by Black women typically receive less than 1% of all venture capital funding.
"Activism is in our DNA," co-founder Arian Simone, who is also CEO, told reporters. "We are not scared, we are fearless."
Target. America First Legal Foundation (AFL), a group set up by two former Donald Trump aides—Stephen Miller and Mark Meadows—to fight the "radical left agenda," sued the retailer over its Environmental, Social and Governance (ESG) and Diversity, Equity, and Inclusion (DEI) programs, linking them to the LGBTQ Pride month collection that stoke conservatives' ire this summer.
AFL, which has also gone after Kellogg's, Nordstrom, Alaska Air, Unilever, Mars, BlackRock, AB InBev, Hershey, Amazon, McDonalds, and more, wrote to the Starbucks board in October 2022 over the same policies NCPPR took issue with and that the judge dismissed.
Company of interest: Disney World
In dismissing the Starbucks-NCPPR case, Judge Bastian said that the lawsuit centered on public policy questions that are for lawmakers and corporations, not courts, to decide. Some red states are in fact taking those matters in their own hands.
In governor Ron De Santis's Florida, lawmakers are already quashing equity efforts. On Aug. 1, all diversity, equity and inclusion programs as well as the committee in charge of it were abolished from Walt Disney World's governing district, now controlled by DeSantis's hand-picked board.
Such initiatives are "illegal and simply un-American," said Glenton Gilzean, the district's new administrator, an African American who has been associated with two conservative institutions, the James Madison Institute and the American Enterprise Institute Leadership Network.
One big number: Lawsuits targeting failed diversity intiatives
40: The number of companies, including the likes of Wells Fargo and Delta Airlines, being sued for making false claims about and failing to live up to their diversity and inclusion commitments. In July, a dozen Republican state attorneys general warned Fortune 100 leaders to end racial preferences in hiring practices. Days later, a group of Democratic politicians urged them to double down on DE&I efforts "because there is still much more work to be done."
Related stories
👛 Pride month collections represent a moment of truth for companies courting the pink dollar

🕴 Fortune 500 companies delivered a new board diversity record, but it's not enough