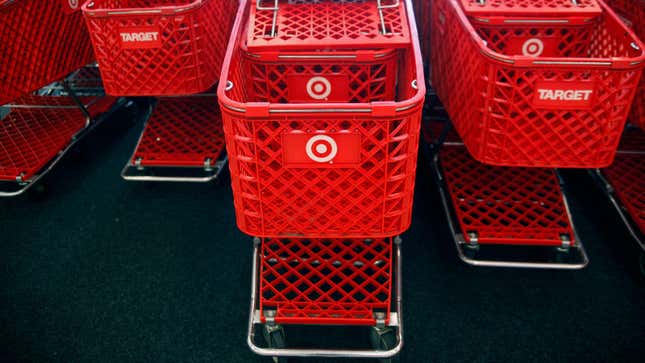 Target is pulling some Pride collection products off its shelves after some customers made their homophobic feelings known.

3 considerations before your company takes a stance
The Minneapolis-based big-box retailer is doing away with some LGBTQ-themed merch from its June Pride Month catalog after a number of customers had violent confrontations with store staff. Several products, which have been available since early May, are now under review.
Even where products haven't been removed from the shop floor, some stores in southern US states have reportedly moved so-called controversial items from the front of the stores to the back after backlash from shoppers in those areas. In some cases, the big displays have been shrunk to a third of their size.
Target's decision has understandably attracted criticism from other customers who are disappointed by the company bending to the will of bullies and bigots, with some vowing to stop shopping there if they cave in to pressure from homophobes. The company appears to have learnt little from the Bud Light controversy, where the beer brand faced backlash for partnering with a trans influencer but then failed to stand behind that choice, attracting further criticism from LGBTQ campaigners.
Quotable: Target's priority is keeping employees safe
"Since introducing this year's collection, we've experienced threats impacting our team members' sense of safety and well-being while at work. Given these volatile circumstances, we are making adjustments to our plans, including removing items that have been at the center of the most significant confrontational behavior." —Target said in a statement to Reuters yesterday (May 23)
The LGBT-friend target products facing backlash
Going, going…"Tuck friendly" adult swimsuits for trans women who have not had gender-affirming operations are no longer available. Right-wing critics— spurred by a misleading May 10 post by Gays Against Groomers, which the Anti-Defamation League has labeled a group that "peddles dangerous and misleading narratives about the LGBTQ+ community,"—falsely claimed they were also available in the kids' section.
Gone. Self-identified Christians and right-wing figures and outlets called for the boycott of designs by London-based company Abprallen. The trans designer behind the UK-based brand, Erik Carnell, uses tongue-in-cheek satanic references—like a pin that states, "Satan respects pronouns"—in his other collections but his Target products steered clear of the goth influence. He sold three products with three captions: "We belong everywhere," "Too queer for here," and "Cure transphobia, not trans people."
According to Newsweek, Carnell says those who have called him out have "completely altered the facts to fit with the version they want ... that's gonna get clicks, that's gonna get views." In his Instagram stories today (May 24), he urged people to disengage with the Target fiasco and instead support local business and organize to show up for the community.
Carnell, on his Instagram, said he's still not sure about what is happening with his Target line. At the time of publishing, a search for Abprallen products on the Target website yielded 0 results.
Product of interest: AB InBev's Bud Light
Target's reticence comes at the heels of Bud Light grappling with the fallout from conservative customers' rage at the beer brand partnering with transgender influencer Dylan Mulvaney.
Florida governor Ron DeSantis said Bud Light lost him as a customer, and musician Kid Rock even filmed a video of himself shooting a bunch of Bud Light cans. Divisive feelings towards the beer led to bar brawls, menu changes, and personal threats directed at wholesalers. Sales of Bud Light plummeted, and parent company AB InBev's vice president of marketing even took a leave of absence in the aftermath. AB InBev is now looking to triple its marketing spend in the US this summer in a bid to restore sales.
Nike, which also faced backlash in the form of the "Burn Bra Challenge" on TikTok for partnering with Mulvaney, did not try to distance itself from Mulvaney like the beer brewer did. It doubled down on its support for the trans influencer, urging people to "Be kind, be inclusive … Encourage each other."

One more thing: Growing anti-LGBTQ intolerance in the US
In the past, Target has faced conservative criticism from removing gender labels from kids clothing, not separating "boy" and "girl" toys, and installing gender neutral bathrooms. But the company has seldom walked back its inclusive moves. The selective parsing of the pro-LGBTQ product lines, which the juggernaut has displayed for over a decade ahead of Pride Month, is a new solution for a relatively new problem.
A Target insider told the New York Post that the outrage this year is "exponentially more" than other years. Separately, a Twitter user claiming to be an employee of Target, wrote that "no one cared about the progressive politics of Target until recently where it's become a trend to attack and harass people for being progressive or supporting LGBT causes. Been working there for a minute and never seen this be an issue this now."
Trans rights have increasingly become the target of repressive legislation in a number of US states, which has touched on issues ranging from children's participation at drag shows to the provision of gender-affirming health care to trans athletes' participation in sporting events.
Related stories
🏳️‍🌈 A Florida restaurant is suing DeSantis to keep hosting family-friendly drag shows
🤫 AB InBev avoided talking about Bud Light in its better-than-expected earnings
🎤 A Netflix boss isn't sorry about Chappelle—but he is sorry about how he handled the fallout